Do We Have It All Wrong When It Comes to B2B Technology Buying?
While 63 percent of B2B companies report they'll spend the same or more on tech in 2018, many investments are doomed to fail because they didn't start with a clear link to business goals
We're our own worst enemy: The current approach to buying tech in B2B does more harm than good by starting with categories and features rather than capabilities required to deliver on functional needs
Change is easy to make: Start the B2B tech buying process with what you need to accomplish, and then consider which categories provide the right capabilities
We've all had it: that nagging feeling something isn't right, but you're not sure what it is. Sometimes it's a small thing, like realizing you left the house with all the lights still on. Other times it's a big thing, and there's a moment of clarity that shows you major change is necessary, like deciding it's time to move to a new city or go back to school. Those moments of clarity also happen in business, and they too have the power to drive major change for the better.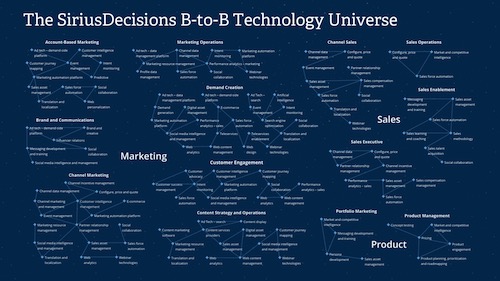 We believe now is the moment of change for B2B technology investments.
When it comes to buying technology, many of us in B2B intuitively sense something isn't right. SiriusDecisions clients tell us they're overwhelmed by hundreds of categories and the thousands of solutions in the market. We hear it's hard to tell categories apart if you're not a technologist, even though most technology is bought by non-technologists. Clients tell us ratings and rankings of categories don't help because the criteria used for evaluation often don't reflect what matters to them, or their unique environment, and because so many providers tout similar features. We are bombarded by messages telling us to buy solutions in new categories we didn't know we needed, and the hyperbole scares us into thinking we must buy now or be late to adopting the next big trend. There are tech categories we hear about so often we assume everyone else must already have it – if we don't buy it too, we'll miss out on what the shiny new toy is doing for everyone else.
Fear is rarely a good decision driver, and we all know the result of doing something just because it seems like everyone else is doing it. To make matters worse, there is real money at stake: SiriusDecisions data shows that 26 percent of B2B marketing leaders say they will greatly or significantly increase their tech stack investment in 2018, and an additional 37 percent say they will maintain the same level of investment as in 2017. Sales operations leaders also report plans to invest more, with 43 percent saying they'll significantly increase spend on sales force automation, and 34 percent report plans to significantly increase spend on analytics and business intelligence in 2018.
So, what's behind these negative forces? What needs to change to help these investments pay off? As it turns out, the very way we think about organizing technology is the problem. Most views of the technology universe are based on a set of categories. Those categories comprise a list of features and functions used to define what that category is. The list of features is used to score and evaluate vendors whose solutions are deemed to fit within a given category, and the one with the most features often wins. Sounds simple enough, but when it comes to evaluating technology in B2B, it's a broken process.
What's wrong with the category construct as an organizing principle for buying? It lacks the context of business need. Think of it this way: In the days of phone books, if you wanted to find something, you had to know what category to look for and then pick from a list of providers who might or might not be good at delivering. For example, if I spring a leak in my home well pump, do I need a plumber or a well specialist? If I live in an old house, who has people on staff who know how to work with dated equipment? No simple category-based listing can help me.
The category view of tech buying has a similar problem. The way most businesses buy today assumes we know which category has the right features to accomplish what we need. Categories, however, were designed around features, not business needs and priorities. Because we're trained to begin with the category, we enter a buying process completely without critical business need context. The result is technology investment set up for failure from the start.
We at SiriusDecisions believe there is a better way to think about the vast universe of technology, and it all starts with business priorities. Our priorities are what create the requirement to invest in tools to help us deliver on them. Priorities and needs are the natural place to begin thinking about technology investment so we need to redefine technology stack planning and buying to reflect them. This is the way to avoid buyer's remorse and skip the scramble to prove ROI for a tool that never delivered full value. It's usually not the tool's fault there was no ROI. It's our fault for falling prey to the category-first decisionmaking model we've held on to for so long.
Change is easier than you may think. We've defined a simple set of filters to apply to get from priority to category, making it much more likely that the technology investment will deliver the desired impact. The filters are as follows:
What's your role? Are you in marketing, sales or product? What discipline are you supporting (e.g. demand creation, sales enablement, product management)?
What do you need to do? How would you describe your need or priority, not in technical terms but in business terms? For example, a marketing operations leader might say they need to comply with GDPR, or a demand creation leader might say they need to engage more of the company's strategic accounts.
What capabilities must be in place to accomplish the priority or goal? Describe these in business terms.
Depending on who you are and the capabilities you need, look at what technology categories support your needs. It may be that what you need requires multiple categories, or possibly just one covers them, or there are specialized tools to help. What you need may be available in technology you already have.
The good news is that this quickly narrows down the universe depending on who you are and what you need to accomplish – not what category you think you should buy. This results in an easier decision process, and faster time to value because the investment is tied to desired results from the start. We've designed our SiriusDecisions B2B Technology and Services Universe to reflect this filtering process and make it easy to narrow down what part of the universe will help with your goals. It is organized by sales, marketing and product "galaxies," and then by discipline "constellations" within those areas. The categories, or stars, shown within each discipline reflect our evaluation of the priorities for each discipline, the capabilities those priorities require. The categories shown are the technologies that provide the necessary capabilities to achieve each discipline's priorities. Think of it as a "cheat sheet" to show you a complete technology stack on the basis of what you most likely need.
To determine which of the categories within the constellation you need, go to SiriusDecisions.com, find your part of the universe, and then what you're working on. We'll light up the stars – or categories – that you need and information about the categories so you can be a smart tech shopper.
We believe now is the time for B2B buyers to get smart about technology investments. It's time to stop buying categories and start investing in the capabilities we need to deliver business impact. When you start with the buyer need, you can't go wrong. Here's to making things easier for a change. We hope you'll join us on this journey.
Want more? Join us at SiriusDecisions Summit 2018 in Las Vegas. We have 11 different sessions on the technology infrastructure required to support various B2B disciplines in sales, marketing and product. Each one will feature a breakdown of the priority and capability-based stack from a SiriusDecisions analyst, and a client speaker who will share how their stack helps them deliver on business goals. See you there!
Categories