Bold at Work Profile: Cisco's Integrated Partner Ecosystem Delivers Growth by Empowering Partners
For organizations that rely on channel partners, an internal go-to-market transformation also requires getting partners on board
Cisco received Return on Integration honors at this year's Summit for its impressive work on its new partner ecosystem
The SiriusDecisions Channel Demand Model helped Cisco's leaders identify its channel personas and create optimal enablement content
Like many global technology providers, Cisco has adapted to rapidly shifting buyer needs in recent years, aiming to go beyond simply selling tech to providing a true customer experience. The COVID-19 pandemic has only increased the necessity of digital marketing and the ability to offer buyers exactly what they need, delivered exactly how they want it.
But for an organization that relies heavily on an extensive partner network to generate a sizeable percentage of its bookings, an internal go-to-market evolution is not enough. "We'd spent last four or five years investing in transforming and digitizing our own practice, but knew we needed to bring our partner ecosystem on the journey with us," said Chad Reese, senior director, digital marketing.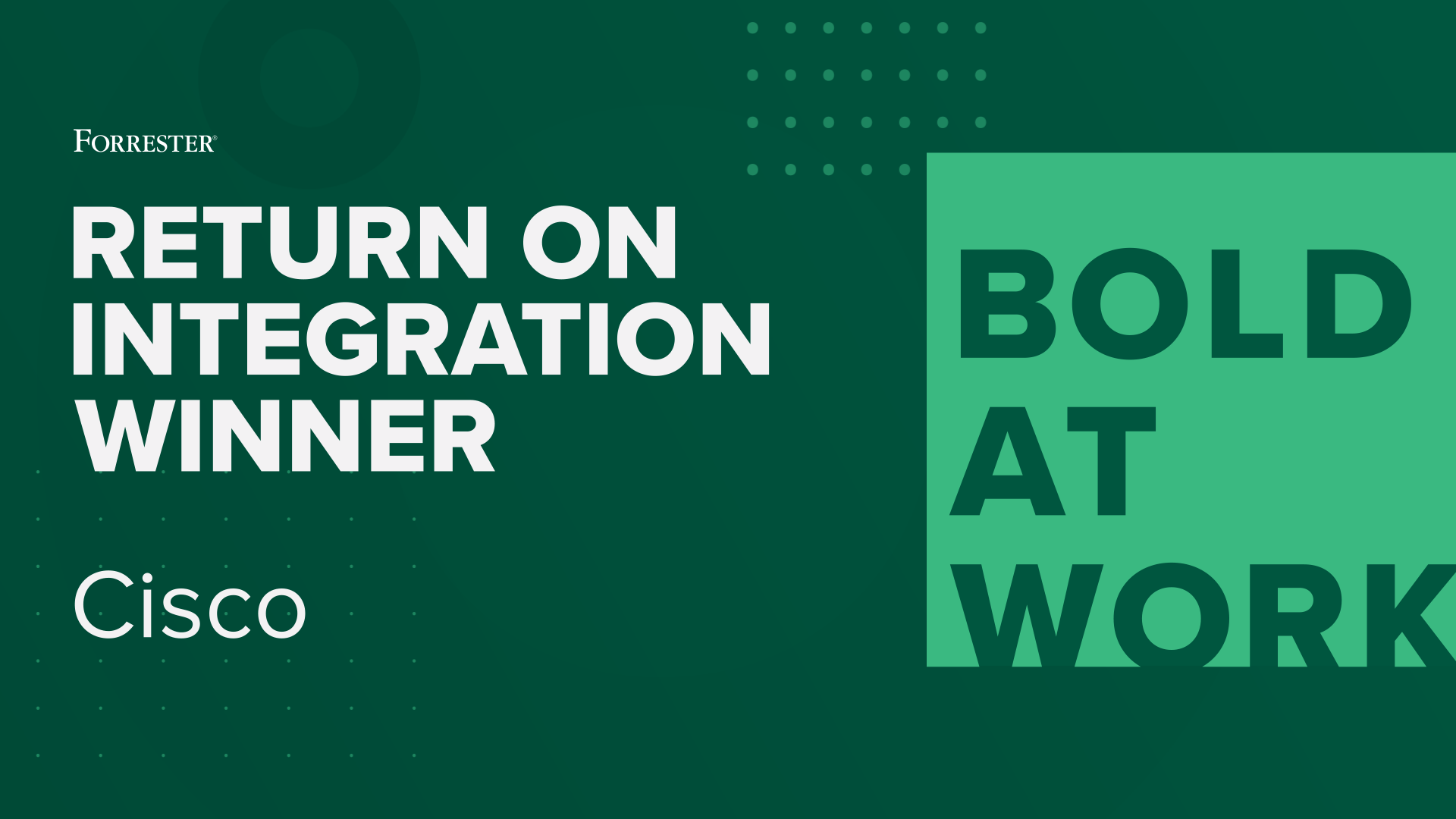 So Cisco significantly broadened its integration and improvement efforts to also transform its Marketing Velocity platform that serves its partners, helping them also achieve a go-to-market transformation — an approach that turned out to be mutually beneficial.
"Cisco has done an incredible job of building an expansive yet tightly coupled ecosystem," remarked John Donlon as he announced the company's Return on Integration Honors win earlier this year at Forrester SiriusDecisions Summit.
Pre-transformation feedback from partners revealed that many found the old system complex and difficult to navigate, with too many different programs that did not reflect their varying levels of marketing maturity, explained Boon Lai, vice president, global partner marketing.
To better meet partners' needs, Lai and team started by using the SiriusDecisions Channel Demand Model to map out what their target audiences needed. Partner marketers were identified as the core persona, but influencers (e.g., partner sales) also were factored in as secondary audiences. By evaluating partners' readiness and maturity, Cisco could design enablement tools that met their needs.
"This wasn't just about bringing marketing resources under one brand," said Lai. "This was about elevating our partners' experience with an end-to-end solution."
The revamped Marketing Velocity platform incorporates four interconnected pillars for marketing to, through, and with partners: 1) Learning, 2) Central, 3) Funding, and 4) Activate. Rigorous measurement of campaign performance, program adoption, demand generation, and partner performance ensures each component does its job and holds the team accountable.
"The four pillars work together to drive a great customer experience and mutual growth for both Cisco and our partners," said Reese.
For example, Marketing Velocity Learning integrates marketing enablement with marketing execution, featuring hundreds of pieces of content and individual learning paths. Given the diversity of Cisco's partners and variance in marketing maturity, the company segmented them so that their learning experiences could be personalized and relevant content always delivered. Partners' progress is carefully tracked as they advance in areas such as social media and other aspects of modern digital marketing.
"Training is only successful if it translates into real business impact and drives execution, so that's why we have integrated Marketing Velocity Learning with the ability to drive marketing campaigns in Marketing Velocity Central," Reese added. As partners develop increased skills, they can directly activate relevant next steps and engage with customers, putting their knowledge into action.
Overall, Marketing Velocity has driven impressive results for Cisco and its partners alike. Partners that had historically tended to stick with tried and true tactics like events and telemarketing embraced digital execution — and spent their partner funding on these efforts. "Through clear, persona-based communication, we saw fund utilization go up to 99%," noted Karine Elsen, senior director, global partner marketing.
Positive feedback poured in from key strategic partners, and even shortly after rollout, 45 partners had already adopted the offering, generating what Elsen described as a "healthy pipeline of $10 million."
For Cisco, data-driven innovation remains ongoing, with continued personalization, integration, and simplification at the forefront to drive an ever-improving partner experience. "We will continue to use analytics and voice-of-the-partner data to continue the results we've been able to achieve," Elsen said. "We are constantly bringing what we learn to our partners."
Categories