Bold at Work Profile: How CME Group's Aligned Go-to-Market Strategy Delivered the Most Successful Product Launch in Company History
At Forrester SiriusDecisions Summit, CME Group was recognized for its exemplary alignment among its sales, marketing, and product teams
Performance of the company's Micro E-Mini Futures product, developed and launched in a highly competitive financial services market, exceeded leaders' expectations
The CME Group executives who led the launch faced numerous risks and challenges but focused on precision and collaboration
When your company has been around for 171 years, smashing product performance records requires significant boldness as well as careful alignment. CME Group, a Chicago-based global markets company and the world's largest financial derivatives exchange, credited both qualities as it was recognized last month with a Return on Integration Honors Award at Forrester SiriusDecisions Summit.
The company was lauded for the alignment of its sales, marketing, and product teams that fueled the success of its Micro E-Mini Futures product, part of its equity index suite. Tim McCourt, head of equity and crypto products at CME Group, compared the effort to NASA space missions — from early frustrations to hard-fought victories that build upon each other, all within a culture of constant innovation and teamwork.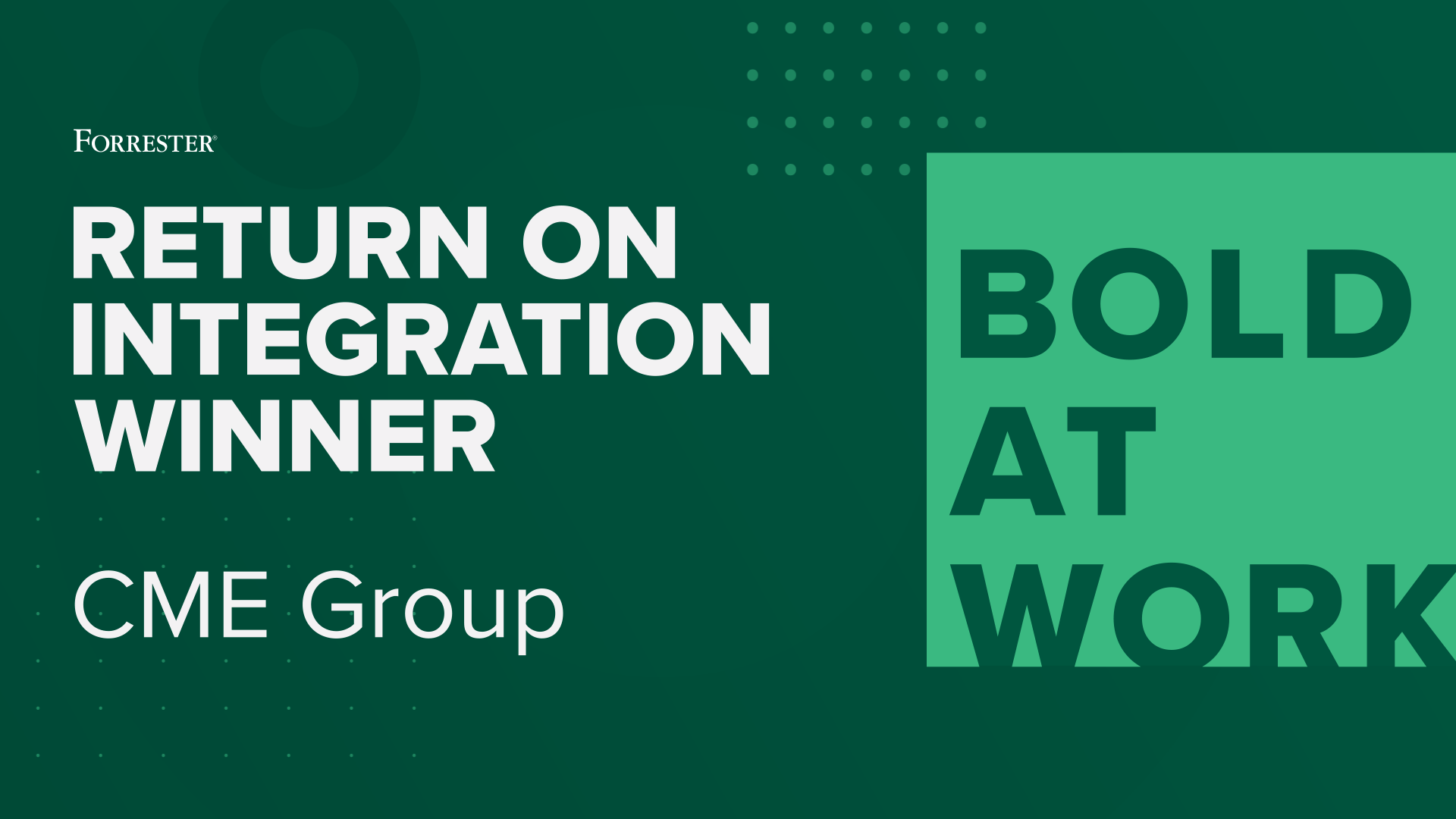 Like many offerings that ultimately crush sales goals, the Micro E-Mini Futures product was developed in direct response to a clearly articulated buyer need.
"Our job is to engage with our broker partners and educate individuals on the market," explained Mark Omens, head of retail strategy. "As we were educating traders, we were getting feedback that some of our most popular products were getting too large to meet their needs." In particular, the company's E-Mini Stock Index product, launched in 1997, had grown proportionately with the stock market itself, tripling in contract size and becoming impractical for some buyers.
"Solving this problem involved our most successful and iconic product, so there was a very low tolerance for error," added McCourt. CME Group's product team was tasked with creating a product one-tenth the size of the E-Mini, which McCourt described as a "meticulous process."
Together with the sales and marketing teams, the product team focused on three sizable tasks as the Micro E-Mini was developed: driving demand and awareness, growing trading significant volume in the first year of launch, and not inadvertently creeping into the territory of existing products and interfering with CME Group's market position in the equity index futures market.
To prepare for launch, Kevin Comer, head of marketing, and his team worked with SiriusDecisions analysts and consulted the Go-to-Market Architecture Framework to deepen their understanding of buyer needs, properly size the market, and develop a unique value proposition and customer journey for each segment.
Product naming was also key. In a crowded, mature market, the new product needed to stand out, but Comer and his team also wanted to leverage the existing brand value of the E-Mini product. After settling on "Micro E-Mini," the team finalized its three campaigns serving each customer segment. Pre-launch messaging that intriguingly declared "Something big is coming to equities trading" to build awareness shifted to make the big reveal.
On launch day, the company rang the opening bell at NASDAQ as animated billboards flashed in Times Square and press coverage rolled in. "The outcome was outstanding," Comer said. "We traded over 300,000 contracts on that first day."
With the high level of activity, the sales, marketing, and product teams remained carefully aligned to monitor performance and continue to optimize the offering strategy. As the months rolled on, thanks to a multipronged marketing plan with an emphasis on education, events, search optimization, and partnerships with index partners to bring thought leadership to institutional audiences, buyer interest in the Micro E-Mini remained strong.
In its the first year, the product drew 75,000 new traders, far exceeding expectations, and soon earned the distinction of becoming CME Group's most successful product launch ever. McCourt, Comer, and Omens all credited the success to the organization's unified go-to-market strategy and bold approach to acknowledging and then managing risks. Like a NASA space mission, a new product can soar only if everyone works together.
Categories