B2B Skills Enhancement: Because "Believing in Yourself" Isn't Enough
Many organizations focus too heavily on how workers perceive their jobs – and not enough on developing their skills
As education remains static or lags behind, changes in B2B technology, processes and roles pull the gap even wider
Sales, marketing and product leaders must facilitate skills development and do it in a smart way
In the world of B2B sales, marketing and product, teams and individuals are often tasked with goals and projects that don't line up with their skills, knowledge and experience. Organizations must close these gaps to enable high performance and foster cross-functional alignment toward common business goals.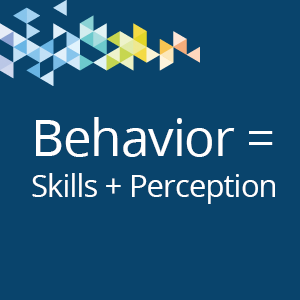 I recently had a conversation with Amanda Jensen, the practice director of learning at SiriusDecisions, about why this problem has come about – and what B2B organizations must do to fix it. Amanda noted that the problem is especially acute in marketing functions, as 85 percent of B2B marketers report they are self-taught, on the job. While this works for some people on a case-by-case basis for some skills, it makes it quite hard for organizations to drive the right behaviors across a large group of people and achieve the right kind of changes and results.
Amanda laid out the following formula for driving behavior: Behavior = Skills + Perception
The problem is that many organizations focus too heavily on just one element of the equation – how workers perceive their jobs – and not enough on developing their skills. Good management, a positive attitude and mindfulness are useful when it comes to a person's willingness to work hard, be flexible, and contribute to a positive culture. But this is not enough to drive performance. And the skill development part of the equation cannot simply happen by sheer will.
In other words, it's not all in your attitude: you need to actually know how to do your job.
How did the emphasis shift so much to perception rather than skills? Amanda explained that two foundational aspects of the workforce have changed:
Education. During the last few decades, many college students stopped getting degrees tailored to a specific job role. This has led to an increase in the number of people who learn on the job rather than before their first day. Again, this can work in some cases, but it depends greatly on the demands of the job.
The needed skills. Changes in technology and other aspects of the business landscape have led to significant shifts in how individuals, teams and functions operate. But not everyone who works in B2B marketing has a marketing degree. And not every undergraduate marketing program is on top of the changes in B2B technology and competencies. Even if someone earned a specific degree or course of training at school, that knowledge might be outdated. The B2B marketer of 2006 is not the same as the B2B marketer of 2016. Worse yet, the education the marketer received in 2006 may have already been outdated at that time!
Put together, these two factors have exacerbated the skills gap. As the education factor remains static or lags behind, changes in B2B technology, processes and roles pull the gap even wider.
So, how can organizations close the skills gap?
Sales, marketing and product leaders must facilitate skills development and do it in a smart way. Functional groups must create competency documents that outline their needed skills and knowledge – and align them to corporate goals. These documents should guide those in charge of enablement to go beyond general knowledge and leverage core B2B principles, processes and best practices. By aligning competencies to corporate goals and B2B best practices, this enablement effort won't just benefit individual functions (e.g. help marketing generate more leads, drive sales to make its number, improve product management's innovation processes) – it will also help foster cross-functional alignment. Additionally, leaders should go through the same training modules as their team members. Training should be based on a methodology that parses information over time, in ways that are attuned to how adults actually learn.
To learn more about how to enhance B2B skills and build effective enablement programs at your organization, join us at our annual Summit in Nashville in May. For those of you tasked with marketing enablement in your organization, several keynote and track sessions are planned on this topic as well as a networking breakfast with your marketing enablement peers.
Categories