CMOs: Don't Let Marketing Planning Devour Your and Your Teams' Time and Energy
B2B CMOs report marketing planning is the number-one internal process that needs to be fixed or revised
Cumbersome planning processes and the lack of a consistent approach inhibit B2B marketing organizations today
There are three main reasons that drive further organizational changes across EMEA marketing teams
For many of us – as we return refreshed from our holidays with family and friends – the dreaded annual planning season begins, and our calendars get flooded with planning-related meeting requests. The time has arrived again to "race" and produce an annual marketing plan that often ends up being a lengthy – and sadly unused – PowerPoint presentation or document.
With that in mind, I was not surprised to see CMOs and marketing leaders reporting in SiriusDecisions' 2016 CMO study that marketing planning is the number-one internal process they intend to revise and improve. Related to improving the planning process, CMOs and marketing leaders across both North America and Europe also prioritized a need to improve marketing strategy skills within their teams.
Where are marketing planning processes falling short? In my discussions with Europe-based CMOs and marketing leaders, here are some of the most frequent pitfalls I have been hearing about:
"Planning is primarily a financially driven exercise"
"Our marketing planning process is siloed: Each team creates its own plan, and there is little alignment across different marketing teams or between corporate and regional teams."
"We miss critical information from sales and product teams, and oftentimes each function (sales, product and marketing) uses different growth assumptions."
"We always do what we have done, and we are not good at auditing and stopping initiatives and activities that have not worked well for us."
"End-user and channel plans are not aligned, leading to poor communications, siloed efforts and missed revenue opportunities."
To start addressing the above shortfalls, in this blog post I will focus on two areas. First, we will take a look at the information needed to build a marketing plan, and secondly I will describe a plan-on-a page template that SiriusDecisions designed to support the marketing planning process.
Information Requirements
As we strive to build comprehensive marketing plans, it's important to remember that marketing doesn't operate in isolation. The marketing plan needs to align with and support the business objectives of the broader organization. There are three types of information required to build an effective plan.
Business context and targets. This can include inputs like annual corporate objectives, sales goals, channel goals, region-specific or business-unit-specific goals, as well as a clear prioritization of the company's growth strategies. It is important to note that this is not just an information collection task. Such inputs should be used to achieve greater alignment between marketing, sales and product leaders that will fuel downstream planning activities.
Environment. This category includes a combination of internal (past performance, go-to-market strategy, product roadmaps, etc.) and external inputs such as market trends, technology trends and competitive intelligence.
Resources. This is about what resources you have available to execute your plans. The typical mistake here is to only consider monetary inputs (budgets). When CMOs build their plans, it is important to consider a broader set of inputs such as the infrastructure, processes, partners and vendors we work with as well as the competencies we have (internally and through our channel partners) that can potentially affect our plans.
Typically, these types of information become available during the annual business planning process, but if that's not the case CMOs and marketing leaders must take steps to align with sales and product leaders around these inputs.
The SiriusDecisions Plan-on-a-Page Template
At SiriusDecisions we have reviewed hundreds of marketing plans, and we have completed hundreds of inquiries on this topic with our members, which gave us the opportunity to step back and put together a plan-on-a page template. The template has six sections, and our clients have access to additional tools they can deploy to populate each section:
Business objectives. These are the quantifiable objectives of what the company wants to achieve in the next year.
Marketing priorities. Here we need to translate the business objectives into marketing priorities and prioritize/select what marketing is going to do.
Marketing goals. In this step we need to express the priorities into quantifiable statements of how marketing will support the business objectives. It is critical here to show in greater detail what marketing is going to do but it is also critical to ensure we express these goals at the right level focusing on impact and not activity.
Marketing strategy. This is the articulation of how marketing will achieve its goals. Often times, marketers limit their thinking in growth and retention strategies failing to systematically consider other strategic choices.
Key marketing actions. Actions outline the activities that Marketing will undertake to execute the selected marketing strategies. This is not a laundry list of tactics.
Dependencies and risks. These are the things that need to be addressed for the marketing strategy to work.
What I love about this tool is that it provides a consistent template that can be leveraged by corporate, regional and functional teams, and it can be adapted to reflect and align both end-user and channel-related marketing plans. CMOs and marketing leaders can adopt this approach to address marketing planning pitfalls once and for all.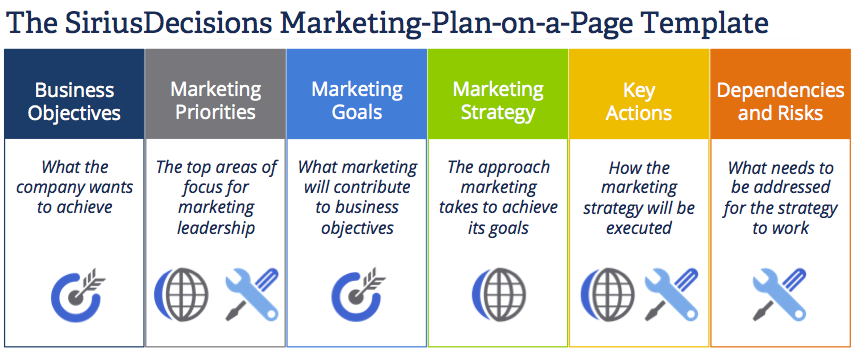 Editor's Note: Meta Karagianni will be one of the featured speakers at the seventh annual SiriusDecisions Summit Europe later this month. Join her and more than 800 B2B marketing, sales and product leaders at the Hilton Metropole in London on 26-27 September 2016.
Categories