Have You Created a Quota Model for FY19 Yet?
Setting and deploying quotas is a critical challenge for B2B sales leaders
Quotas must be equitable, challenging and achievable – and drive consistent team and individual performance
Quota deployment is a six-step process that requires the alignment of sales, sales operations and finance
If your sales organization works using the calendar year for your sales planning, it will soon be time to set quotas for the new year. Next to creating compensation plans, quota setting is one of the most important objectives for a sales organization to get right. Optimal sales organizational performance is achieved when all sales reps are challenged with achievable goals and incentivized to achieve.
By reviewing the distribution of quota attainment across the company compared to a desired attainment bell curve, organizations can see how successful they have been in the current or prior years. Some teams will blow it away and others will not hit the goal, but on average, the organization's performance should be center-weighted at the target attainment level, which is aligned to the growth assumptions and sales incentive budget.
Not getting quota setting right has major consequences for sales organizations. If quotas are set too high, sales will underperform and rep turnover can increase. If quotas are set too low, sales reps may be overcompensated, which creates a considerable cost increase. Inconsistent quota setting between teams, regions or divisions can produce negative results, undermining employee satisfaction and faith in the fairness of the quotas deployed.
Readiness Before Quota Deploy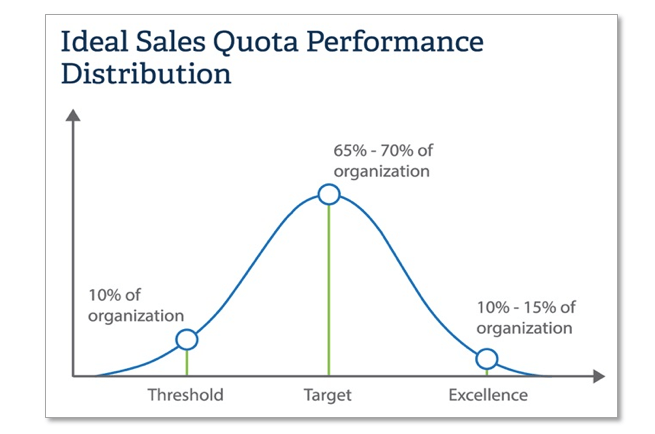 Before quota deploy begins, sales, product, marketing and finance should be aligned on the new fiscal year operating assumptions. This includes the total addressable market (TAM), go-to-market architecture, routes-to-market expectations, account-based selling segmentation (if derived), sales roles and coverage expectations. The new year's master account list should be finalized and reflect any major account movement to be built in to the new year for known mergers and acquisitions. Once the functions are aligned, sales operations gathers the historical sales baseline data to set the first-pass quotas. Ideally, the data should consist of three-year sales history to normalize any year-over-year major variations and may include fiscal Q4 on the basis of projected finish. Account-level TAM and next-year pipeline should be included where available.
Quota deployment requires a closely aligned approach between sales leaders and sales operations. Sales operations does a first pass of quotas on the basis of an agreed-upon quantitative methodology that includes leveraging historical sales baselines, future opportunity and other measures. Sales managers then review and adjust those first-pass quotas if needed, to factor for large one-time events, strategic deals or other nuances that must be factored in the quota. This quota deploy process should be completed after any major organizational changes have occurred. It includes six major steps:
Revenue-to-quota conversion. This is a top-down, finance-led process where prior-year revenue is converted to quota that reflects creditable sales values that reps are paid on. This excludes non-credited revenues, re-states prior-year baseline in new year segmentation and product rules, adjusts for any product category changes, and incorporates any uplift that may need to be added due to historical attrition to ensure overall sales attainment is aligned to the revenue attainment. Most importantly, here is where growth assumptions are made. Derive a bottom-up analysis for comparison to ensure there is alignment on these assumptions before they get finalized.
Quota derivation. Here is where the high-level quota is derived and broken into smaller organizational groups, generally at the sales VP level, by geography, segment and/or product. Depending on the level of initial revenue segmentation, this derivation may be performed by finance, sales operations or a combination of both.

Ensure there is alignment with the agreed-upon guiding principles with clear accounting and sales leader approval for any quota movement or alternate derivation.
Quota allocation. With the quota derived at each sales leader level, the quota must be allocated top down to the territory and account level that will set sales rep quotas. Global accounts that carry international quota also require quota interlock between the headquarters and out-of-region country. An agreed-upon methodology for deploying quota that may consist of historical baseline, market potential, sales capacity, a combination of the above, and maximum and minimum ranges is used.

Quota calibration. With first-pass quotas set, sales operations provides each first-line sales manager with quota-setting guidance and their team quota broken out for each of the accounts on their team. The quota review file ideally includes the historical baseline, TAM and next-year pipeline value, along with current rep coverage. To account for one-time events or knowledge of changes in account opportunity status, the sales manager can then accept the derived quotas or adjust. Any major increase/decrease should indicate the reason; after all adjustments are completed, the quota should be 100 percent deployed.
Quota review. Sales operations does an audit to review and ensure quotas were fully deployed by each sales manager and within each product category. Policy decisions on how any vacant territories will be covered until they are backfilled should be agreed to in advance and communicated to all managers. Any major variances or deviations from the guiding principles that cannot be resolved directly with each manager are reviewed and approved by the sales and sales operations leaders.
Quota deployment. With final quotas fully deployed and loaded into the sales compensation management system, finance and sales sign off.

The sales rostering process can then begin and accounts can be assigned to reps with rep-level quotas derived depending on those assignments before generating sales letters. Overlay sales roles that align to the sales reps for coverage like presales, specialists and some inside sales roles, will then be rostered to align with the teams they cover.
After quota deploy, remember there will always be some legitimate exception cases during the year that will arise for review. Ensure policy and quota review process is well defined in advance. Establish the quota attainment reporting cadence and tracking to monitor the performance throughout the year.
By following these six steps, sales operations leaders can better position their sales organization to hit or exceed quota. Are you ready?
Categories