The Demand Waterfall®: What Sales Operations Needs to Know
Sales operations must collaborate with marketing to define, measure and manage marketing-generated demand
Implementing the SiriusDecisions Demand Waterfall gives the organization a shared view of new-business-related activities across functional boundaries
The SiriusDecisions e-book "The Intelligent Growth Playbook: The SiriusDecisions Demand Waterfall® Family" is designed to help understand standard demand management processes
Sales operations leaders are in the unique (and fortunate) role of working across functional boundaries to align with every organization that supports sales – from the executive suite to finance, legal, HR, product, service delivery, customer success and, of course, marketing.
Because it has evolved rapidly over the years, marketing's demand management process has been particularly difficult for sales operations leaders to monitor. Additionally, marketing automation has brought pipeline and forecast-like rigor to the demand creation processes. However, these measures are rarely integrated into forecasting and sales intelligence insights. Sales operations leaders must better integrate sales and marketing efforts – starting with a shared understanding of the demand process.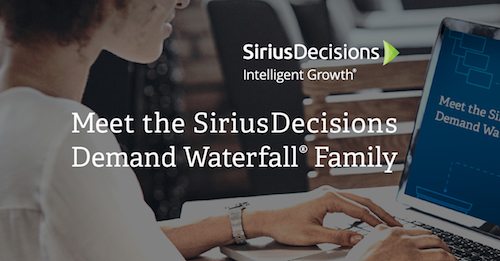 First launched in 2006, the SiriusDecisions Demand Waterfall® is now the industry standard for defining and measuring the key stages of the B2B demand management process. Over the last decade, we have observed the successes and challenges of organizations that have adopted the Demand Waterfall and expanded it to two more versions (the rearchitected Demand Waterfall in 2012 and the Demand Unit Waterfall™ in 2017) to address the evolving B2B demand process while accommodating organizations of varying levels of maturity.
While each Demand Waterfall version has subtle differences, they share a common purpose: to provide an organization with a shared view of the health of its new-business activities. Organizations use the Demand Waterfall to define, measure, model and diagnose their performance. Key considerations include:
Choose the right Demand Waterfall for your organization. Consider the following questions: Does your organization use lead scoring? Does your organization have lead development reps? Do marketing and sales understand and agree on target buying groups?
Agree on common definitions. For example, what is a marketing qualified lead (MQL)? What is a sales accepted lead (SAL)? What constitutes active or qualified demand? What are the sales pipeline stages?
Define expectations for demand unit creation and followup. How much new-business pipeline will marketing contribute? What are standard response times from sales for marketing-generated demand? What are the criteria for lead acceptance and rejection? What are the expectations for conversion (e.g. quantity, timing)?
Manage and measure the process. How will the process be measured? What systems will be used? What are the required data sources and how will data integrity be maintained? How often and in what format will results be reviewed?
Not only will The Intelligent Growth Playbook: The SiriusDecisions Demand Waterfall® Family detail all three versions of standard demand management processes, but it will also help your organization fully leverage existing marketing investments to drive stronger sales results.