Demand Centers: The Non-Financial Benefits (Part Two)
Organizations that have invested in a demand center are 26 percent more likely than peers to have invested in a marketing automation platform to drive efficiency and effectiveness
Organizations leveraging demand centers are 40 percent more likely than peers to leverage a teleprospecting team to carry out activities such as lead followup and contact profiling
Demand-center- enabled organizations are 5 percent ahead of their peers in making the shift from outbound- to inbound-led marketing
In my previous blog post, "Demand Centers: The Financial Benefits (Part One)," I shared some of the financial benefits that organizations can gain from adopting a demand center strategy. Demand centers are central and/or regional hubs of shared marketing services, infrastructure and processes. Their adoption enables organizations to bring programs to market more effectively and efficiently by leveraging key corporate assets and best practices, resulting in increased pipeline generation and improved ROI.
The ability to better leverage assets and processes, however, also yields strong non-financial benefits. Our recent European Demand Creation Study, which surveyed more than 470 marketing leaders across six countries, examined the demand creation practices of organizations that have demand centers vs. those that don't. The results offer insights into the programmatic, process-oriented and functional changes that can help marketing leaders transform their organizations in 2017:
Making the shift to inbound. Organizations with a demand center are 5 percent ahead of their peers in making the shift from outbound to inbound marketing. With the adoption of the General Data Protection Regulation early last year, requiring organizations to gain opt-in consent from prospects to any outbound communications, organizations must strengthen their ability to attract and acquire new prospects through inbound marketing – or risk being left behind.
Investing in technology infrastructure. Organizations leveraging a demand center are also significantly ahead of their peers (27 percent vs. 1 percent) in the adoption of a marketing automation platform (MAP). MAPs enable marketing teams to boost their efficiency in creating, executing and assessing the performance of marketing programs. MAPs also support A/B testing of programs, thereby helping marketers continually hone and improve program performance.
Increasing campaign content efficiency. Additionally, organizations employing a demand center reported being able to deliver 5 percent more localized campaign content, reducing the need for and cost of having overstretched local marketers produce content from scratch every time.
Leveraging teleprospecting. Interestingly, organizations utilizing demand centers also reported much higher use of teleprospecting (a staggering 49 percent vs. 9 percent) within their teams. These teams typically follow up on leads generated by marketing, but also assist with activities such as contact profiling. Both activities help improve overall program performance in terms of leads identified and pipeline generated.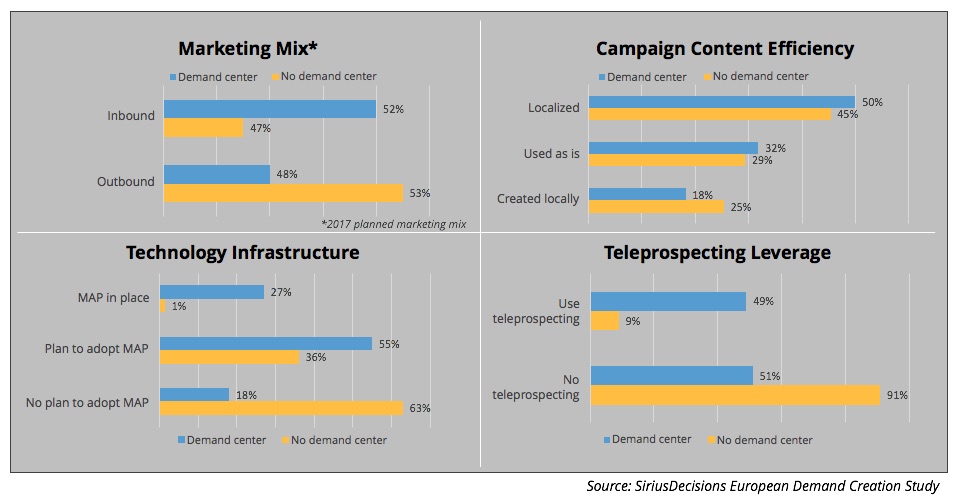 These survey findings paint a clear picture. The presence of a demand center can have a significant impact on the marketing function, helping it become more efficient and adopt more productive approaches that support long-term growth. The four proof points we examined are just the benefits we see today, but longer-term benefits may also be linked to demand centers.
Many marketing leaders have told us anecdotally that they see the demand center as the perfect place to test out new ideas in a controlled way. Pilots championed by demand centers help these organizations gain a better understanding of a new idea's cost vs. benefit equation before larger-scale investment is made. While the benefits of this approach may not be visible immediately, insight gained through these pilots acts as a catalyst for exponential productivity improvements, allowing these marketing organizations to further widen the gap with peers.
As you plan for 2017, consider your current marketing organization. Could it use a performance boost? If so, perhaps it's time to take a fresh look at implementing a demand center.
For more information on demand centers, take a look at our blog post on regional demand centers: "For a Healthy Demand Creation Function – Check Your Balance."
Categories