Den kulturellen Wandel der Mitarbeitererfahrung in Europa vorantreiben
Die derzeitige Krise zeigt, dass eine ausgezeichnete Mitarbeitererfahrung (oder EX für Employee Experience) entscheidend für die Marke und den CMO ist. EX war auch vorher schon ein wichtiger Treiber für die Kundenerfahrung (auch CX für Customer Experience) und die Unternehmensleistung. Die aktuelle Situation verlangt jedoch von Markenunternehmen, dass sie ihre Mitarbeiter noch stärker einbinden. Unsere neuesten Daten (siehe Abbildung unten) haben gezeigt, dass die Korrelation zwischen Mitarbeitererfahrung, Kundenerfahrung und Unternehmensleistung in Europa höher ist als je zuvor.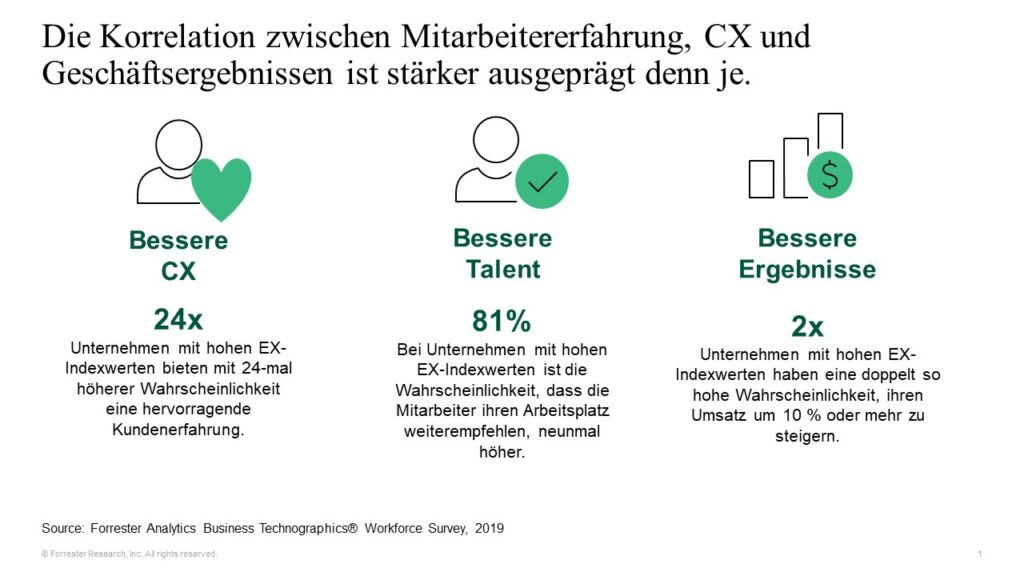 Die derzeitige Krise beschleunigt den Übergang zu neuen, dem digitalen Zeitalter angepassten Organisationsformen um ein Vielfaches. Viele Führungskräfte in europäischen Unternehmen unterschätzen jedoch, wie wichtig es ist, einen neuen Managementansatz zu verfolgen, um das Mitarbeiterengagement zu intensivieren und die Unternehmenskultur zu verändern. Die Umstellung auf Remote Work, Collaboration Tools und Cloud-basierte Plattformen in nur wenigen Wochen und Monaten war eine Herausforderung. Doch handelt es sich bei der bevorstehenden Hürde, Prozesse anzupassen, Managementstile zu ändern und eine auf physischen Büros basierende Kultur umzustrukturieren, um eine noch schwierigere Aufgabe. Das wird länger dauern, ist aber der Schlüssel zum Erfolg.
Die Personalabteilung muss langfristig eine verstärkt strategische Rolle einnehmen, auch wenn es nicht einfach ist, das tägliche Pandemie-Personalmanagement zu bewältigen und die Energie, Zusammenarbeit und Kreativität der Teams aufrechtzuerhalten.
Unternehmen über verschiedene Branchen hinweg führen derzeit erhebliche Veränderungen durch, um Strategien für ortsunabhängiges Arbeiten zu implementieren und ihre Organisationen und die Art und Weise, wie Manager ihre Mitarbeiter einbinden, zu verändern. Zum Beispiel:
Siemens gab bekannt, dass es für 140.000 seiner Mitarbeiter ab sofort und dauerhaft einen zwei- bis dreitägigen Remote-Arbeitsstandard ermöglichen wird – und das, obwohl deutsche Firmen aufgrund einer Präsenzkultur historisch gesehen am wenigsten geneigt sind, Remote-Arbeit zu unterstützen.
Die französische Bank Société Générale führte zur Beschleunigung ihres Entwicklungsprogramms "Zukunft der Arbeit" eine interne Befragung unter fast 6.000 Mitarbeitern durch. Daraus resultierte ein Whitepaper mit Empfehlungen an das Top-Management, wie man eine neue Mitarbeitererfahrung gestalten, ortsunabhängiges Arbeiten einführen und die Managements- und Unternehmenskultur verändern kann.
Novartis, ein Unternehmen der Gesundheitsbranche, entwarf das neue Programm "Choice with Responsibility", um zahlreichen Mitarbeitern mehr Flexibilität zu bieten und ihnen die Entscheidung zu überlassen, wie, wo und wann sie arbeiten.
Viele europäische Firmen haben damit begonnen, das Mitarbeiterengagement mithilfe von Pulsbefragungen regelmäßiger zu messen, um Mitarbeiterwahrnehmungen hinsichtlich der Pandemie-Situation sowie ihre Bereitschaft, ins Büro zurückzukehren, einschätzen zu können. Die Messung der Mitarbeitererfahrung hingegen steckt noch in den Kinderschuhen.
Mitarbeiter in Europa (20 %, 10 % bzw. 15 % der britischen, deutschen und französischen Mitarbeiter) sind weniger wahrscheinlich als in den USA (26 %) der Meinung, dass ihr Unternehmen eine hervorragende Mitarbeitererfahrung bietet. Warum ist das so?
Dies ist eine der vielen Fragen, die ich im Rahmen einer neuen Studie über Employee Experience (EX) in Europa zu beantworten versuche. Gemeinsam mit meinen Kollegen Enza Iannopollo, Senior Analyst, und Dan Bieler, Principal Analyst, untersuchen wir die kulturellen und regulatorischen Auswirkungen der Krise. Kontaktieren Sie mich einfach, wenn Sie offen für ein Gespräch sind – wir würden gerne Ihre EX-Prioritäten für 2021 besprechen.
Wir werden die Ergebnisse unserer Untersuchungen in einem kostenlosen Webinar.
Wenn Sie mehr zum Thema The Future Workplace: Top Considerations for Technology Leaders in Europe, erfahren möchten, können Sie sich gerne zu unserem Webinar anmelden.
Categories