Developing a Social Selling Playbook
Trends in B2B buying behavior are driving the use of social media by sales reps
Social selling guidelines and structure have be.come a necessity, not a nice-to-have
Create a social selling playbook to enable your sales reps to effectively use LinkedIn, Twitter and other social media tools
Whether or not your organization's sales reps have been trained in social selling, they are probably using LinkedIn, Twitter and other social media tools to find and engage potential buyers.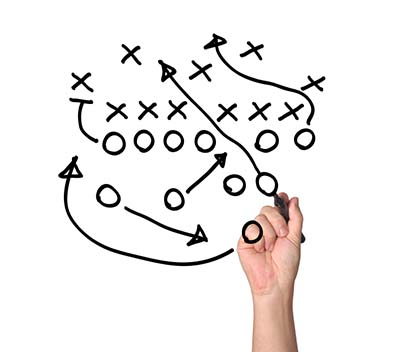 Is that good news? The answer depends on both sellers and buyers, as Jim Ninivaggi, service director for SiriusDecisions' Sales Enablement Strategies service, noted in one of his posts about social selling:
"We define social selling as the practice of incorporating social media tools, such as LinkedIn and Twitter, into core sales competencies to increase sales productivity. When sales organizations seek to build an enablement strategy around social selling, a common mistake is to assume that all reps are able to engage socially and all buyers are willing to be engaged socially."
As a marketer for SiriusDecisions, I recently led the rollout of a program to train our sales team to use a simple social selling playbook, leveraging best practices from our Sales Enablement Strategies research. Some of the research findings that I found most useful in planning this initiative were the following:
The importance of organizational preparation. Trends in B2B buying behavior are driving the use of social media. Social selling guidelines and structure have become a necessity, not a nice-to-have.
Monitoring. Social media tools allow sales reps to learn about their buyers before engaging them.
Sales enablement. Sales reps must be properly prepared to use social tools – and many might need convincing that social media needs to become part of their toolkit.
Social governance. Social media mistakes can be very public and embarrassing.
Therefore, reps must be trained to avoid them. We prioritized our social selling playbook around LinkedIn and Twitter, but you can easily add other social networks or forums where your prospects hang out. Without getting into all of the playbook's nuances, here is an overview of its five main steps:

Step 1: Spruce Up Profiles
Because social media is a 24×7 operation, your prospects will check out your social media profiles at their convenience. So, your LinkedIn and Twitter pages actually function as your extended "social business card." Ensure your profiles project the right message you want to send to your prospects and buyers, because first impressions count.

Step 2: Search
Create a target keyword list that reflects your buyers and relevant industry terms. Use this triple search strategy:
Online – Find and follow the known suspects. These are your known prospects, competitors, industry influencers and company social accounts.
Online – Find and follow the unknown suspects: Use Google Alerts or other listening tools to monitor your keywords and uncover unknown prospects, influencers, competitors and general industry news and trends.
Offline – Don't forget about the offline world. Always leverage introductions and prospecting opportunities to fill your pipeline.
Step 3: Listen
Listen to the above user segments' "digital body language." Each social network provides different listening features to organize the information. For example, on Twitter you can save searches and create segment-specific lists, whereas LinkedIn's Sales Navigator allows you to save your searches and leads and receive alerts on their updates. Regardless of the social network, organize your observations and define your connection strategy with leads, leveraging common ground (e.g. a recent article they wrote, job change, an award received) as a door opener.

Step 4: Connect
Connecting with leads in a social media context comes in two flavors:
Proactive engagement. Leverage relevant content from your marketing team or reputable third-party sites. Each social network has different engagement capabilities: On LinkedIn, you can post short- and long-form updates, or send InMail. On Twitter, you have just 140 characters available for posting updates, although supported visuals can help drive response.
Reactive engagement. All social networks offer you ways to like, favorite and share your leads' content as means to getting on their radar. Strategically react in a positive manner, without overdoing the activity.
Combining both engagement techniques can eventually help reps differentiate themselves and build the trust they need to transition from public to private communication with potential buyers.


Step 5: Nurture
As reps schedule intro calls or even close a sale as a result of social activities, it's critical that they continue nurturing their followers with valuable content. The quality and relevance to buyers of the content that reps share is the key factor in building reps' audience and helping to fill their pipelines. Click here to download our complementary social media content toolkit, with five tips on posting effective content.
To ensure your social selling playbook is fully adopted by your sales team, measure their progress and provide them realistic social targets to reach by a given date. Here you can consider – buzzword alert – gamifying the experience, offering prizes or badges to create a sense of friendly competition and company-wide recognition. Lastly, make sure you conduct periodic status meetings with your sales team to provide a productive forum for them to share their experiences and receive ongoing support.
**Join us for our second annual Sales Leadership Exchange being held on February 25-26 at the Rancho Bernardo Inn in San Diego. During the Sales Leadership Exchange, you will learn about our latest research on the topic of growth, hear how companies like GE, Rackspace and CA Technologies tackle growth issues head-on, and have the opportunity to network with other sales, sales enablement, sales operations and channel sales leaders. We hope to see you there!
Categories