DIY Tech Options for Marketing Enablement
Marketing enablement is an emerging function that systematically equips marketing staff with the competencies to succeed in their job roles
Marketing enablement functions are challenged by the lack of dedicated technology solutions to support their efforts
Savvy leaders use a DIY approach to leverage existing technology to address their marketing enablement needs
DIY – do it yourself – is an approach to building, modifying or repairing things without depending on the direct aid of experts or professionals. The term is also used to describe any activity that uses some element of creativity to make or design something on your own. While the DIY approach is useful for home improvement projects or tackling gifts on your holiday list, it quickly becomes a critical mindset for B2B marketing leaders embarking on marketing enablement efforts.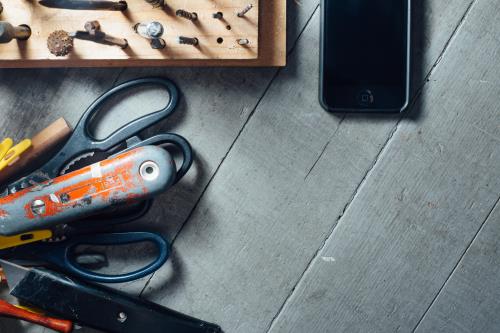 SiriusDecisions defines marketing enablement as an emerging function in the marketing ecosystem. It is responsible for systematically equipping marketing staff with the competencies (the skills, knowledge, process and/or tools) to succeed in their job roles. Marketing enablement is designed to provide training and professional development to close the skills gaps that have emerged from the rapid marketing organizational and technological changes of the past few years; therefore, the need for this function has become increasingly important.
In spite of its importance, setting up a marketing enablement function is not without its challenges (as noted in my blog post "The Case for Marketing Enablement"). One of these challenges is the lack of dedicated technology solutions to support marketing enablement efforts. In some large companies, marketing enablement staff have the luxury of accessing a learning management system (LMS) to deliver and measure marketing training offerings. However, this tends to be the exception rather than the rule. An LMS is often beyond the budget or scope of an emerging marketing enablement function. As a result, some savvy marketing leaders are using a DIY approach to leverage existing marketing technology tools to address their marketing enablement needs. Examples include:
Business productivity applications. The ubiquitous software suite an organization has for developing documents, spreadsheets and presentations is a valuable workhorse for marketing enablement efforts. These applications are used for developing new training curriculums, designing iterative worksheets and reporting on staff certification progress – and everything else in between.
Project management applications. Much of the work of a marketing enablement function involves developing and delivering training offerings for the marketing organization. This means scheduling live classroom sessions, arranging webcasts and coordinating recording sessions for on-demand training. Many companies have existing project management or scheduling software that the marketing enablement team can use to juggle this activity. If not, there are several free or low-cost online applications to support project management needs.
Web/video conferencing systems. Most companies have invested in a Web or video conferencing system of record, which quickly becomes a key tool for the marketing enablement team. These systems can be used to deliver live training to a geographically distributed marketing team, as well as a tool to record training sessions for later access.
Survey/feedback management platforms. Existing in-house platforms to craft and distribute internal surveys are a plus for marketing enablement teams. They can be used to deliver competency assessments, survey staff for training content and delivery preferences, and/or rank employee satisfaction with training classes and materials. Again, low-cost online applications can be found if a survey platform is not currently in place.
Intranet portals/collaboration software. Intranet content management systems and collaboration software platforms are a critical tool for marketing enablement. Most companies have invested in this technology, and the enablement function can leverage it to provide a repository for their library of learning assets, promote a calendar of upcoming training classes, and serve as a means of directly contacting the marketing enablement team with feedback.
Marketing automation platforms (MAPs). Most B2B marketing organizations have acquired a MAP to support their outbound and inbound demand creation efforts. The MAP can also support internal marketing enablement tactics, such as digital newsletters delivered to marketing employees, landing pages and registration forms for live training classes, and email reminders of upcoming webcasts or speaking engagements.
Outside of B2B marketing, DIY behavior is triggered by a variety of motivations, including creativity, recreation, craftsmanship and empowerment. When it comes to marketing enablement, the DIY technology approach is largely driven by cost factors. When standing up a marketing enablement function – as with other change initiatives – leaders are often forced to work with what they have to demonstrate initial results before they can fight for additional technology resources.
Interested in learning more about the focus, structure and benefits of a marketing enablement function? Join us at SiriusDecisions Summit in Las Vegas in May to learn more about "Marketing Enablement: The Most Critical Function You Don't Have." In the meantime, if you have any creative enablement technology DIY examples, please share them in the comments section.
Categories