GDPR And Google Q3 2018 Results: Are We Out Of The Woods Yet?
As I listened to Google's Q3 2018 earnings conference call, the Taylor Swift song "Out Of The Woods" kept playing in my head. (This is the part where I pretend I tried to fight it. But let's be honest, I didn't mind.) As with the relationship in the song, I wondered if we were indeed "out of the woods yet" in terms of the risk posed by GDPR on advertising spending in Europe.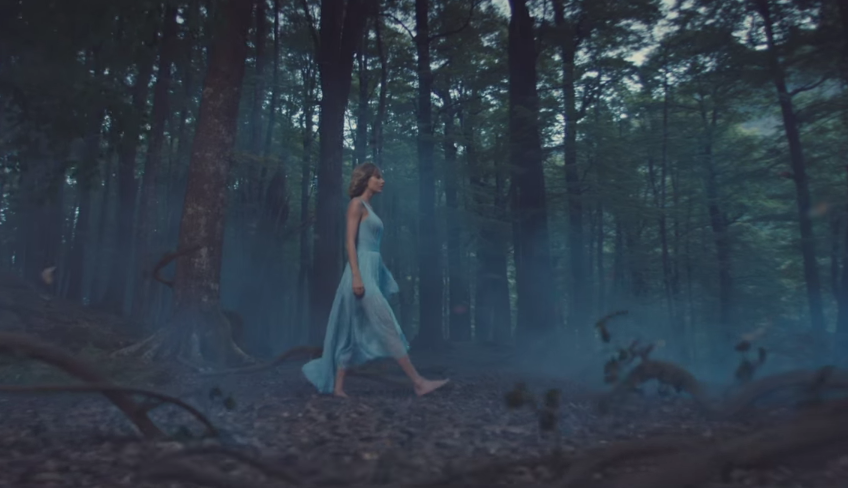 With only 5 minutes remaining on the call, there was still no mention of GDPR until Brent Thill of Jefferies finally broached the topic. Google's EMEA constant currency revenue growth accelerated from 18.8% year-over-year in Q2 2018 to 19.2% year-over year in Q3 2018, begging the question of whether Google was in the clear regarding GDPR.
So far, it certainly seems that way. In his response to Mr. Thill, Google CEO Sundar Pichai gave no hint that GDPR had negatively impacted Google's revenue, and CFO Ruth Porat added that Google is "continuing to invest significantly in Europe."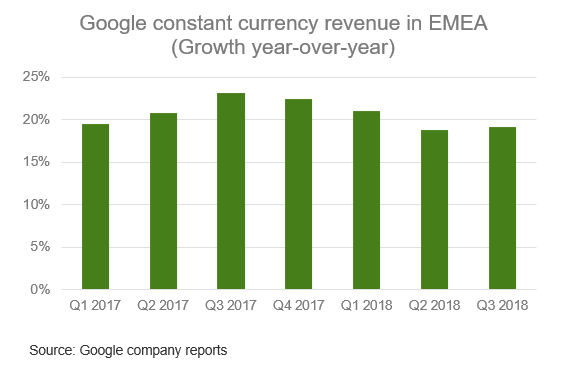 In our "Forrester Analytics: Digital Marketing Tracker, Q2 2018," we commented that GDPR's negative impact appeared mild in Q2 2018 but that the jury was still out until Q3 2018, the first full quarter that would be impacted by GDPR. For now, it appears the jury has reached a verdict: Digital advertisers are not yet experiencing material headwinds due to GDPR.
In addition to Google, Twitter and Snap also exited Q3 2018 relatively unharmed by GDPR.
Twitter's international monthly active users (MAUs) declined by 1% year-over-year — its first ever year-over-year decline. Twitter acknowledged that GDPR had an impact but that other factors were also to blame, such as the removal of bot and spam accounts to prioritize the health of the platform. Furthermore, Twitter's international revenue and average revenue per user was still up 26% year-over-year and 25% year-over-year, respectively. Even though this is a deceleration from the prior two quarters, the strong growth is a sign that Twitter's ability to extract revenue out of its existing users remains intact.
Snap posted similarly sluggish European user growth, with its daily active user (DAU) count in Europe declining by 2.8% from last quarter — its largest-ever quarter-over-quarter user decline. However, this decline was only slightly worse than in North America and the rest of the world — an indication that other factors besides GDPR are likely to blame for Snap's DAU erosion. Also on the bright side, Snap, like Twitter, saw continued strong growth in average revenue per user — up 76% year-over-year in Europe.
But Don't Pop The Champagne Yet
Despite the apparent "all clear" verdict, this case could still be headed for a figurative appeal. Because Google's ad revenue is dominated by search — particularly in Europe, where its share of the market is roughly 90% — it is less vulnerable to GDPR restrictions, so its positive results don't speak volumes. And while Twitter and Snap's results are encouraging, they exert relatively minor influence on European ad revenue. The real test of GDPR's full impact will come when Facebook reports earnings on October 30.
And even if Facebook posts encouraging results, we should not be lulled into a false sense of security. As Forrester's senior privacy analyst Enza Iannopollo wrote in her aptly titled blog post, It's Mostly Quiet On The GDPR Front — But This Is Not The Time For Complacency, "it's just a matter of time before we see severe regulatory enforcement actions and fines." When that happens, the European digital advertising market may no longer appear quite so sanguine. Although Google, Twitter, and Snap posted encouraging results this time around, I still can't get that catchy tune out of my mind. The question remains: "Are we out of the woods yet?"
Related Forrester Content
Categories