Give Stakeholders a Marketing Plan They Can Sink Their Teeth Into
Tips on how build an effective marketing plan that will resonate with stakeholders.
I don't usually advocate looking to reality TV for marketing lessons. Aside from "House Hunters International," which lets me play out my fantasy to live in Paris's Saint-Germain quarter and spend my days shopping at Chanel, I struggle to find any value in these programs. One reality TV show, however, actually delivers some valuable marketing concepts.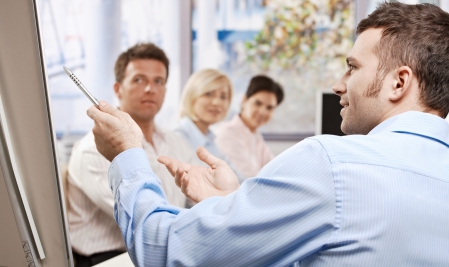 For those of you who haven't seen it, "Shark Tank" is an American reality TV series (based on the international program "Dragons' Den") that features entrepreneurs making business pitches to a panel of potential investors. The investors ("sharks") focus on the weaknesses and faults in a budding entrepreneur's concept or product. The entrepreneurs who are best able to articulate their marketing plans, and their understanding of the dynamics of the markets they are trying to penetrate, are rewarded with investments from the sharks.
I'm sure it's not much of a stretch for you to imagine being surrounded by sharks when presenting your marketing plans. But are you just trying to fend off those sharks, or are you thinking of them as investors in the plan? Put yourself in the mind-set of the entrepreneurs on "Shark Tank," and use the following tips to demonstrate your knowledge and convey the validity of your plans:
Establish clear objectives. Communicate marketing goals in the context of the broader corporate business unit and sales goals. Establish short- and long-term objectives, including metrics to evaluate your progress towards these objectives.
Categorize your demand type. It's essential to understand what your product or service actually does in a particular market or how your buyers perceive it. SiriusDecisions has defined three demand creation categories. Organizations with offerings that address a problem that few, if any, buyers in that market are aware of are creating "new concept" demand. Offerings that that solve a known problem to which there are one or more common solutions are categorized as "new paradigm." Offerings that virtually every company in a market buys fall into the "established market" category. By demonstrating your knowledge of demand type, you convey to key constituents that you have a thoughtful and informed approach to everything from messaging and offers to lead definition.
Prioritize target markets. One thing that all of the "Shark Tank" entrepreneurs have in common is a passion for their product or service. Unfortunately, some are blinded by this passion and assume that everyone will want to buy their product or service. B2B organizations may also start off marketing too broadly, lacking enough resources or budget to support the effort, and fail to achieve their goals. Organizations that succeed apply a concept that SiriusDecisions calls "relative targeting" – using internal and external factors to compare the current viability of potential targets to determine those that have the greater propensity to purchase.
Develop buyer personas. In addition to understanding the right markets to target, the entrepreneurs who secure investments define buyer personas. Well-defined buyer personas go beyond the typical B2B attributes (e.g. job role) to include the needs, challenges and preferences of specific buyers. They serve as the foundation for developing messaging that resonates with buyers, and content that facilitates their journey toward a purchasing decision.
Incorporate these foundational elements into all of your marketing plans and, approach your internal stakeholders and key constituents as potential investors. As a result, you will go beyond getting a sign-off; you will actually have sponsors who believe in your plan and your ability to execute on it. Setting up your own "Shark Tank" could even be a fun and engaging exercise for your next marketing planning meeting.
Categories