Healthcare Spotlight: Integrated B2B Campaigns
Due to siloed behavior, process inefficiency and lack of consistent focus on buyer needs, B2B healthcare organizations waste significant funds on misaligned reputation, demand generation and sales enablement activities
An integrated campaign framework provides the construct for aligning marketing campaign activities with sales and product functions
Effective B2B campaigns drive revenue growth and improve buyer-centricity, sales productivity and the operational excellence of marketing activities
Editor's note: This is the third in a series of blog posts that describe how B2B healthcare leaders are driving results with innovative marketing, sales and product strategies. Although the approach of each blog post may vary, the concept is consistent: examining what's really working for B2B and B2B2C healthcare leaders today, on the basis of SiriusDecisions clients' priorities and progress.
One of the major areas of opportunity for healthcare marketing leaders is how they define and operationalize integrated B2B campaigns. I see many organizations struggling with common issues such as an excessive focus on products, functional misalignment and an overemphasis on tactical execution. This often results in multiple feature-and-benefit "product selfies" that target the same audiences. This causes confusion, poor cross-functional alignment and disconnected tactics with excessive waste.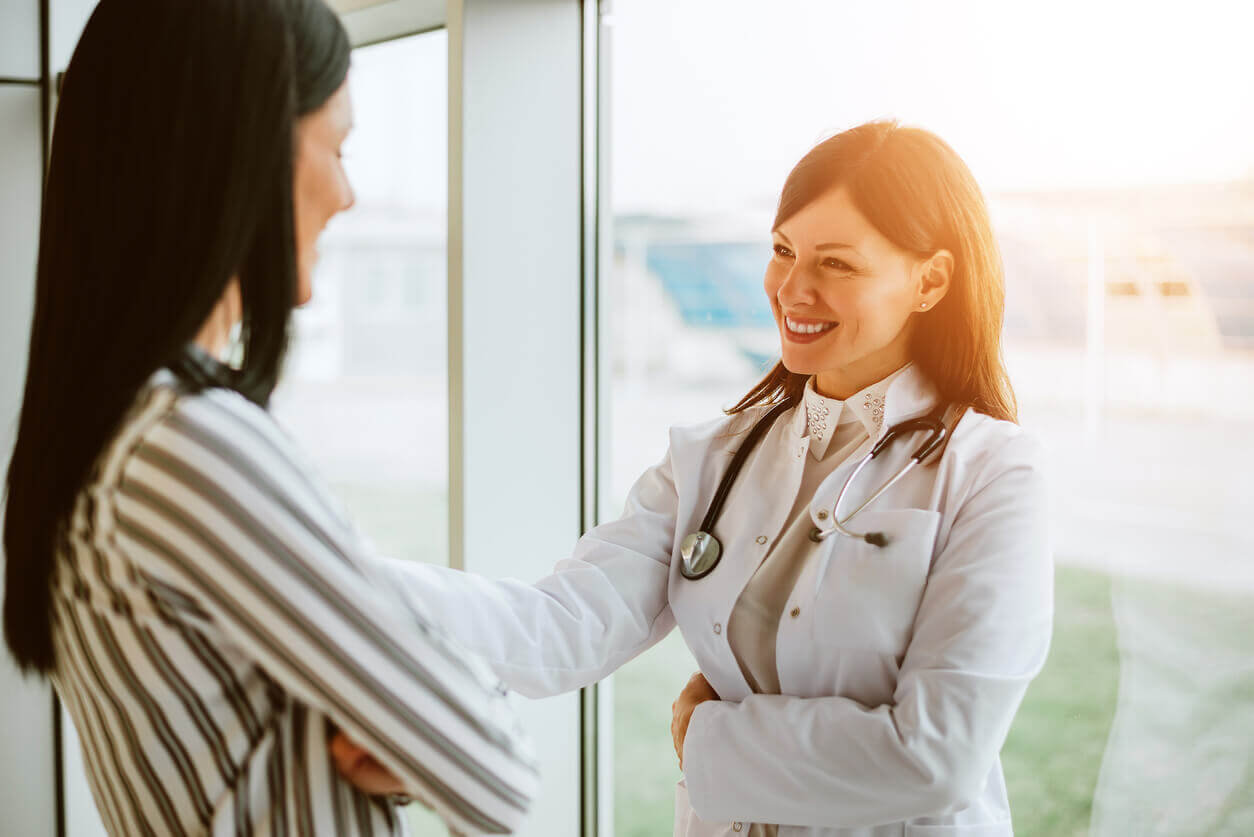 Indeed, many organizations confuse campaigns with tactics and have far too many to drive efficient growth. The antidote to these issues is moving from disparate activities to integrated campaigns. The following goals should be included:
Align product offerings to buyer needs. Develop high-level, audience needs-based campaign themes that transcend product silos.
Achieve integration on strategic and operational levels. Integrate marketing activities into a balanced cadence of programs, including reputation, demand generation, sales enablement and market intelligence program families, with a coordinated set of tactics under each.
Deploy fewer longer-term campaigns. Integrate marketing growth jobs such as seeding, creating and nurturing demand, enabling sales, accelerating pipeline and engaging customers.
Enhance sales productivity. Involve sales and product in a unified and aligned campaign planning, execution and review process.
Many healthcare organizations are pivoting from product- to audience-focused campaigns to meet buyer and customer needs, improve cross-functional alignment and become more operationally efficient. The following are two examples of healthcare clients who have successfully implanted the SiriusDecisions Campaign Framework.
Optum: Consolidating Products Into Audience-Specific Solutions
Many healthcare organizations have grown through mergers and acquisitions with multiple business units often calling on the same buyers and customers, causing confusion and poor customer experiences.
Optum, a healthcare analytics firm that helps clients transform from fee-for-service to value-based care models, was faced with managing a wide portfolio of products and a need to create relevant messaging to each audience group. Optum worked with SiriusDecisions to create six long-term integrated campaigns that targeted its five audience segments and an overall brand campaign. Each campaign had a revenue target, a 12-month timeline and a theme based on the most important benefits to each audience. Tactics were grouped into the program families of reputation, demand generation, sales enablement and market intelligence.
Year-over-year results included an increase of 125 percent in booked opportunities, a 329 percent increase in total sales-qualified opportunity value, and 87 percent increase in inquiries and a 32 percent increase in MQLs.
"SiriusDecisions helped us transform our outlook from disconnected campaigns to integrated ones, from ideation to launch in six months," said Lynne Stockstad, Optum's CMO.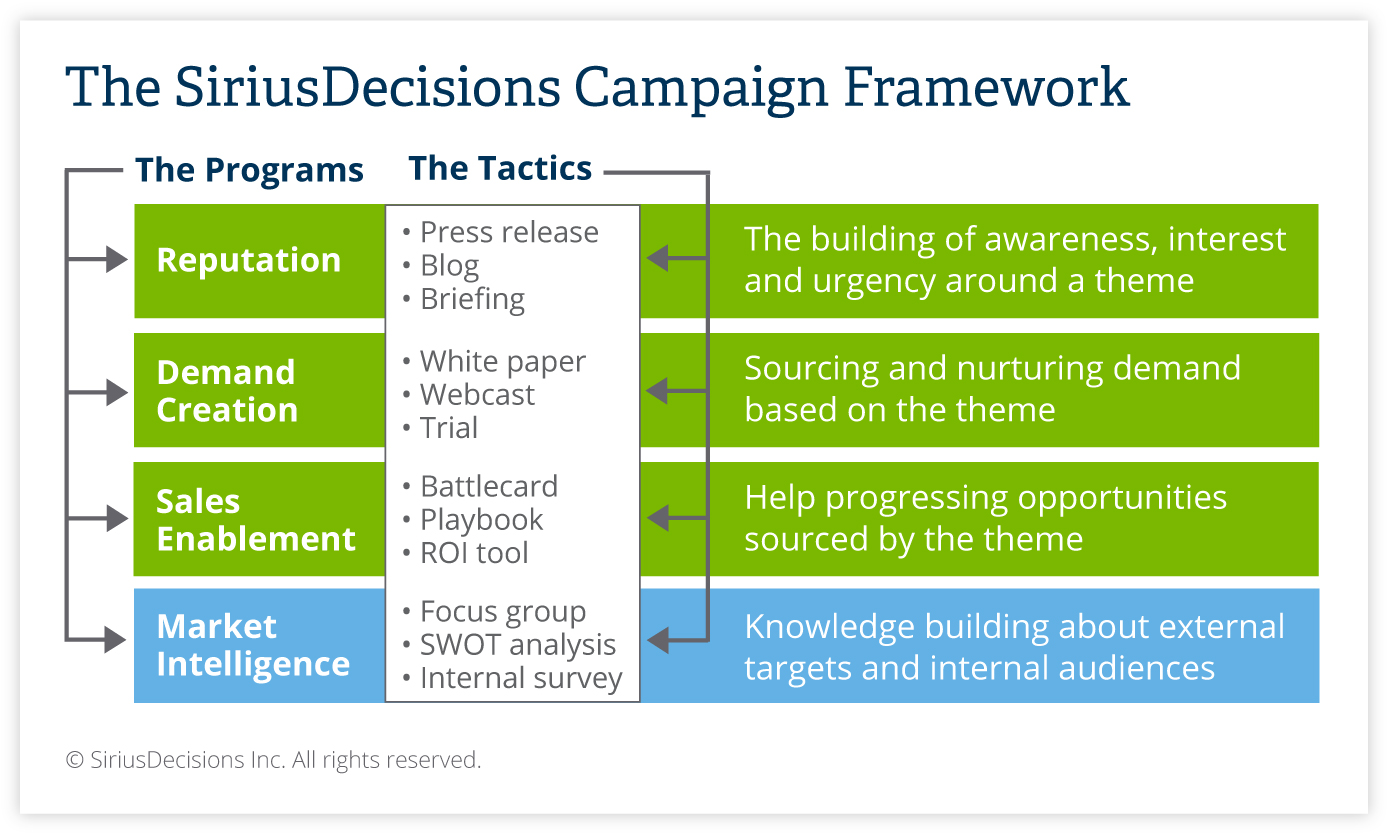 Vocera: Improving the Understanding of Target Personas to Enable the Sales Team
Tight alignment between marketing and sales regarding target buyer and customer personas is key to enabling sales with the right tools to grow the business. Vocera markets a secure communications platform that connects physicians, clinicians and care teams in hospitals and communities. Faced with a changing market, different buyer focus, increased competition and complex enterprise sales, the sales team needed marketing to help them target hospital system C-suite buyers.
Kathy English, the new VP of marketing, began by researching key target personas, including hospital chief nursing, medical, information and executive officers. She used the SiriusDecisions Buyer's Journey Map and Persona Framework to map out desired outcomes and key value points for each. The team then leveraged the SiriusDecisions Campaign Framework to create "Future of Caring" target campaigns, focusing on the health system benefits of quality, cost, patient experience and caregiver experience. Vocera redid all of the content and developed personalized journeys for each audience.
To enable the sales force, marketing created persona flashcards, video interviews, presentations and life-size cutouts for the offices. Results included a 30 percent increase in marketing-sourced pipeline, doubled SQLs, a 40 percent increase in website traffic, 50 percent "contact us" submission form growth, and 25 percent sales development rep volume growth.
"Our campaign and content strategy required that we align content offers into integrated programs targeting a very robust enterprise buying cycle through the lens of each persona. When pulled together, this gave us the model to generate measurable engagement and conversion as we mapped everything into segmented campaigns in our CRM and MAP systems – it's been a fantastic journey!" Kathy said.
Moving Toward Integrated Campaigns
Adoption and execution of the campaign framework may require some planning, process and budgetary changes. Assess the current state of readiness and start with a pilot campaign at first.
Leverage a structured model and process. Determine the appropriate number and scope of campaigns required to address the organization's growth strategies. Fewer, bigger and longer-running campaigns are far more effective at driving revenue than other models.
Establish a cross-functional foundation for success. Lay early groundwork with sales, product and finance organizations – their buy-in is critical!
Proactively manage change. Healthcare marketing leaders must establish the vision for campaign adoption and clarify the business benefits of the shift to employees. To drive change and desired outcomes, communicate a cogent plan.
It may be the right time to reexamine how your organization defines, structures and deploys campaigns to improve marketing's impact on business results.
Categories