Healthcare Sales and Marketing Teams: Stopping the Sibling Rivalry
A harmonious relationship between sales and marketing is critical in the complex healthcare buying cycle. In this post you will learn how to maintain a good relationship between the two functions.
I hear it all too often from clients. When I think about it, I've probably said some of these myself:
"I've been in marketing here for two years. I've never even talked to a customer."
"I had no idea sales was targeting the chief medical officer. I thought we were still selling to the CIO."
Marketing has no clue what it takes to get a client to commit. They just make stuff pretty."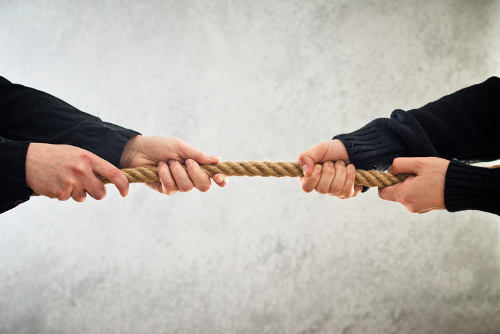 In the complex healthcare buying cycle, the lack of a symbiotic relationship between sales and marketing can make executive leaders feel like they are mediating the worst sibling rivalry in history.
What got us here? Here are some of the causes:
Healthcare deals are intricate, and the stakes are often extraordinarily high. Bringing a marketing neophyte into a medical/legal/regulatory review with a bio/pharma prospect, for example, may seem like a big risk.
Sales and marketing are often at odds – and usually report to different executive leaders. Goals are often misaligned.
Somehow, we've lost sight of what really matters to all of us – the end customer.
Now that we're here, though – how can we fix it?
Build Trust by Whatever Means Possible.
A few ideas for sales:
Let marketing listen in on your prospect pitches and client meetings. Words directly from the client or prospect are the best fodder that marketing has to craft winning campaigns. If they hear how the messages they created fall flat, that's a learning experience, too.
A few ideas for marketing:
Do deep background prep for any prospect or client meetings you attend. Troll the prospect's Web site and industry news. If you find a tidbit ("Hey – blog coverage from their CIO's presentation at HIMSS!"), share it with your sales lead. Even if he or she has already seen it, the effect will be appreciated.
Meet Often. Face-to-Face If You Can. And Don't Cancel.
A few ideas for sales:
Share your pipeline. The outcome may be modest – but if marketing understands WHY selling a new diagnostic system to a hospital may take two years, it's time well spent.
A few ideas for marketing:
Review your marketing plan. Ask your sales lead where prospects get stuck in the pipeline – and brainstorm marketing campaigns or tactics that could help move the conversation forward.
Collaborate for Deeper (and Mutual) Understanding.
A few ideas for sales:
Include marketing in your debriefs, win/loss analyses, or strategic account planning.
A few ideas for marketing:
Document the buying cycle, and vet it with sales. Talk about where you think marketing can add value.
Become a persona expert. Targeting chief science officers? Find out what their organizations typically look like, do a "day in the life" interview with several, and find out what sources of information they use.
Most importantly – you don't have to wait for an official "alignment initiative." You can do these activities no matter where you are within an organizational structure, and they will be beneficial, even on a small scale.
Like true siblings, colleagues from other functional areas may not always tell you what you want to hear, but you'll likely be better for it…and so will your customers.
Categories