Hello, Indian Brands: Your CX Report Is Here
Dear Brand,
It's that time of year again. As we do each year, we went out and asked your customers what they think about the experiences they had with you, and the results are in.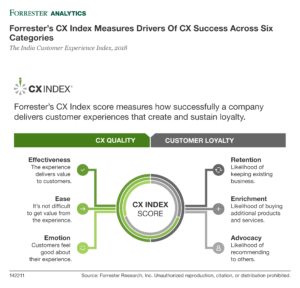 This year, we covered the following industries and brands, surveying over 9,000 Indian consumers in the process.
| | |
| --- | --- |
| Industry | Brands |
| Auto/home insurers | Bajaj Allianz, Bharti AXA, HDFC Ergo, ICICI Lombard, Reliance General Insurance, SBI General Insurance, Tata AIG |
| Banks | Axis Bank, Bank of Baroda, HDFC Bank, ICICI Bank, IDBI Bank, Kotak Mahindra Bank, State Bank of India |
| Credit card issuers | American Express, Axis Bank, HDFC Bank, ICICI Bank, State Bank of India |
| Health insurers | Apollo Munich Health Insurance, Max Bupa Health Insurance, Religare Health Insurance, Star Health and Allied Insurance |
| Retailers (digital) | Amazon, Flipkart, Jabong, Koovs.com, Myntra, Shopclues, Snapdeal |
| Retailers (multichannel) | Big Bazaar, Croma, Ezone, Lifestyle, Pantaloons, Shoppers Stop |
Here's a small preview of what we saw:
At an industry level, banks provided the best customer experience to their customers, beating others such as credit card providers and insurance providers.
Over half of the customers we surveyed reported receiving a good experience from their brand; however, excellence remained out of reach.
If you are one of these brands (or are a competitor, partner, or interested party) and would like to know more about the results, including which brand topped each industry, do sign up for our upcoming webinar, scheduled for Wednesday, December 12, 2 p.m. IST.
See you there!
-Amit
PS: As always, here are some quick answers to your most frequently asked questions:
FAQs
What is the methodology of the survey? Who did you survey, and when?
For the Forrester Analytics Customer Experience Index Online Survey, India Consumers 2018, Forrester conducted an online survey, fielded in April and May of 2018, of 9,058 Asia Pacific individuals ages 18 and older in nine cities of metropolitan India (cities of Ahmedabad, Bangalore, Chennai, Hyderabad, Jaipur, Kolkata, Mumbai, New Delhi, and Pune). For each brand, individuals surveyed are customers who have recently interacted with the brand.
How is a brand's CX Index score calculated?
For each brand, the Customer Experience Index (CX Index™) score is based on the perceptions of their customers. Participating individuals are queried on three aspects of their experience with the brand: the effectiveness of the experience, its ease, and the emotions related to the experience. Participants are also asked about their intended loyalty based on their specific experience. All these factors go into calculating a brand's CX Index score (0–100), which is weighted to reflect the CX/loyalty dynamic in each industry.
 Are these results valid or representative of my industry and customer base?
Short answer: Yes.
Long answer: Yes, these survey samples and results are statistically valid for each industry we cover. Even for industries (such as digital retailers) that may have a significant customer base in nonmetro areas, these results hold good because 50% of their business comes from metro areas, and, typically, metro customers have been around longer and have larger ticket sizes than their nonmetro counterparts.
How long have you been running this survey? Who else uses it?
Forrester runs the CX Index benchmark survey across seven global markets, covering more than 600 brands in 20 industries. Multiple brands across the world have benefited from these results over the years.
Why do these results matter? How can I benefit from them?
Measuring the experience your customers have with you is paramount to being able to improve your CX; it is the first step to becoming customer-obsessed. A holistic measure such as the CX Index is especially helpful, as it not only covers all aspects of CSAT and Net Promoter Score (NPS) but also helps you understand what drives CX in your industry, benchmark against competition, and slice-and-dice the data according to generic and industry-specific variables.*
How can I get access to my own/my competition's score and data?
To get access to the Indian CX Index results data set, write to forrestercx@forrester.com.
* Net Promoter and NPS are registered service marks, and Net Promoter Score is a service mark, of Bain & Company, Inc., Satmetrix Systems, Inc., and Fred Reichheld.