Het dilemma van content-data oplossen: Hoe bouw je een B2B-content measurement dashboard
*This blog has been translated, the original can be found here.
In het 2021 B2B CMO-onderzoek van Forrester noemden B2B-marketingmanagers "verbetering van het ROI en/of de doeltreffendheid van hun marketing" als hun belangrijkste strategische prioriteit, gevolgd door "inzicht in de behoeften van kopers en klanten tijdens het koopproces". In hetzelfde onderzoek noemden respondenten "inzicht in de contentvoorkeuren van klanten" als hun belangrijkste uitdaging op het gebied van content. Toch kan volgens vergelijkende gegevens van Forrester slechts 41% de prestaties van hun content per "publiek" meten en bekijken en slechts 34% kan dat op "thema of onderwerp" doen.
Het volgen en analyseren van de prestaties van content is nog steeds een ondergewaardeerde bezigheid voor vele B2B-marketingorganisaties. Dat is de reden waarom content vaak ervaringen biedt die irrelevant of niet in de juiste context geplaatst zijn voor het publiek waarop de content is gericht. Maar wat moet je als je niet weet welke onderwerpen consumenten interessant vinden, wat voor informatie ze nodig hebben, wat ze voor ogen hebben en hoe ze het liefst contact hebben?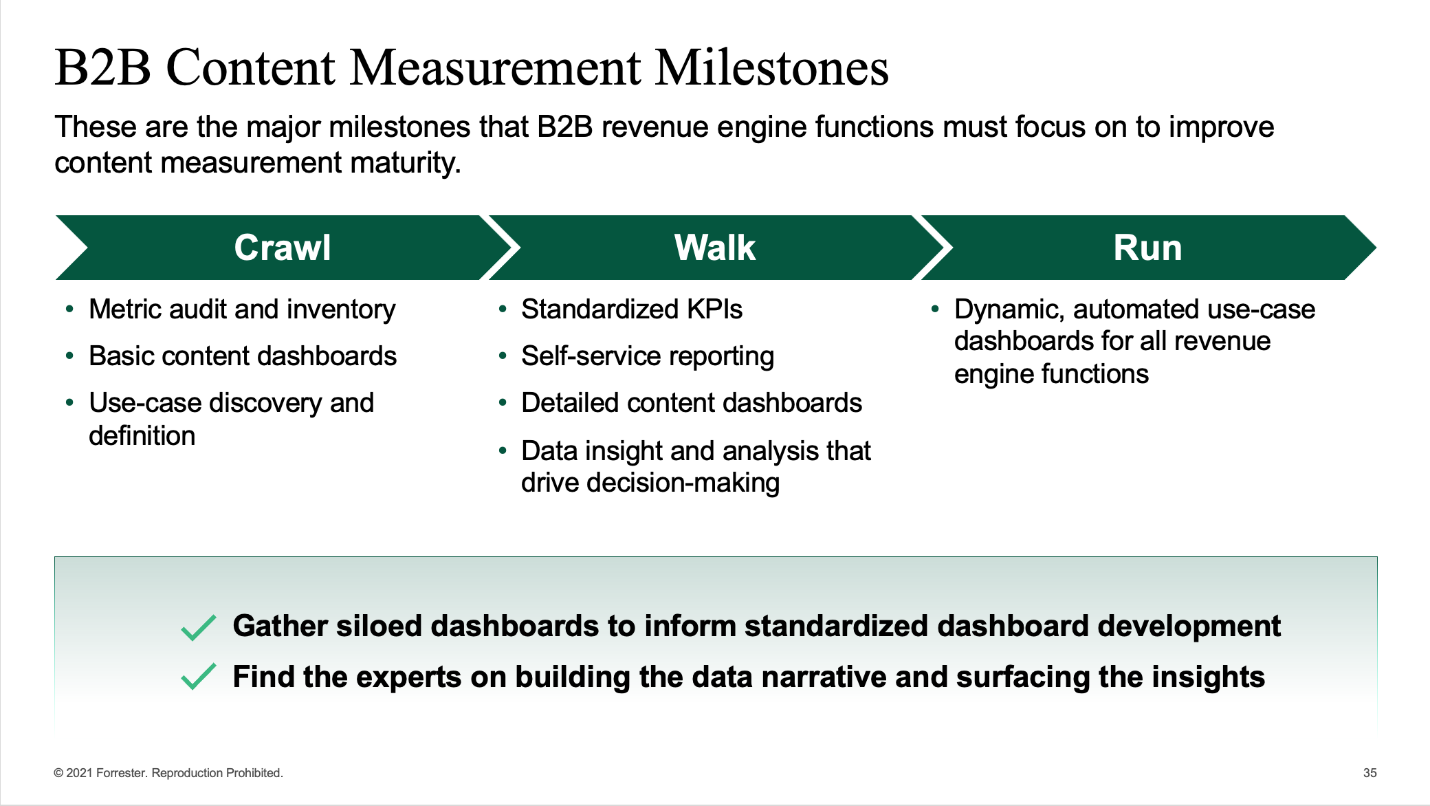 Een van de belangrijkste stappen om het traject van kopers en de levenscyclus van de klant te optimaliseren, is content measurement dashboards inzetten om beter inzicht te krijgen in de manier waarop content bijdraagt aan deze ervaringen en die aanstuurt. Het bouwen van B2B-content measurement dashboards is een proces dat uit vijf stappen bestaat:
1. Parameters bepalen en doelen stellen. De eerste stap is een duidelijke omschrijving van de criteria voor het bouwen van een testset content measurement dashboards. Doelen, de belangrijkste stakeholders die het proces zullen ondersteunen en daarbij betrokken zullen zijn evenals het datumbereik van de data die worden verzameld en geanalyseerd, zijn bijvoorbeeld allemaal belangrijke attributen die vooraf moeten worden gedefinieerd om alles op één lijn te brengen en aan verwachtingen te voldoen. Ook moet worden overwogen welke soorten publiek, welke regio's en wat voor content er wordt geëvalueerd.
2. Gereedheid evalueren. De volgende stap is het uitvoeren van een inventaris van bestaande KPI's die momenteel worden vastgelegd en door welke teams en op welke systemen dat wordt gedaan. De voor content gebruikte processen en technologieën die u hebt en praktijken voor taggen/taxonomie bepalen het niveau waarop uw organisatie content zal kunnen meten. U zult waarschijnlijk op problemen stuiten bij het verzamelen van KPI's en misschien niet zo gereed zijn als u had gedacht, maar blijf voorlopig werken met wat u hebt. Elk inzicht in content is beter dan geen inzicht en u kunt uw inzichten na verloop van tijd verfijnen.
3. Use cases en KPI's definiëren. Nu kunt u de specifieke use cases en KPI's definiëren die in de weergaven van de te testen content measurement dashboards worden opgenomen. Welke vragen probeert u te beantwoorden met uw dashboards en voor wie? Ga terug naar de oorspronkelijke doelen en scope die u hebt gedefinieerd. Voor wie zijn deze dashboards bedoeld? Wat moeten deze stakeholders weten? U hebt bijvoorbeeld een originele set KPI's die het hele ecosysteem beslaat, maar een CMO, een contentteam, een demand center en een sales enablement team zijn allemaal geïnteresseerd in andere subsets van deze KPI's, afhankelijk van hun rol en hun prioriteiten.
4. De te testen content dashboards bouwen. Wanneer uw use cases en KPI's duidelijk zijn gedefinieerd, is het tijd om dashboards te bouwen. Als u de juiste processen en technologie gebruikt, kan dit heel gemakkelijk zijn. U kunt via uw BI-platform, contentmarketingplatform of content engagement-oplossing bijvoorbeeld gewoon standaardrapporten of specifieke rapporten genereren. Maar zelfs als u pas net aan de slag gaat en nog niet helemaal gereed bent, kunt u toch nuttige content performance dashboards bouwen. Het zal alleen wat meer handmatig zijn en u moet misschien data van meerdere systemen opvragen en in dashboardachtige weergaven combineren, zoals weergaven op basis van het publiek van een stakeholder en op basis van een use case. Onthoud echter dat het bij het leveren van data niet alleen gaat om het delen van de harde metrische feiten. Bied inzichten in het verhaal dat de data vertellen en help stakeholders te begrijpen hoe ze moeten reageren op de dataprestatiegegevens die ze zien. Zoek de belangrijkste trends, patronen en anomalieën die naar boven komen.
5. Content-data en analytische gegevens na verloop van tijd aanpassen en verbeteren. Het is onwaarschijnlijk dat u in de testfase perfecte content measurement dashboards zult bouwen. Naarmate u vorderingen maakt, kunt u zich gaan concentreren op het vullen van de in uw processen en technologie ontdekte hiaten die u beletten content optimaal te meten. Naarmate u content beter kunt meten, zult u ook verslag willen uitbrengen over een grotere set KPI's en aanvullende use cases. En wanneer u dat doet, kunnen multidisciplinaire teams intelligentere beslissingen over hun contentstrategie nemen.
Voor meer informatie over het zichtbaar maken van contentprestaties en het onthullen van de benodigde inzichten om de planning, productie en promotie van content te verbeteren, nodig ik u uit om mijn volgende webinar bij te wonen, "Hoe B2B-content measurement dashboards te bouwen" waar ik deze stappen bespreek en live vragen beantwoord.
Categories