How Do You Know You're Winning With Channel Partners If You Don't Keep Score?
Many of our clients track the performance of their direct sales teams with maniacal rigor and focus
But what about your channel partners? Are they getting this same level of focus?
We rarely find that the channel partner receives the same scrutiny or enablement
Many of our clients track the performance of their direct sales teams with maniacal rigor and focus. Sales is required to record every activity in a corporate sales force automation (SFA) system and lives by the mantra, "If it's not recorded in the SFA, it didn't happen." Weekly, sometimes daily, meetings are held to review dashboards and analyze pipeline and revenue to determine forecast against goal. Concurrently, regular performance reviews are held with salespeople to identify gaps and provide the tools and training that are critical to success.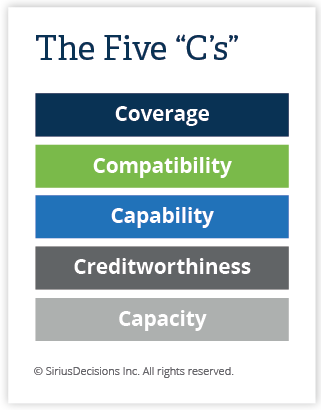 But what about your channel partners? Are they getting this same maniacal focus? We rarely find that the channel partner receives the same scrutiny or enablement. Often partners are excluded from the performance review process. In the rare case where a supplier does assess its partner's performance, it generally focuses only on revenue and pipeline. Although a revenue and pipeline dashboard can give you a high-level view of the partner's success, it doesn't give you the whole picture. To be successful, you not only need the right partners, but you need to evaluate their performance.
Many of our clients have channel programs that generate 40 to 100 percent of their total revenue and are critical to the overall performance of the company. In spite of this, they have no strategy for selecting appropriate partners, nor is there a process to evaluate partners using a consistent scoring technique to determine the overall health of the partner relationship. By implementing a well-defined method of selecting and segmenting partners, as well as a process to measure performance, you increase your ability to grow your channel and achieve positive ROI.
Where Should You Start?
As detailed in the SiriusDecisions Channel Recruitment Waterfall, the first stage in building a productive channel starts with an ideal partner profile. Who's on your channel dream team? At SiriusDecisions, we believe that a productive channel recruitment strategy starts with an effective partner list. We call it "the five "C's":
Coverage. Does the partner have access to targeted buyers in markets where coverage is needed (e.g. geographic, customer size, vertical, industry focus)?
Compatibility. Does the partner employ a business model that is consistent with supplier and targeted buyer requirements (e.g. routes to market, offering portfolio, value-added services)?
Capability. Does the partner's team have the right abilities, skills and experience (e.g. sales approach, marketing expertise, technical certifications)?
Creditworthiness. Does the partner have long-term business viability and the capability to secure credit and cash to grow its business (e.g. years in business, year-over-year growth, references)?
Capacity. Does the partner have the capacity to achieve revenue targets (e.g. number of active customers, number of field sales professionals, number of competitive offerings)?
Once you have selected new partners or re-profiled your existing ones, you're ready to think about measuring their performance. Ted Turner said, "Life is a game. Money is how we keep score." In the channel game, if you aren't scoring your partners, you can't track the money. A partner assessment scorecard helps ensure success and "show you the money." A comprehensive channel scorecard should help you identify:
A consistent method to develop your channel strategy and score your partners' success
Leading and lagging indicators that track a partner's overall health and key trends (e.g. how your product fits into a partner's solution set, how many net-new logos a partner generates vs. selling into their install base)
Channel partners that are positioned to put the most revenue toward your channel goal and those that should be incented to move out of "the herd" and into the next tier
Channel partners that are not performing and who may need to be offloaded from your program
A recent SiriusConsulting™ client used our research-informed models and frameworks to simplify its partner scorecard process. The customized scorecard initiative resulted in clearly defined and consistent criteria for scoring and stack ranking partners. The client followed up by implementing a channel sales manager's playbook on how to manage partners so they achieve peak performance.
Here's an example of how to weight and score your partners across the "five C's," with a resulting grid to display the strength of the partner relationship. Based on this example, you would focus your efforts on partners in the upper right quadrant and review the partners in the lower quadrant as potential offloads.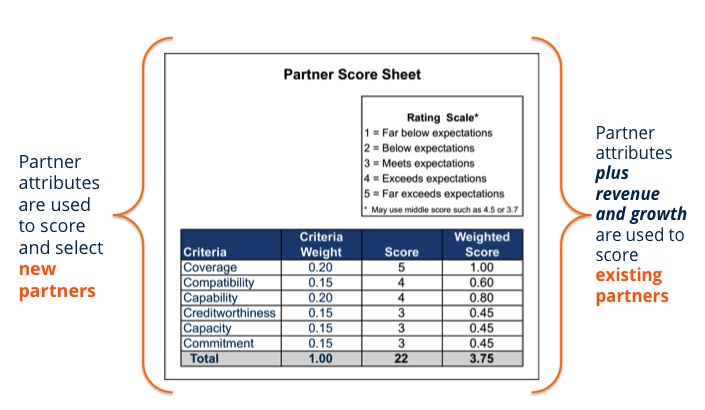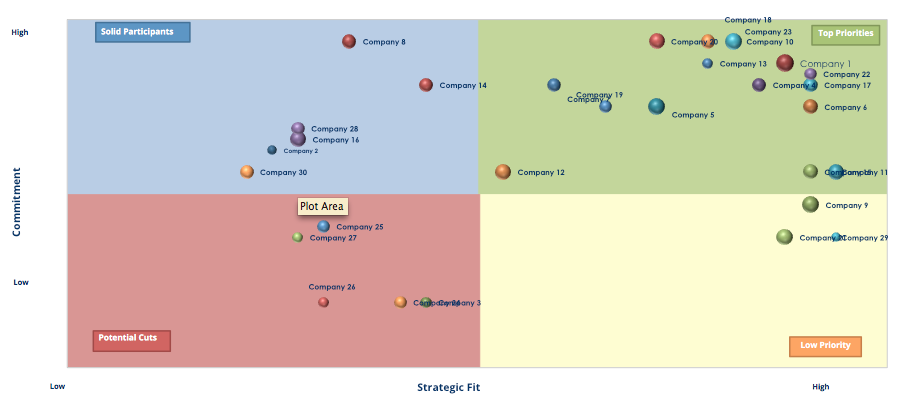 Remember, evaluating your partners is not a one-and-done exercise. Just as you evaluate the performance of direct salespeople on a regular basis, you need to evaluate, score and replace partners with a regular cadence. Using clearly defined statistics and a plan not only helps you win the game, but it also makes you far more effective at managing and enabling partners and channel managers ability to succeed. The final result: a scorecard process that effectively assesses partners' ability to achieve your mutual goals of profitable growth.
Categories