Innovation Platforms — Not Software-Only
Every enterprise should be using an innovation platform to help track, drive, and evaluate its innovation efforts. However, do not limit this effort to an innovation management software solution. As noted by my colleague, Dan Bieler, you need a continuum of collaboration tools.

To help address this, the leading innovation platforms today have added on new capabilities, staffing, and ecosystem empowerment models to take your innovation efforts to the next level. As noted in my blog last October, there's a growing set of vendors, solutions, and engagement models that have come to market of late to empower your innovation efforts. HackerEarth has expanded its value beyond its hackathons by advancing its innovation management software Sprint, expanding into Silicon Valley, and organizing events such as the Enterprise Innovation Summit.
SoftServe, which has a staff of over 6,000 technology chain experts, can help build out your tech-driven innovation solutions. And it has expanded its innovation methodology by also adding innovation management software to its offering.
Xinova, an Intellectual Ventures spinoff based out of Seattle, drives similar engagements worldwide, leveraging a network of over 12,000 tech-driven firms and experts and co-investing with you to share the risk and rewards of your innovation efforts. Among the enterprises it has engaged is PepsiCo, which turns to Xinova for its most challenging innovation pursuits.
Part of Xinova's co-investment effort has just been enhanced by the launch of Arcnet, a new blockchain-based online capital market focused on funding the power of ideas. Arcnet brings the roles of a bank, exchange, and broker into one decentralized platform untethered from traditional investment processes. Leveraging Arcnet can help you break down barriers to innovation investments and ultimate go-to-market. One of the first listed projects on Arcnet is a venture that invests in fleets of zero-emission buses throughout Latin America. Arcnet is bringing together various stakeholders who want to pool assets for the bus project.
On the innovation software front, earlier this year, Planbox acquired Imaginatik, the No. 1 rated innovation management software in "The Forrester Wave™: Innovation Management Solutions, Q2 2016." The combination greatly expanded its agile innovation management platform by combining Imaginatik's evaluation, analysis, and governance tools with Planbox's workflow engine, mobile app, patented AI technology, agile experimentation, and innovation portfolio reporting and dashboarding.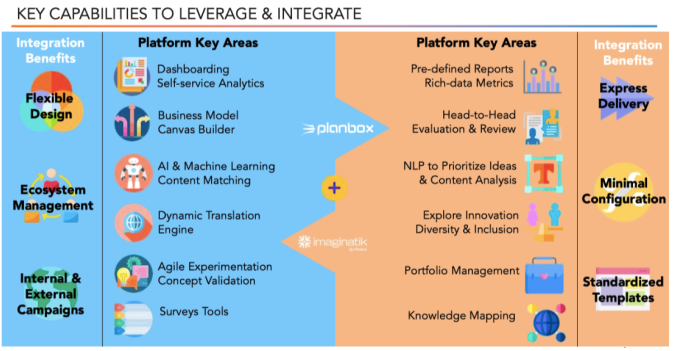 Source: Planbox
So as you plan out your innovation program's road map, definitely start looking for platform partners who can help you expand your idea executions, funding, and go-to-market.
Categories