Introducing the Sirius Directions in Services Model
The Sirius Directions in Services Model categorizes service providers so organizations understand what functions can be outsourced
Orgs should evaluate core processes, capabilities, skills and resources and use these to decide if they need a service provider
Organizations must balance between the use of service providers and in-house resources to maximize business results
In 2012, SiriusDecisions introduced the Sirius Directions in Technology Model. We have now created a companion piece for this model – the Sirius Directions in Services Model, which categorizes service providers that help marketing, sales and product organizations understand what functions and capabilities can be outsourced. The model segments B2B service providers into five broad categories – strategy, reputation, demand, sales and operations – and 32 specific types of B2B services.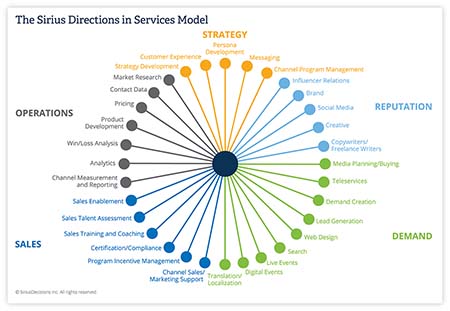 Subsequent research will offer comparative analyses of the providers in each of these areas. Note that some service providers (e.g. digital interactive marketing agencies) offer a breadth of services that include customer experience, creative, Web design and demand creation. This model takes a separate look at each of these capabilities.
Organizations should evaluate their core processes, capabilities, skills and resources and use these as inputs to decide when (or if) they should engage a service provider. In some cases, building skills, processes and capabilities in-house rather than engaging a service provider provides a competitive advantage.
In other cases, the use of service providers can increase process efficiencies, reduce costs, augment existing capabilities or provide capabilities and capacity that the organization doesn't have. There is no right or wrong answer – organizations must find a balance between the use of service providers and in-house resources to maximize business results and execute marketing, sales and product plans.
Categories