Join The Progressive Web App Movement
Now that Apple supports the progressive web app (PWA) standards that Google pioneered, it's time to join organizations such as eBay, Financial Times, Flipkart, Starbucks, and West Elm in the movement to build progressive web apps that combine the discoverability and reach of the web with the experience and engagement of an app. As a digital leader, it's your responsibility to spark a progressive web app movement at your firm to bring applike experiences to your mobile web. This report shows you how to join the movement. Here's another report from Michael Facemire with more details for developers.
Key Takeaways
Your Mobile Website Needs Help
Are you happy with your mobile web conversion rates? (They're typically only one-third of that of the desktop.) If your customers could rate your mobile web, what would they say?
It's Time To Join The Progressive Web App Movement
Responsive web design, with its foundation in the desktop, was an important first step. But now you can do even better with a mobile-centric approach. Apple has joined Google in supporting new web standards, including notifications, access to GPS and other hardware, manifests, and service workers. The technology is ready for you to build a PWA that combines the frictionlessness of the web with the experience of an app.
Progressive Web Apps Will Pay Off In Better Engagement And Conversion
Consumers and business customers alike will reward you with higher engagement and conversion rates approaching those of your app and desktop website. And we predict that, in 2019, Google will prioritize progressive web apps in search results.
The technology is ready for progressive web apps to become a movement in 2019 and go from "What is it?" to "Why didn't I do that?" Starbucks was early to the movement; it built a progressive web app for anybody aching to mobile-order a latte without having to find and download the app. Shake Shack recently joined it, as did Financial Times and Instagram. We call it a movement because that's what you will need to reinvent your website to deliver experiences that are task-oriented, friction-free, instantaneous, and personalized.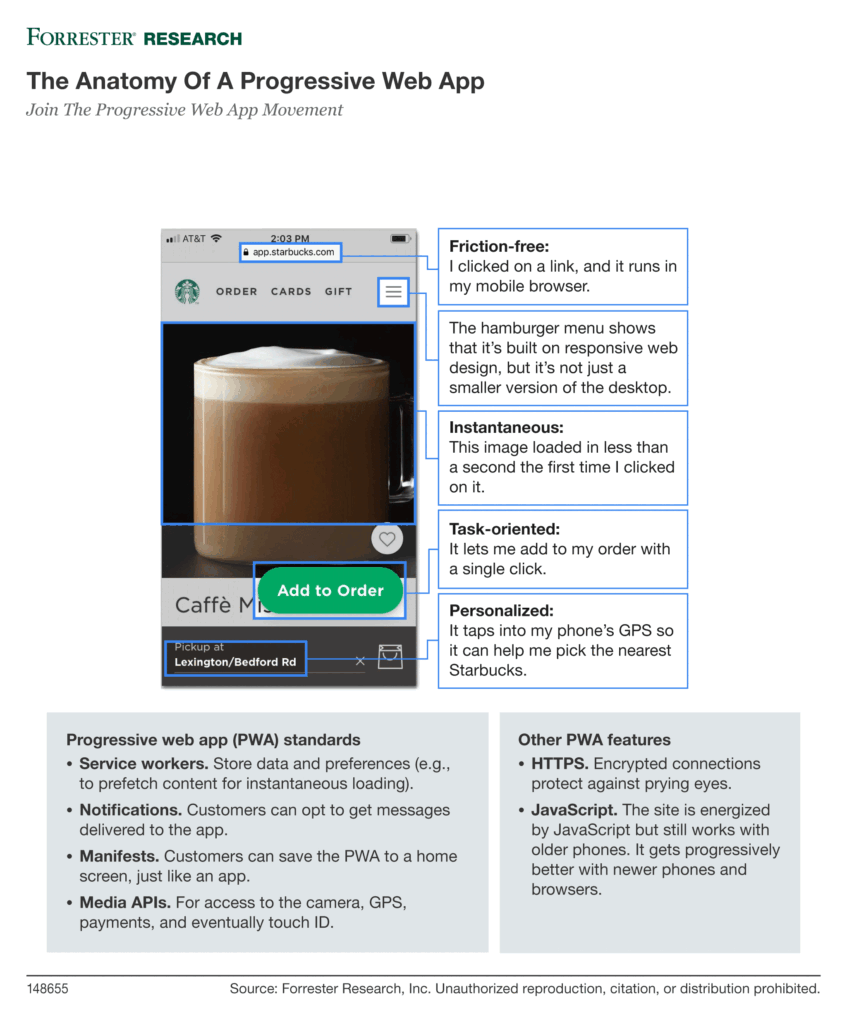 Categories