Keys to Implementing the SiriusDecisions Demand Unit Waterfall® (And How Tech Can Help)
Deploying the new SiriusDecisions Demand Unit Waterfall

®

requires numerous critical process changes across the organization
At the SiriusDecisions Technology Exchange, Mark Levinson and Terry Flaherty explained the keys to implementation success
Naomi Marr shared how she and her team at Imprivata have used technology to successfully implement the new waterfall
Since its eagerly anticipated debut at SiriusDecisions Summit 2017 earlier this year, the SiriusDecisions Demand Unit Waterfall® has gotten a lot of attention from organizations eager to embrace this new method of demand management.
However, moving away from thinking about demand in terms of leads represents a big change – requiring countless technical ecosystem changes within marketing, sales and beyond. For B2B leaders interested in making the switch but unsure about implementation details, Terry Flaherty and Mark B. Levinson presented a complete guide to Demand Unit Waterfall implementation during their SiriusDecisions Technology Exchange keynote. And naturally, given the conference's focus on tech, Terry and Mark also explained how (carefully selected and appropriate deployed!) technologies can help.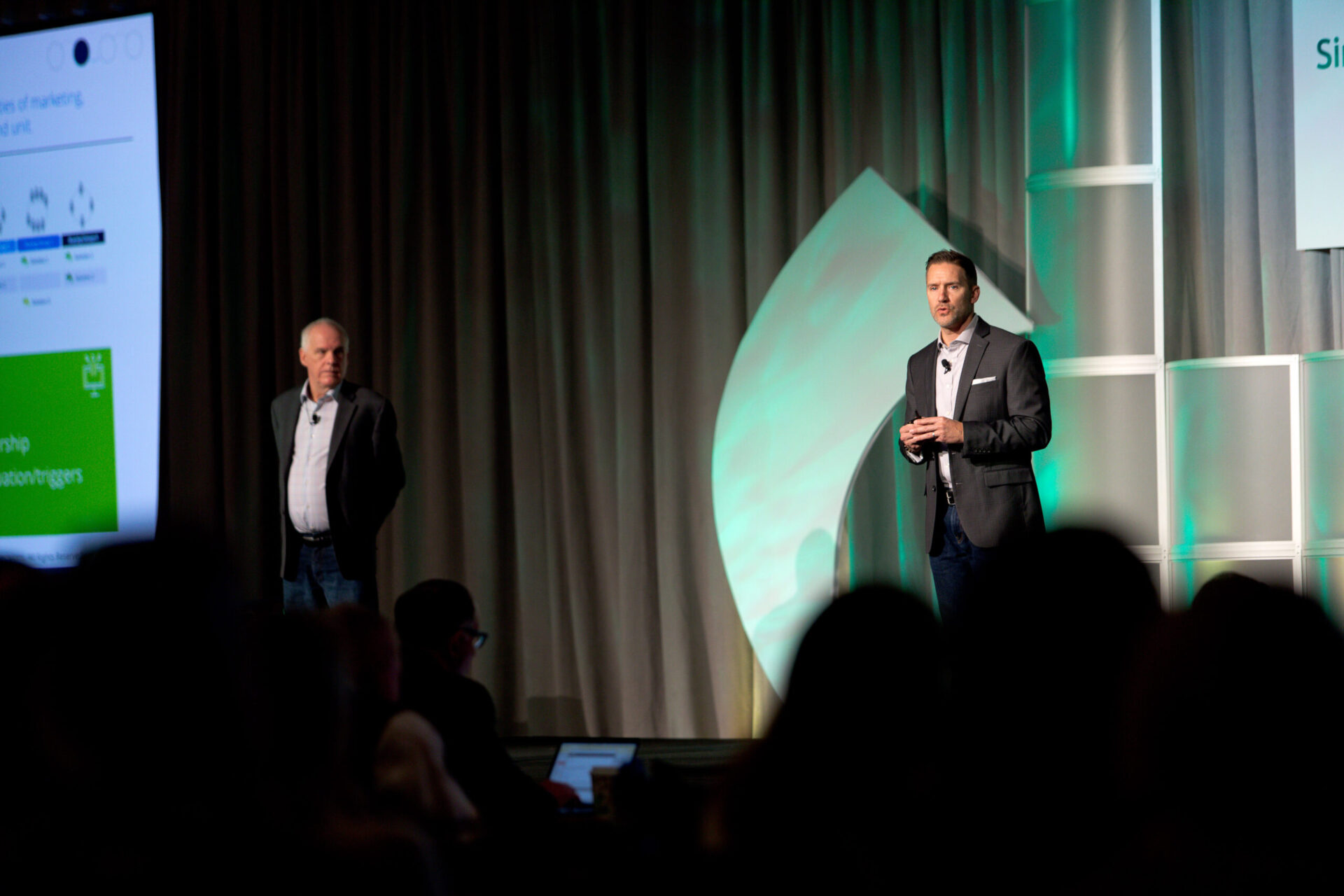 Understanding and deploying the Demand Unit Waterfall starts with understanding three core concepts: demand units – buying groups that have been organized to address a need the organization is challenged with – demand maps – which define the types and number of demand units present – and the seven-stage waterfall itself.
Technology can increase efficiency on multiple fronts as Demand Unit Waterfall implementation starts. A basic Demand Unit Waterfall tech stack might consist of a marketing automation platform and sales force automation (SFA) system, while an advanced tech stack might add predictive analytics, account-based marketing execution tools, routing systems and more.
In the early stages, however, avoid buying too many new technologies too soon. "This should be a conversation about understanding whether you are driving maximum value from your technologies," Mark said. "As you start to move to the intermediate level, you can start adding things like analytics."
Ensuring mutual understanding of definitions and handoffs is critical. For processes like identification of market segments and personas, defining and enforcing qualification criteria, and even making demand unit definitions available to all participants, technology can play a role.
When it comes to scoring, regardless of any technology deployed, keep in mind that with demand units, the focus is on the group rather than individuals. "There's no silver bullet showing what a qualified lead is," Terry said. "Don't disqualify an opportunity because an individual isn't responding to touch attempts – qualify at the group level."
Demand Unit Waterfall measurement presents numerous areas for potential technology deployment. Mark and Terry recommended examining performance across the waterfall to look for increases in lead quality and quantity, as well as overall impact of the implementation.
"This is a constant flow of information, and you need to see the performance in context," Mark explained. With spreadsheets, the potential for errors and outdated info becomes unmanageable, so funnel analysis tools and supporting technologies are invaluable.
Providing an example of a successful tech-supported implementation of the Demand Unit Waterfall, Naomi Marr, director of marketing operations at Imprivata, took the stage at TechX next to show how her organization made it all happen.
For Naomi and her team, early process mapping was key. By first laying out every aspect of the organization's demand processes and discovering overlapping functionalities and technologies that were no longer in use, Imprivata could start plugging in applications appropriately.
As with any organization that has moved to the Demand Unit Waterfall, work was also needed to get sales and other teams on board with radically different definitions. Redefining demand as something no longer about leads involves a cultural change – something far more significant than switching on a new piece of technology.
However, as more and more B2B organizations transition to the Demand Unit Waterfall, old definitions of leads and buyers likely will feel increasingly obsolete. "We believe we are entering a new era – the era of the demand unit," Terry said. "This is a game-changer."
Categories