Livestreaming Commerce Lands In Europe
Most European marketers won't have heard of livestreaming commerce yet. But those with any experience of China, or Asia, will. Livestreaming commerce is a $60 billion-plus business there and was described by the CEO of Taobao — the world's largest e-commerce site — as the future of online sales.
To the uninitiated, livestreaming commerce is a streaming video often hosted by an influencer who demonstrates and sells products. Think of a shopping channel, but more mobile and more social. How does it manage to sell so many products?
Very low friction: The likes of Alibaba and Taobao have made it very fast and easy for people watching a stream to click and buy the products demonstrated.
Influencer appeal: In China, many influencers' (called KOLs, or key opinion leaders) followers buy the displayed products on impulse, simply because they like the host; the KOL Viya managed to sell a rocket ship through a livestream on Taobao.
COVID-19 forces: Shoppers missing both the tactical and social aspects of shopping due to restrictions or lockdown latch on to livestreams as a way to get intimate with products.
Now the livestreaming commerce phenomenon has landed in Europe. AliExpress, a global marketplace set up by Alibaba, introduced its social commerce product, AliExpress Connect, this May; this includes livestreaming commerce. Italian, Spanish, Russian, Turkish, and, of course, Chinese sellers on its marketplace can now tap into influencers for either content (images, videos, etc.) or livestreams.
Curious what livestreaming commerce looks like? Just download the AliExpress app, click the "Feed" icon, then "LIVE." They've hosted more than 10,000 sessions, selling mostly consumer electronics, fashion, cosmetics, home, and wellness products.
French retailer Auchan's electronics private label brand Qilive piloted a livestream via AliExpress and drew 18,000 viewers, and modest sales. Off AliExpress, other brands such as H&M, fast fashion brand Monki, and Sephora have experimented with livestreaming commerce in Europe.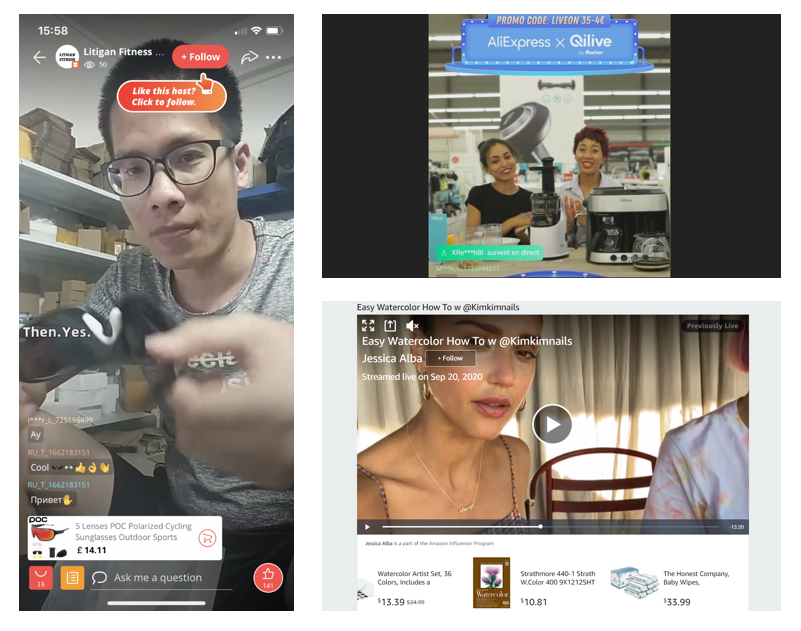 Here's what you can expect from livestreaming commerce in Europe:
Market-to-market growth: AliExpress is starting in a handful of countries where it is already one of the top e-commerce sellers. Martin Wang, who heads up AliExpress Connect, told me, "This year, we're really focused on Europe … We're getting the most activity in countries where we have local operations, which are France, Russia, and Spain."
Fast learning: Currently, many livestreams have a very unpolished feel. Some will call that authentic; others, unprofessional. AliExpress is learning that Western aesthetics differ from those in China. The CEO of indahash, AliExpress's agency partner in Europe, told me: "We can't just copycat Asia. Different things resonate, down to the ways you talk about products." There will be tremendous advances, and opportunity, on this front.
A generation of livestreamers: Livestreaming demands new skills from creators; the live-ness demands passion in the topic and more interaction with the audience. Hundreds of influencers in indaHash's network have been recruited by AliExpress sellers, and the platform expects to attract 100,000 influencers and content creators globally over the coming year. It's currently experimenting with its compensation model (combining a flat fee per stream and commission on sales) to draw in more streamers.
Livestreaming commerce is unlikely to reach the same heights in Europe as it has in China soon. European shoppers are unaccustomed to buying through social channels. So, it's still a nascent behavior. But as platforms like AliExpress and Amazon launch and promote it, retailers experiment with it, and sellers pick up on it, evidence shows that consumers will adopt it quickly.
If you want to talk more about livestreaming commerce in Europe (or the US), book an inquiry. Or read our research about it for European marketers (or American ones).
Related Forrester Content
Categories