Location, Location, Location!
There are three things that matter in real estate: location, location, location. It is the real estate agent's mantra and is largely believed to be the most important factor to consider when buying property.
In the same vein, location has the power to affect your business: how it operates, total sales, which customers to target, how to engage with them, etc. This notion, coupled with the fact that consumers of today are empowered and want things at the moment they need them, reinforces the need for enterprises to adopt a location intelligence strategy able to deliver insights at the speed that customers want to do business with you.
Although many firms have yet to appreciate the true value of location intelligence to contextually understand customer engagement, some do — and are already gaining competitive advantages with it. In a recently published report, Forrester identifies opportunities to use location technology across the customer life cycle to improve business. We break the customer life cycle into six phases (see figure below): We start with the discover phase, which refers to the moment a prospect first learns of your brand/product or services. Next is the explore phase, during which said prospect learns more about your offering, and after that, he or she may make a conversion and buy from you. Once a prospect has bought the product or service, they will use it. After that, they may ask about additional products or services, and during the last stage, the customer will continue to engage and re-engage with your brand. Contextually-rich insights must inform all six points of customer interaction to create experiences that meet or exceed customers' expectations — and location intelligence is at the crux of it all.
How can location data be leveraged to improve customer experience? What types of technologies should I be using? How can location information enhance existing products and services? Forrester's report, "Beyond The Map With Location Intelligence," aims to demystify these questions and offers numerous examples. To learn more about how to improve business with location data, check out our report.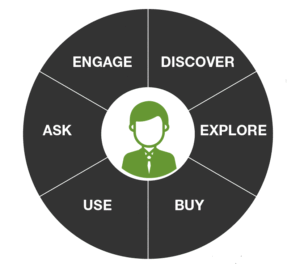 Categories