Measure Value Behaviors And Value Outcomes To Drive Customer Obsession
In my previous blog, we called on all (aspiring) customer-obsessed companies to balance the value of their customers with the value they deliver for their customers.
This follow-up blog will introduce the three steps for how to do that, along with a new value metrics framework.
Step One: Define The Value That Target Customers Seek Along Four Dimensions
This is step one because it's what most companies aren't doing enough of. Firms must:
Define the core customers to focus on. We recommend focusing on your "devotees" — customers who most appreciate the firm's value proposition and reward the firm with greater loyalty.
Identify value drivers through qualitative and quantitative research among target customers. AARP found through in-depth research that members who lose a loved one expect AARP to provide some services and partner with experts for other needs (e.g., counseling). But what those members really want from AARP is help with reducing complexity around the loss of their loved ones — regardless of who delivers the service itself.
Step Two: Establish A Value Metrics Framework
Organizations need two types of metrics to serve as leading and lagging indicators in their framework (see figure below):
Value behavior metrics: assess what a firm does to create value for customers and the company
Value outcome metrics: track how well a firm balances value for and of customers created in customer journeys and overall
For a sample of each category's metrics, check out our new report, "Successful Symmetry: Use Metrics To Balance Value For The Customer And Business."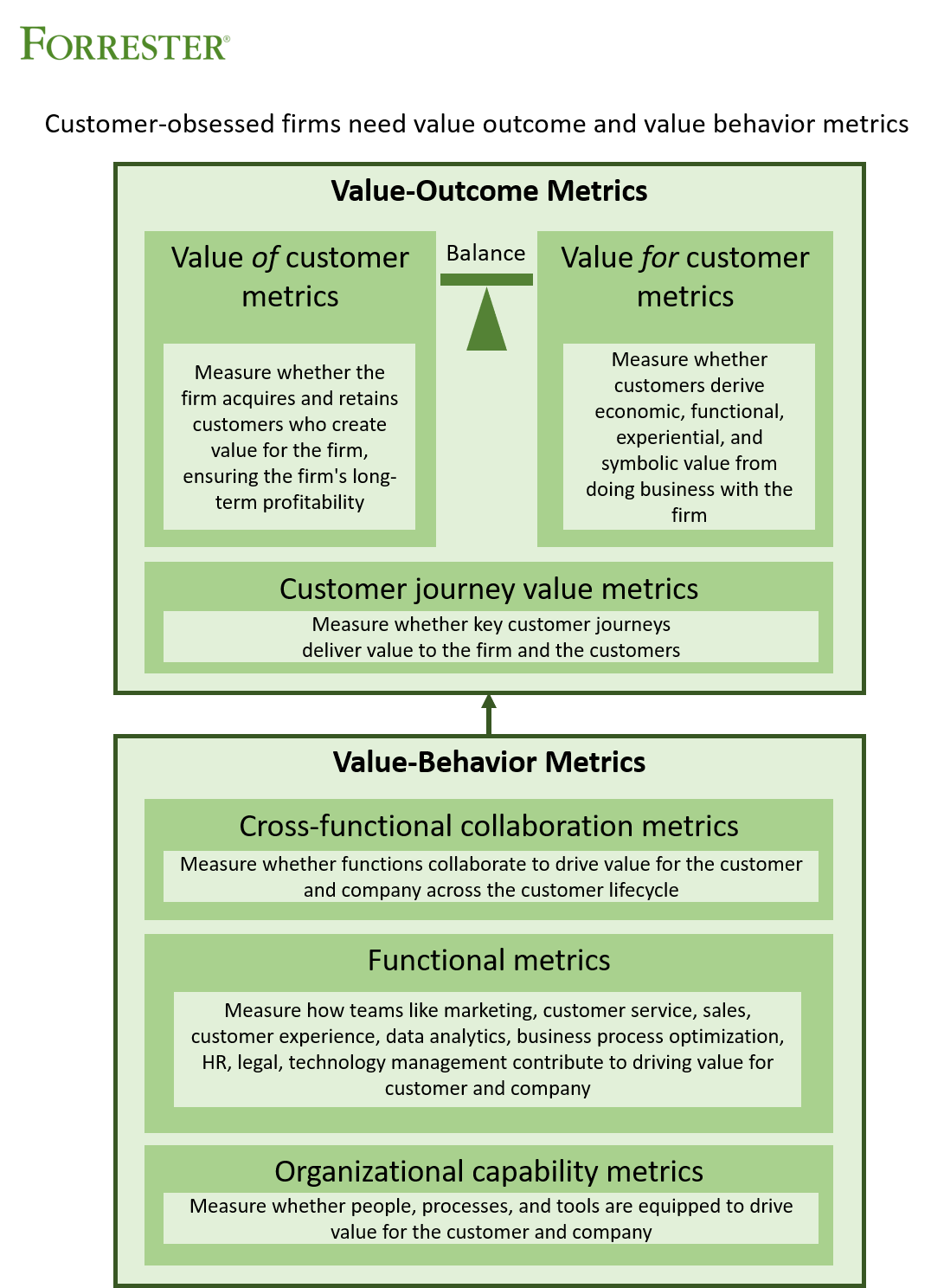 Step Three: Make Decisions To Balance Value For And Value Of Customers In The Long Run
To do that, leaders must:
Manage short-term trade-offs to ensure long-term value balance — like Ally did.
Empower employees to be accountable for customer obsession by identifying the right behaviors to drive the value metrics.
Sever direct links from metrics to bonuses. Paying employees extra for being customer obsessed is like paying pilots extra for not crashing their planes. It undermines the idea that customer obsession is a standard expectation for employees at all seniority levels. Follow the successful example of Volkswagen Group Australia, and end customer experience-based bonuses.
For more details on how to set up such a system and which metrics to include, please check out our new report, "Successful Symmetry: Use Metrics To Balance Value For The Customer And Business."
Categories