Meet The Most Interesting Investor Segment: The Digitally Savvy Delegator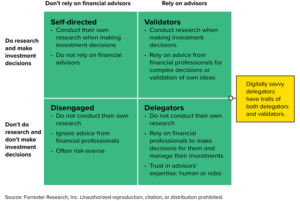 Digitally savvy delegators are an overlooked segment and represent an attractive opportunity for wealth management firms right now. As incumbents and fintechs alike continue to compete for customers, firms need to understand who digitally savvy delegators are and design the right solutions to attract and retain them. I recently published a report about this customer segment and the actions wealth management firms must take now. Here are some highlights:
Delegators and validators both rely on financial advice when making investment decisions. They are the two largest segments, making up 64% of US investors. Delegators hand off most investment decisions to experts and, increasingly, robo-advisors. Validators gather their own information, and at the same time, they seek advice and validation from experts. After receiving information from these sources, validators ultimately make their own decisions.
Delegators need advisors, and validators want digital tools. We see how important advisors are to delegators: Edward Jones, Merrill Lynch, and Morgan Stanley — firms that support customers through their advisors — were leaders in Forrester's 2021 Customer Experience Index (CX Index™). Validators are the most digitally savvy of the four segments and are most likely to check their investments using a mobile app. What they want are tools to help them easily visualize their financial picture, such as those offered by firms like eToro and Farther Finance.
Digitally savvy delegators look a lot like delegators and validators. Digitally savvy delegators lead the demand for product and experience innovation. They're also open to in-person interactions. They crave human contact and digitally immersive experiences. They also belong to our most empowered segment, Progressive Pioneers. And as our readers know, once a customer evolves into a particular empowered segment, they're likely to stay there. So you have an opportunity to tailor solutions specifically for the digitally savvy, who are both willing to pay for financial advice and are open to experimenting with innovation.
Be sure to check out the full report, which includes insights on this segment's behaviors, their openness to innovation, and their trust in solutions offered by fintech and big tech firms. For more information, including a detailed analysis and more data and real-world examples, register for my upcoming webinar on September 28.
Categories