Meet the Newest SiriusDecisions Demand Waterfall!
Continued changes to B2B processes and technologies have inspired the creation of a new member of the Demand Waterfall family – the Demand Unit Waterfall
The new model made its much-anticipated debut on the stage at SiriusDecisions Summit
One key change from other versions of the waterfall is a new way of defining B2B buyers
Since its debut in 2006, the iconic SiriusDecisions Demand Waterfall® has been adopted in countless B2B organizations. By defining the key process stages and handoff points in the lead management process, the Demand Waterfall – which continued its evolution with a rearchitected version in 2012 – enables teams to track their lead flow, improve their processes and, ultimately, drive increased revenue and growth.
Now, continued changes to B2B processes and technologies have inspired the creation of a new member of the Demand Waterfall family – the Demand Unit Waterfall. The eagerly awaited new model was unveiled today by Terry Flaherty and Kerry Cunningham (following an actual live drumroll from the crowd!) at SiriusDecisions Summit in Las Vegas.
Representing a further evolution from the rearchitected Demand Waterfall, the Demand Unit Waterfall features new and refined stages and, most importantly, redefines how organizations define a "buyer."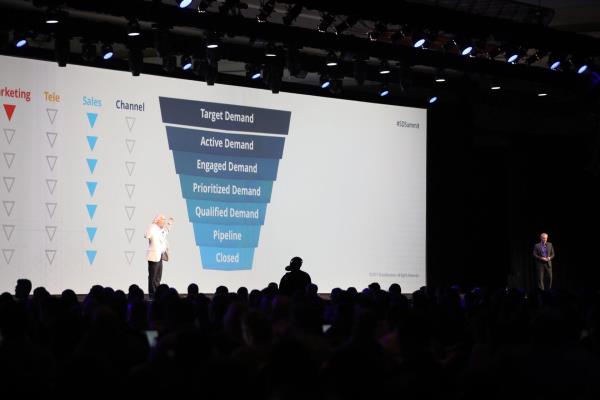 Several recent B2B trends inspired the Demand Waterfall update: First, organizations are increasingly focused on understanding their buyers and defining go-to-market strategies designed to align to specific personas and buying centers.
"We're also gaining more visibility above what we classically think of as the beginning of the Demand Waterfall," Kerry explained. "Predictive analytics and intent monitoring are helping us in intelligent segmentation – and identifying companies that are currently in the market or should be in the market for solutions. We're now able to identify, target and engage with these buyers very early in the process."
With this increase in buyer understanding and early visibility, organizations are poised to better track buyers' entrance into the Demand Waterfall and their progression through its stages.
Enter the Demand Unit Waterfall, which starts with a target market containing potential demand units. Demand units are defined as a buying group that has been organized to address a need the organization is challenged with. Demand units – not accounts – are usually the true targets that marketing (and product and sales) should have in mind when thinking about buyers. Buyer, needs and solution must match for a demand unit to exist.
"These are the fundamental units of demand that we really need to go out and identify, attract, engage and qualify if we want to sell anything," Kerry said.
Multiple demand units may exist within a single account, so organizations can use a demand map to define the number and types of units present, depending on the needs and solutions that align to each buying group.
"Each logical combination of buying group, needs and solution represents the points for marketing, tele and sales to drive demand," Terry said. "It also represents a distinct buying decision. Because these are distinct decisions, each of these demand units represents a buying and selling process that needs to be defined and measured."
In the active demand stage, marketers measure the number of demand units that show evidence of being in the market or needing to be in the market for the organization's solutions. Third-party intent data can help determine which demand units not only are in a "shopping" mode, but also have experienced an identifiable event that means they could be in the market. This data then helps organizations determine where to aim their outbound marketing efforts.
The engaged demand stage, which mirrors the inquiry stage of the rearchitected Demand Waterfall, contains demand units with at least one contact who fits a designated buyer persona and has opted into being identified by the selling organization. The key process change here vs. the rearchitected Demand Waterfall is the addition of mapping based on personas and interests.
Further down in the Demand Waterfall, from the qualified demand stage to the pipeline stage and closed/won, the emphasis on demand units continues. For B2B marketers accustomed to using inquiries as the basis for tracking their demand, the change may seem unfamiliar at first, but the fundamentals remain the same.
"Tracking demand units doesn't mean we don't count inquiries anymore – or that inquiries don't count," Terry pointed out. "It means we are measuring how many inquiries can be attached to the demand units we care about."
Ready to try out the Demand Unit Waterfall, or want to study it in more detail to see if your team is ready? Summit attendees can join SiriusDecisions analysts and consultants for a special SiriusLabs session on Thursday, May 18, to take a readiness assessment. Check out the Summit mobile app and onsite posted schedules for more details!
Categories