Mobile Commerce Is Growing As Inhibitions Go Down
Mobile's share in US online retail and travel commerce will increase from 36% in 2018 to 45% in 2024, as per our recently published forecast, "Forrester Analytics: Mobile And Tablet Commerce Forecast, 2019 To 2024 (US)." Smartphone buyers are growing faster than overall online buyers, but revenue per user will be the growth driver as consumers become increasingly comfortable buying directly on their smartphones.
Mobile Will Account For 45% Of Travel And Retail Sales By 2024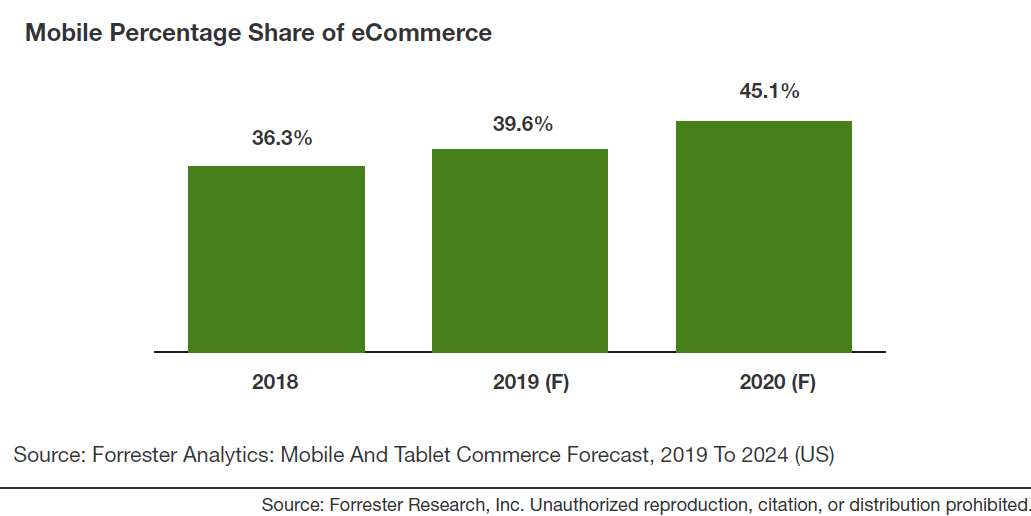 Factors that are alleviating consumer inhibitions include:
Time spent on smartphones is still increasing. Not only are smartphones the primary device for US consumers, but they also are spending more time on the device.

Mary Meeker's Internet Trends 2019 report

reveals that time spent on smartphones in the US has increased from 2.8 hours per day in 2015 to 3.6 hours per day in 2018.
Smartphone screen size is increasing, thereby enhancing the customer experience. Forrester Analytics data reveals that a smaller smartphone screen size is one of the inhibitors for smartphone buyers who are willing to make purchases on a smartphone. However, our data also tells us that the average smartphone screen size used by US consumers is increasing every year, so this inhibition is lower in 2019 than 2018.
Checkout options are improving. Retailers are investing in smoothing the checkout process to encourage more consumers to complete their purchase on their smartphone. To this end, retailers are collaborating with mobile payment options provided by PayPal and Apple Pay. The effort has started bearing fruit: Mobile transaction volume is growing. For instance,

we saw that Apple Pay transaction volume tripled year-over-year in 2018

.
Please see the full report here. And please let me know your thoughts on what factors will grow mCommerce for travel and retail in the year ahead!
Notes:
Mobile commerce includes mobile retail as well as mobile travel.
Mobile includes both tablet and smartphone usage.
Categories