New Research: The Latest Insight on Marketing Automation Platforms
When.comparing the MAP market landscape, marketers find that prospective vendors have many similarities
SiriusDecisions is excited to announce the release of the "SiriusView: Marketing Automation Platforms 2015"
The following excerpts provide a quick snapshot of what to consider when evaluating each vendor
Every B2B marketer understands the value of lead nurturing and prioritizing leads for sales engagement, so it is hard to imagine that any B2B organization would not take advantage of automated capabilities to achieve these goals. Marketing automation has become a business necessity, not just a "nice to have."
When comparing the marketing automation platform (MAP) market landscape, marketers will find that prospective vendors have many similarities. They all can create forms and landing pages and can prioritize and score leads. But what ultimately differentiates them are the advanced capabilities they offer, as well as the way each has positioned itself when challenged by specific use cases.
SiriusDecisions is excited to announce the release of the "SiriusView: Marketing Automation Platforms 2015," the new edition of the SiriusDecisions publications most widely read by our clients. This report evaluates 12 MAP vendors based on features and functionality, usability, vendor viability, and service and support. We also have included the top five marketing automation trends we see in the marketplace and how these trends will impact organizations using a MAP.
The following excerpts provide a quick snapshot of what to consider when evaluating each vendor. Additional analysis is contained in the complete SiriusView.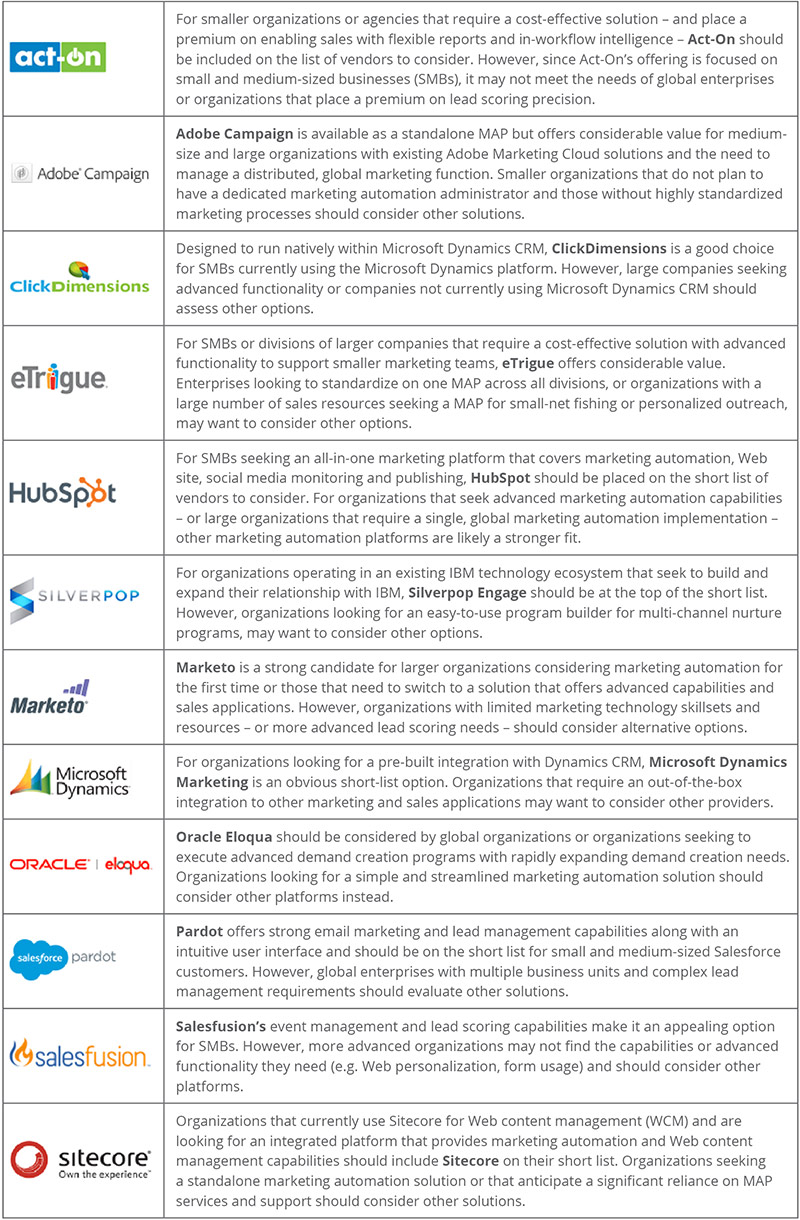 Looking for guidance on technology optimization and management? Join our SiriusDecisions Technology Exchange. For marketers, the agenda will focus on how to establish a technology vision, create and execute a technology and ensure you're achieving the best possible ROI on your marketing technology.
Categories