Onboarding: Start Right to Maximize Partner Performance
A structured, comprehensive onboarding process is key to minimizing partners' ramp time and maximizing their ongoing engagement and productivity
Poor onboarding of a new channel partner can quickly dismantle a relationship before it ever begins
Effective training must be customized by role, provided to partners in a variety of formats, and regularly reinforced to drive knowledge retention
Identifying and signing up the right partners to grow your business is hard enough. Rapidly and effectively getting and keeping them engaged and productive is an even bigger challenge. Failing to onboard a new partner effectively can lead to poor partner performance, dissatisfied end customers, partner disengagement, and loss of the time and expense invested in recruiting the partner. If a new partner doesn't start to market and sell your offering within the first 90 days of recruitment, it's highly likely that it never will. To maintain and leverage the excitement and momentum that exists at the beginning of the relationship, leading suppliers employ a formal onboarding process that starts on the first day after the agreement is signed or a new partner is registered.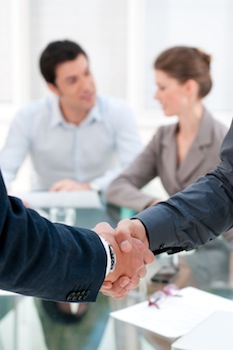 We've uncovered eight keys to success shared by best-in-class channel suppliers that have proven effective in accelerating partner ramp times and increasing first-year revenue production:
Assign process ownership. Developing the onboarding process should be a team activity involving channel sales, channel marketing, channel operations and other interlocking organizations. In addition, establish accountability by assigning specific ownership of various activities throughout the onboarding process to the appropriate individuals. However, a subject matter expert should own and lead the onboarding process to ensure its efficiency and effectiveness. His or her key responsibilities include making sure the process is clearly documented and consistently executed, confirming that individuals performing onboarding tasks are properly trained and have the tools they need to do the job well, and monitoring the process to initiate needed improvements.
Start before recruitment. As the saying goes, you only get one chance to make a first impression. Therefore, making a positive impression even before the partnership is consummated is critically important to ensure the partnership gets off to a good start. You can do this by reinforcing how easy it is to do business with your company – automating the application process is a great place to start – communicating any partner requirements so that there are no surprises, identifying resources to engage in joint planning activities, and making connections with key partner personnel on social media.
Use milestones and automation. To ensure a successful relationship, build and implement an onboarding roadmap that spells out exactly what activities you and your partner should do and within what timeframe. Then, use the task management capabilities of a sales force automation or partner relationship management platform to automate and more effectively track these onboarding milestones (e.g. send automatic email reminders to task owners when an activity is pending or overdue). Be sure to balance technology with personal touches, however. While automated communications are efficient and cost-effective, they should supplement, not replace, face-to-face visits, phone calls or personal correspondence.
Engage in welcoming activities. To reinforce to your new partner that choosing to do business with your company was the right decision, implement activities and deliverables that foster a positive start. Have a high-ranking company executive personally call the top partner executive to convey enthusiasm for the partnership, send a welcome kit with information and tools that will help the partner and promotional items/swag that will further engage them, and/or host an onsite orientation and welcome reception to get the entire organization excited about the partnership.
"Prime the pump." Experiencing some level of success within the first few months of the partnership is imperative for the partner. For example, make joint sales calls on their installed base or participate in a "give a lead, get a lead" program to produce early wins. Also, seek opportunities to bring real value to the partnership, such as suggesting new vertical markets or services that are proving successful for other partners, and engaging in joint demand creation programs.
Train, train and train. The training that partner personnel receive during onboarding, no matter how compelling and accessible, is a lot to absorb. Whether training is instructor-led or delivered online, most partner personnel will remember very little of what they learned without reinforcement and field support. In addition to providing job aids, such as playbooks and online knowledge bases, employing a "learn and do" training model is best practice. After training, include partner personnel on sales ride-alongs and allow them to shadow support reps as they solve real-life customer issues. This will keep partners engaged and enthusiastic, provide the mentoring they need to ensure their first sale is a success, and let them know you've got their back and you're ready to assist.
Align partner account manager (PAM) compensation. Depending on a product's sales cycle and complexity, it's not unusual for partner-produced revenue to be delayed as long as six months after recruitment. One way to speed up ramp times is to incent PAMs to expedite new partner onboarding. Successful channel programs provide PAMs with management by objectives, which reward them when they complete key activities that precede partner revenue, such as completing a business plan within the first three weeks of engagement or executing a five-for-five program (which targets five existing customers and five target prospects in the first 30 days of the onboarding process).
Measure and monitor. To gauge the success of the onboarding process and make any required improvements, establishing and tracking key performance metrics is essential. Examples of metrics include time to first sale and number of partner employees certified. Additionally, solicit new partner feedback at least twice during the first 12 months in the form of a survey or one-on-one interview. If you don't ask partners how they think the partnership is going, you may not recognize it's failing until it's too late to turn the partnership around. Feedback will also provide the information needed to continually improve and enhance your onboarding process.
Although all of these onboarding best practices require an investment of time and resources, these costs will be recovered through future sales. Implementing these suggestions will increase partners' satisfaction and retention, their speed in getting to full revenue performance levels, and the quality of their implementations. Effective onboarding also is an excellent way to demonstrate to new partners that you value their partnership and want them to succeed.
Do you have another best practice that you feel should be added to this list? Share your recommendations by leaving a comment. We'd love to hear from you!
To learn more about channel management, join us this month at Summit in Nashville!
Categories