Online Retail In Southeast Asia Is Expected To Reach $53 Billion By 2023
Southeast Asia (including Indonesia, Singapore, Malaysia, Thailand, the Philippines, and Vietnam) is home to 574 million people. Of these, 272 million (47%) are online and 144 million will make purchases online in 2018, making the region a magnet for investment by online retailers and venture capital firms. We expect B2C online retail in Southeast Asia (SEA) to rise from its current $19 billion to more than $53 billion in 2023, when it will account for 6.5% of all retail sales. Our recently published "Forrester Analytics: Online Retail Forecast, 2018 To 2023 (Southeast Asia" discusses online retail growth in nine product categories and breaks sales down between mobile and desktop. Specifically, we see that, in Southeast Asia: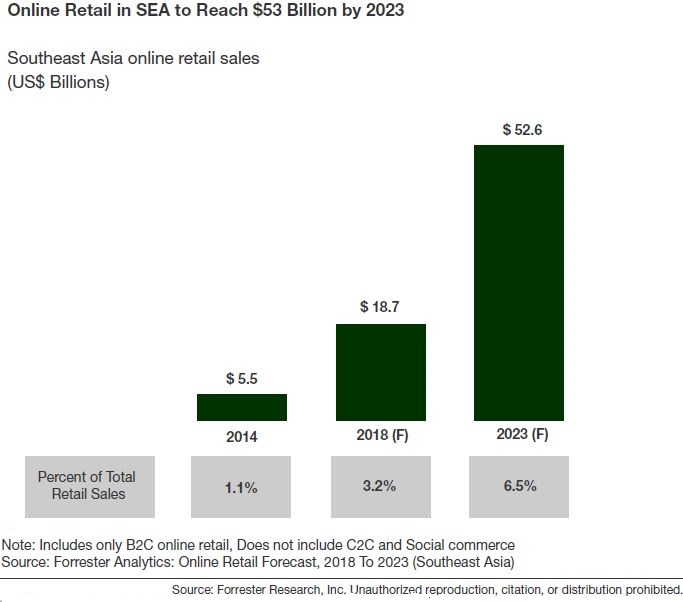 Market conditions are favorable for online retail. The region has a combined economy of $2.6 trillion and an average growth rate exceeding 5%. The retail market is worth $590 billion but is still underdeveloped; this, combined with a young population and high internet and smartphone penetration, makes SEA a key target for global online retailers.
Indonesia is the largest market. Indonesia accounts for 40% of the SEA online retail market and has attracted 34% of the retail investment in the region. And its eCommerce environment is still developing, suggesting great untapped potential for retailers. Indonesia's telecom infrastructure is also developing, while mobile broadband penetration is growing rapidly — resulting in many mobile-only internet users. We expect Indonesia's online retail market to hit $19 billion by 2023.
Fashion and cosmetics will lead category growth. Although consumer electronics remains the largest category in the region, accounting for nearly one-quarter of total online retail sales, fashion (including apparel, footwear, and accessories) and cosmetics will be the key drivers of future growth, mostly due to the lack of availability of brands in offline retail channels.
Chinese tech giants are competing to conquer SEA while Amazon watches. China's digital giants — including Alibaba, Baidu, DiDi, JD.com, and Tencent — have invested at least $8 billion in mergers and acquisitions in SEA. Conquering the region is these tech giants' first goal before moving on to India and African markets to take the fight directly to their US counterparts. With increasing competition in India from Walmart after its acquisition of Flipkart and investment by Alibaba, Amazon is taking its time in SEA. Apart from the launch of Amazon Prime in Singapore, it has been in watch-and-wait mode in the rest of the region. We expect Amazon to shift focus to this region in 2019 by investing in Vietnam.
Our forecast includes nine main categories for B2C online retail: computer hardware and software; consumer electronics; beauty and cosmetics; media including books, music, and videos; apparel and accessories; footwear; home and personal appliances; grocery; and housewares and furniture. Social commerce and C2C online retail are not part of the forecast.
Categories