Sales Operations is a Force Multiplier
Sales operations is a force multiplier for improving sales productivity
For optimal performance, sales operations leaders must assess, develop and enhance competencies in seven core areas
Sales operations is the critical link between the development and the execution of the sales and go-to-market strategy
"Force multiplier" – a term that started with the military – refers to a tool, a technology or a weapon that dramatically increases the effectiveness of a group of soldiers. A force multiplier could be a better communications system, enhanced battlefield intelligence or even a logistics improvement that delivers soldiers and material at the point of need.
In the business world, a force multiplier is something that increases the production or effectiveness of a business process or team. Sales operations is a force multiplier.
Sales operations is the critical link between the development and the execution of the sales strategy and go-to-market strategy. In fact, when we ask sales and sales operations leaders to identify their top three strategies for achieving growth objectives, the number-one factor is improvements in sales efficiency (see graphic). Number two is expansion in the sales organization itself. When you look at all the responses, you see that sales operations has a role to play in the design or execution of all of these growth strategies.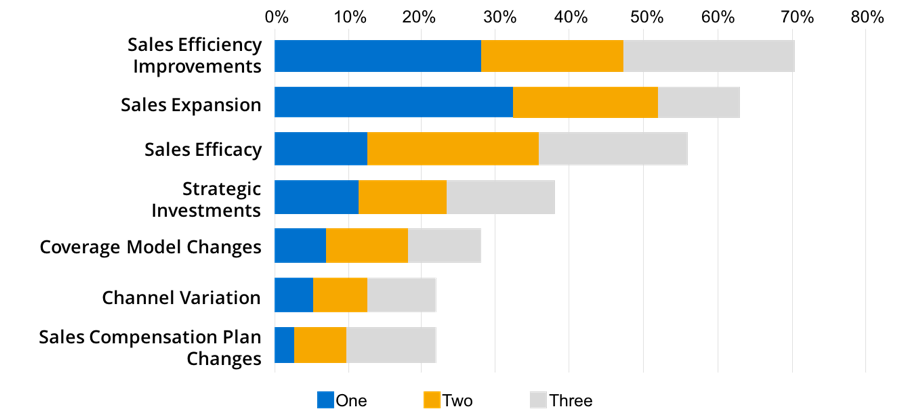 To achieve the mission, sales operations leaders must continually assess, develop and enhance the competencies of their organization in seven key areas:
Strategy and planning. A consistent, structured approach, combining bottom-up analysis with top-down direction and defined milestones, makes sales planning more productive and the resulting deliverable more comprehensive.
Sales intelligence. Sales operations must have the competencies necessary to collect, validate and analyze data, then deliver that analysis to sales leaders, managers and reps in a role-specific, just-in-time manner.
Process design and management. Process design, mapping and management provide a clear picture of the activities that an organization or an individual sales rep is expected to perform in the context of job roles and goals.
Support and administration. Reducing waste, rework and duplication of standardized activities – such as price and configuration validation, order entry, order tracking and contact management – provides immediate benefits to margins and profitability.
Deal pursuit. Sales operations must ensure compliance with configuration standards, discount guidelines and revenue recognition policies to deliver consistency in customer agreement pricing, deal structure, terms and conditions.
Technology. As the sales technology stack expands and diversifies, integration of tools and applications becomes more complex, and sales operations must determine when to invest in new sales technologies while ensuring that existing technology delivers both business and user value.
Project management.Fulfilling the sales operations mission requires planning and implementing complex, multi-phase initiatives.
As the sales operations function matures within a B2B organization, leaders need to make it an ongoing priority to identify, add or enhance competencies that are required to meet the sales organization's changing needs. Some team members within the function may need to acquire or develop new skills and knowledge to align to business needs. Teaching existing team members new business disciplines might seem a daunting task, but with the right approach and management, investment in personnel can yield outstanding results for both sales and sales operations.
Categories