Sales Technology: The Journey to User Engagement
Engaged users believe that using a system or platform enhances their job performance
But the journey to user engagement is not always clear or easy
Sales operations and sales enablement must understand and address the stages in the sales technology user's journey
For many years, the discussion of technology adoption by B2B sales organizations has primarily centered on the number of logins and whether reps and managers are entering data. At SiriusDecisions, we're changing the discussion from "driving adoption" to "promoting engagement." When trying to deliver business and end-user value from investments in technology, sales operations must consider both user engagement as well as features/functionality.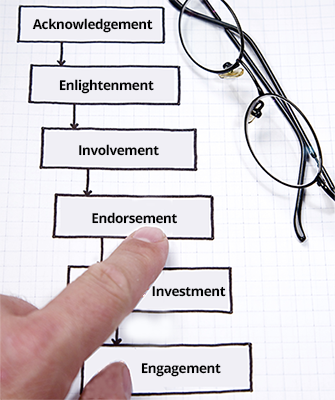 Engaged users believe that using a system or platform enhances their job performance. They embed the technology in their processes, activities and interactions with other parts of the organization. There is a clear and beneficial fit between the system, the task and the job profile.
But the journey to user engagement is not always clear or easy. To achieve optimal user engagement, sales operations and sales enablement must understand and address the stages in the sales technology user's journey, as outlined below:
Acknowledgement – recognize that the technology is available
Enlightenment – understand key features and functions
Involvement – increase usage as part of job performance
Endorsement – encourage others to use and leverage the tool
Investment – demonstrate competencies and results
Engagement – consistent use yields measurable increase in productivity
It may not be possible, nor should it be a goal, to get to the engagement stage for every sales technology. Cost, resource availability, business initiatives and other factors will influence these efforts and their outcomes. To make matters even more complex, not all users progress through the journey at the same speed.
Start by assessing existing technology investments for functionality (e.g. fit, scalability, data use and quality, integration) and user engagement. This provides a more complete picture of the status and benefits being realized from technology deployments and a guide to potential actions designed to increase business value.
Categories