Sales Territory Design: A Systematic Approach
When designing sales territories, follow the principle "Structure follows strategy."
When territories are out of balance, companies spend too much on low-potential customers and too little on high-potential customers
Follow four steps to create territories and account assignments that will increase sales productivity
Deploying a sales organization is an expensive proposition. Whether money is being spent on putting reps in the field, developing an inside sales team or selling through channel partners – or a combination of all three – cost of sales is often one of the largest line items in the corporate budget.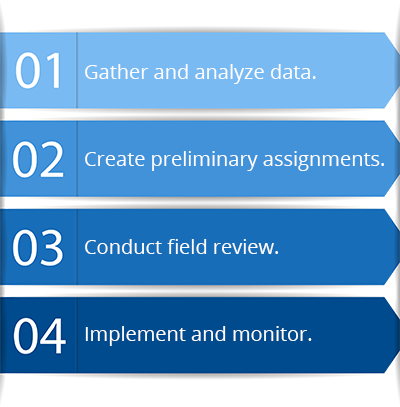 When sales territories are out of balance, organizations spend too much money and time on low-potential customers, while spending too little on high-potential customers. As a result, sales organizations can leave millions of dollars in lost productivity unrealized.
Before designing territories and assigning accounts, make sure to understand the sales strategy. Think of this approach as "Structure follows strategy." For example, if the growth strategy involves expansion into new vertical markets, consider new channel partners with vertical market expertise or positioning subject matter experts as sales resources. If the strategy involves increasing sales productivity, then travel time and sales workload are of utmost importance. Once the sales strategy is clear, proceed with the four steps outlined below:
One: Gather and analyze data. Collect historical sales performance data by rep, territory and account for at least one year – up to three years, if possible. Assess the total addressable market by collecting market data, including information about current and prospective customers (e.g. revenue, number of employees, market segment, wallet share, cross-sell and up-sell potential, retention risk).
Two: Create preliminary assignments. If operating in a strategic-account or named-account environment, start by assigning these accounts to sales reps. Assign remaining customers and prospects to territories, seeking to balance potential across territories. In some cases, it may be necessary to identify and assign both headquarters locations and buying centers. Evaluate proposed territories for workload (e.g. travel time, time required to service existing accounts and prospect for new accounts) and customer relationship disruption.
Three: Conduct field review. Submit preliminary assignments to field sales leaders for review and modification. This should be a controlled exercise, with a process, parameters and timeframe for making changes.
Four: Implement and monitor. Be sure to use a communication and change management plan to minimize uncertainty. If accounts or territories are changing assignments, sales operations should ensure a transition policy and plan is in place.
Designing sales territories can be difficult, but following the process outlined above promotes the creation of a territory and account assignment plan that enhances customer coverage, reduces inequities and increases sales productivity.
** Registration for the SiriusDecisions Summit is now open! Register today!
Categories