SiriusDecisions Women's Network Launches With a Little Magic at Summit Europe!
With its Women's Network events, SiriusDecisions promotes collaboration, contribution and personal growth for employees and our extended community of clients and non-clients
The Women's Network is a recently established initiative spanning both Europe and the U.S., and will be featured at future company events and local offices
The group launched at our annual Summit Europe with a panel that included Heather Loisel, Marisa Kopec, Isabel Montesdeoca and Meta Karagianni – moderated by Rachel Kavanagh
The SiriusDecisions Women's Network was conceived in response to a growing number of women within SiriusDecisions wishing to collaborate, contribute and grow outside of their everyday roles at work. Toni Essertier, SiriusDecisions' VP of Human Resources, facilitated the process in London to kick-start our ideas, working with Anna Cobbett, who has prior experience at other women's networks and is passionate about inspiring her three girls, and me. I've led a Women's Network Events team at GE and was VP for Culture and Diversity during my MBA at ESADE. Coincidentally, the U.S. SiriusDecisions team had similar thoughts at the same time – call it inspired timing or collective consciousness!
We officially launched the network at this year's Summit Europe with a networking breakfast on the theme of "Don't Wait to Be Asked" and what this means to our panelists. I had the pleasure of interviewing some of our most senior leaders: Marisa Kopec, VP of Product and Innovation; Heather Loisel, VP of Consulting; Isabel Montesdeoca, Director of Research EMEA; and Meta Karagianni, CMO Service Director EMEA.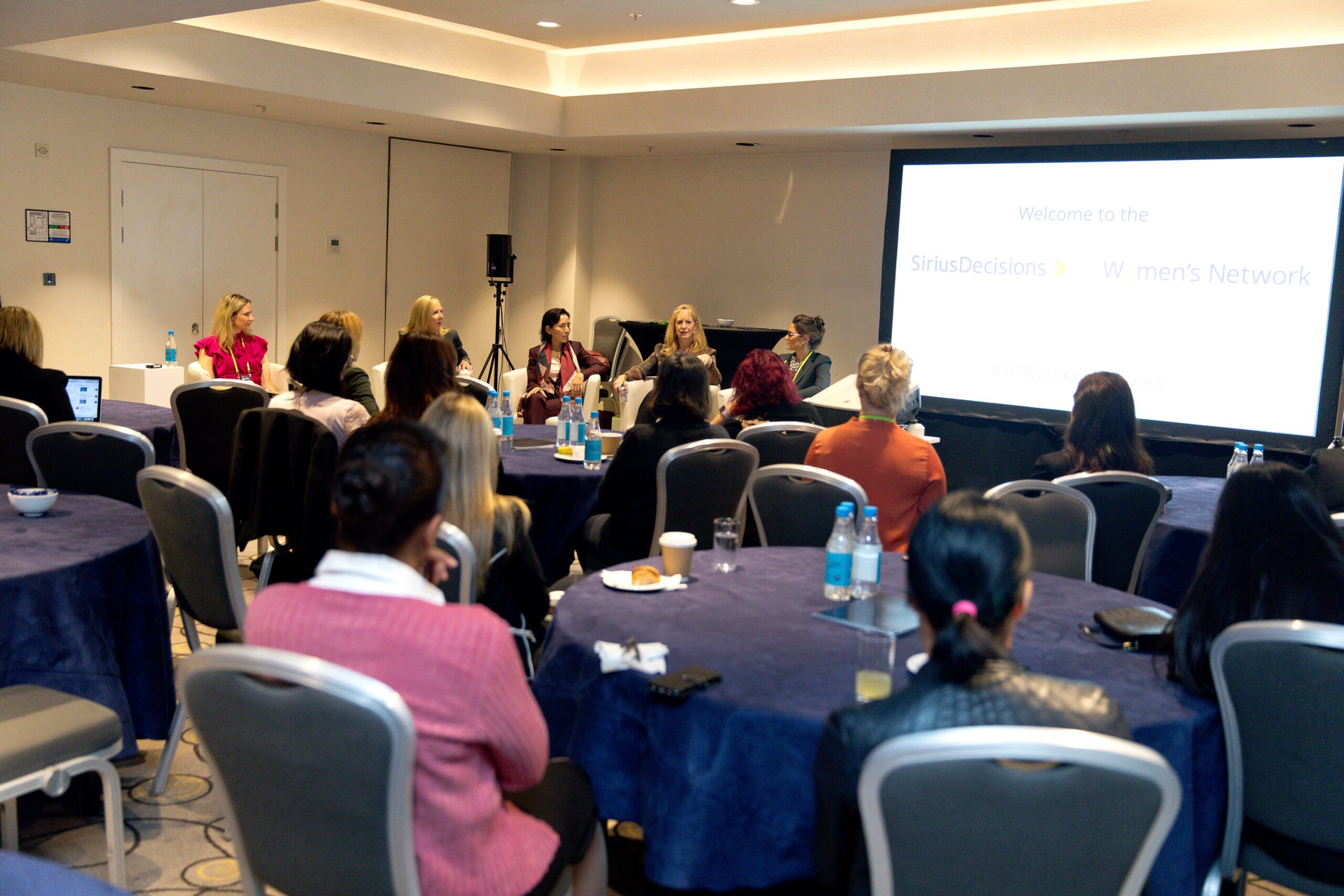 The small size made the event intimate, and the conversation opened with Heather describing why she had proposed the topic. Heather responded: "I was inspired by what I have witnessed in my own career, working with both men and women. It's remarkable and unfortunate how differently the two approach their careers."
The topic proved emotive and, although it invokes a disruptive feeling, it seemed to resonate with everyone in the room.
In response to author Sheryl Sandberg's "Lean In" assertion that as women attain more power, they become less attractive (with the opposite being the case with men), Marisa told us that once she learned to modify her communication style, her interactions with male management were much more efficient – and this helped her gain credibility. In contrast, on the main stage as a presenter, when she changed herself too much she also lost her authenticity and the acceptance from men and women in the audience.
Meta and Heather both told us that we must learn to fall hard and get back up to be truly successful. Meta reinforced this point, saying that "you must learn from your mistakes, not just fall and get back up!"
When asked about the differences between the behavior of her son and daughter, Isabel used sports as an analogy and admitted that although her daughter was highly skilled and had huge drive, she recognized that at this moment her son would probably be a more successful job candidate. He didn't wait to be asked for anything, despite his current skill level – he just went for it! Isabel also talked about perceived gravitas and ensuring a professional image in senior roles.
The group all wished for more time to continue the discussion, and the audience was ready with more questions. The resounding feedback was that attendees were captivated by the energy in the room – it was refreshingly honest, open and completely supportive. The advice from the panel was inspiring and heartfelt. We are very grateful to our attendees and panelists, and are excited about our upcoming events in EMEA and the US.
Categories