SiriusDecisions Sales Leadership Exchange: Top Questions (and Answers!)
The SiriusDecisions Leadership Exchange offers can't-miss content and SiriusDecisions research for B2B sales leaders
We've outlined some of the most frequently asked questions for this annual event
To learn more about this event, please contact us for information
In just a few short weeks, top sales executives will gather in sunny San Diego for the third annual SiriusDecisions Sales Leadership Exchange (SLE).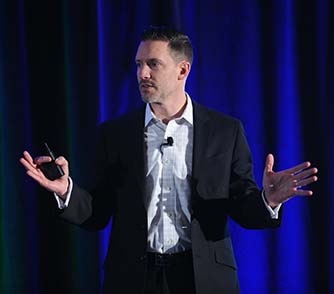 Held at the Rancho Bernardo Inn Feb. 24 through 26, the SLE will offer can't-miss presentations of the latest SiriusDecisions research, dedicated track sessions for various sales roles, guest keynotes and plenty of opportunities for networking.
Never been to the SLE? Need a refresher on the event details? Here are some of the most frequently asked questions – and some great reasons to make sure you attend:
Who is the SLE for?
The SLE is an exclusive opportunity for executive-level sales leaders to gather fresh insights that are relevant to their roles. Registration is open to the most senior-level sales leaders, sales operations, sales enablement or channel sales leaders within a B2B organization.
What does the SLE theme "The DNA to Outperform" mean, and how it is reflected in the event presentations?
This year's SLE is all about helping organizations outperform. As sales executives know, generating that peak performance requires optimizing a lot of different parts within the sales organization.
"The focus of the event is the elements that align to understanding, creating, measuring and aligning the DNA in your sales organization," explained Mark Levinson, service director for SiriusDecisions' sales operations service and event chair, during a recent conversation.
So, you'll see SLE presentations on everything from the sales talent lifecycle management to business improvement methodologies to predictive approaches to sales forecasts. Combined, these elements provide the right ingredients to outperform.
Who are the guest speakers this year?
Guest keynotes will give attendees a chance to learn from real-life success stories. These industry experts will show how they have implemented SiriusDecisions frameworks and models to transform their sales organizations.
This year, you'll hear from Patrick Hodges, vice president of sales at Blackbaud; Krishna Potarazu, principal at JMI Equity; Jim Tennant, vice president of channel sales and marketing at UnitedLayer; and Paula Shannon, chief sales officer at Lionbridge.
What happens in the Marketplace at SLE?
"An essential part of outperforming is having good partnerships with vendors," Mark pointed out. To foster these partnerships, the SLE will feature the Marketplace – a networking hall with booths hosted by 15 sales-focused product and service providers. The schedule provides plenty of time for attendees to meet with vendors of interest and learn about the latest technologies.
If I'm going to SiriusDecisions Summit in May, why should I go to the SLE, too?
At this year's SLE, you'll be among the first to preview brand-new SiriusDecisions research, some of which will be expanded on further at Summit. No duplicate sessions here – you will get an early taste of new frameworks and models before they are even released in our published research. For example, the Sales Talent Lifecycle Framework will be introduced at SLE so attendees can begin to understand the basics, and then take a deeper dive into the war on talent at Summit.
Plus, the SLE offers content that is 100 percent tailored to sales leaders' needs – and a unique networking experience with your peers in a more intimate setting.
Anything else I shouldn't miss?


After a busy day of keynote presentations and track sessions, attendees will have the opportunity to relax, connect with old friends and meet new ones at a cocktail reception in the Marketplace. A full dinner will follow.
"And if that's not enough, you'll have the opportunity to play 18 holes on the Rancho Bernardo Inn Championship golf course," Mark added. The golf experience takes place before the SLE's sessions kick off – and yes, all fees are included in your SLE registration!
For more information on the great content you can expect, check out our recaps of last year's SLE sessions here and here.
Ready to join us this year in San Diego? Register for the SLE here. Don't forget to take advantage of the limited-time group discount: For every full-price registration, send someone else from your company at half price, and a third person free!
Categories