SiriusDecisions Summit APAC 2017 – The Demand Unit Waterfall: Which Approach Is Right for You?
The SiriusDecisions APAC Summit is a must-attend event for B2B marketers in Asia
In our plenary sessions, we will share actionable insights into the challenges B2B marketers face in diverse Asian markets
One session will provide a decision support framework for determining when and how organizations should adopt the Demand Unit WaterfallTM
Our inaugural SiriusDecisions Summit APAC will be held in Singapore on November 16, 2017. It will provide best-practice research developed to address the unique challenges B2B marketers face in diverse Asian markets. It will also provide a great opportunity for B2B sales, marketing and product leaders to network.
B2B marketers face a variety of challenges in APAC. Some marketing functions are resourced with just a team of field marketers covering multiple geographies that are drinking through a firehose to meet the demands of their marketing, product and sales colleagues. Other marketing teams are well-structured and resourced to do their jobs effectively.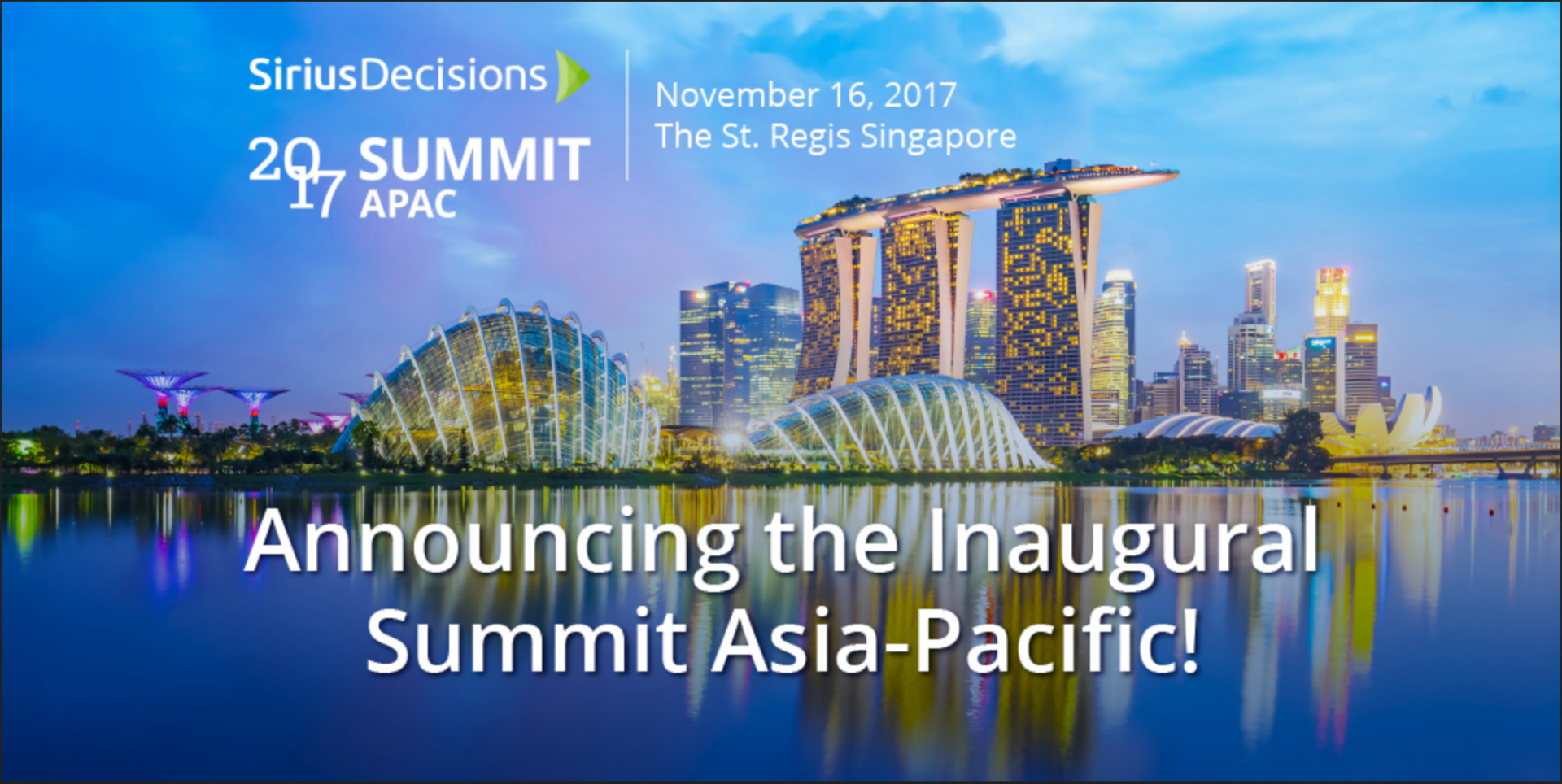 Alignment between sales, marketing and product also varies. Oftentimes, marketing is still perceived as sales support, but there are situations where sales, product and marketing are aligned in planning, execution and continuous improvement.
Technology adoption varies across organizations. There are companies that have basic sales force automation systems in place, while others have sales and marketing automation technology and are exploring predictive, account-based marketing to support their demand creation efforts.
SiriusDecisions introduced the newest member of the Demand Waterfall® family – the SiriusDecisions Demand Unit WaterfallTM – in May. Many organizations have already adopted the Demand Unit Waterfall, and many more are in the process of doing so.
Other organizations are adopting elements of the Demand Unit Waterfall while not fully migrating demand management to the new approach all at once. Summit APAC will include a session dedicated to providing a decision support framework informed by resources, available technology, business alignment and go-to-market strategy to help determine when and how organizations should adopt the Demand Unit Waterfall, while revealing how elements of the approach can be helpful for organizations that do not fully migrate to the Demand Unit Waterfall.
Here are some specific ways each revenue-generating B2B function can benefit from this session:
For product management:
Learn how the Demand Unit Waterfall helps drive alignment with your partners in marketing and sales
Understand how to define demand units for your company
Learn about a framework for determining how the demand unit approach benefits product management and marketing organizations
For marketing:
Learn how the Demand Unit Waterfall can help your organization more accurately capture the value of demand creation efforts
Understand how the Demand Unit Waterfall drives alignment with product and sales
Determine what factors to consider and what steps to take toward adopting some or all elements of the Demand Unit Waterfall to support your demand management needs
For sales:
Learn how the Demand Unit Waterfall drives alignment with your partners in marketing and product
Understand how the demand unit approach enables effective measurement for account-focused marketing and sales strategies
Categories