SiriusDecisions TechX 2017 Recap: Three Days, Six Keynotes, Countless New Insights and One Memorable Halloween Party
With a full schedule of new research findings, compelling guest keynotes and inspiring case studies, the 2017 SiriusDecisions Technology Exchange gave attendees a wealth of valuable information

Delegates dressed up and headed out on Halloween night to Austin's famous Sixth Street for a TechX party to remember

Next year, TechX is headed to New Orleans, so join us for more can't-miss research presentations, more networking and more fun
Ever spent Halloween in Austin? This year's SiriusDecisions Technology Exchange offered attendees an opportunity to enjoy the city's legendary Halloween atmosphere – donning their best costumes and sipping Halloween-themed specialty cocktails at an unforgettable event party and wandering among beautiful authentic Dios de los Mortos displays in the downtown streets.
It was also a perfect setting for taking in two and a half days of cutting-edge research content presented by SiriusDecisions analysts and guest speakers. The TechX research agenda kicked off at the JW Marriott on the day before Halloween with a keynote from event co-chair Gil Canare, who tackled one of the toughest challenges of any B2B technology purchase: How do you obtain that crucial business justification for spending the money?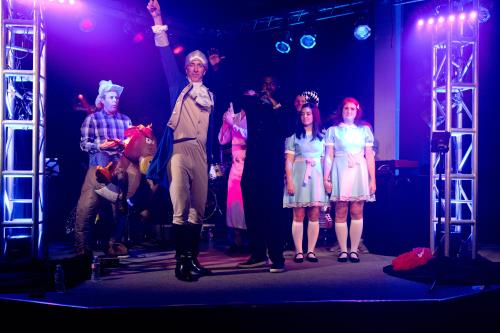 The afternoon continued with the debut of the latest SiriusDecisions findings on technology spending – and solid advice on how to avoid the Four Horsemen of tech: plague (unbridled spending), war (too many options), famine (elusive ROI), and death (bloated tech stacks). We also heard great client keynotes from Xinn and Cisco, then capped off the evening with a Welcome to Austin cocktail reception (thanks to sponsor Reachforce) in the Marketplace.
Attendees hit the Marketplace bright and early on Halloween for some breakfast and networking time before settling in for a full day of rich content. First up: how to implement the Demand Unit Waterfall (download the model here) with the help of carefully selected technology. After a guest keynote from Second City, delegates chose from a full menu of practitioner case studies – 17 options over two session timeslots – before breaking for a hearty lunch and more networking opportunities.
The afternoon's TechX track sessions allowed attendees to tailor their schedule to their current interests and needs. Whether the focus was on sales technology, marketing technology or operations, SiriusDecisions analysts and guest speakers wowed the crowds with innovative new concepts and practical lessons. After a day of learning, everyone was ready to celebrate Halloween in style at the TechX Games (thanks to Diamond sponsors 6sense and MRP!). With a live band, fortune-tellers and even a team of poets in spooky makeup ready to compose personalized typewritten poems for attendees, the party delivered a uniquely lively Austin Halloween experience.
More great content awaited delegates on Day Three, starting with a keynote on a hot topic: effective use of technology to personalize the buyer's journey. Clients Cisco and Intel then shared best practices on getting the best tech talent and tackling content governance, respectively. The morning flew by, and before long, it was time for the last keynote – fittingly, on moving from mere tech adoption to true end-user engagement.
Throughout TechX, delegates' excitement for the fresh technology-focused material was clear, as they enthusiastically tweeted their key takeaways and chatted with SiriusDecisions analysts in the hallways after sessions. Marketplace exhibitors reported strong booth traffic and high-quality leads, and countless new connections and industry friendships were forged over coffee and cocktails.
Thank you to each of our sponsors, guest speakers and attendees. We can't wait to see you next year in New Orleans!
Categories