SiriusDecisions Summit 2016 Highlights: Evaluating B2B Sales Organizations
How does a chief sales officer who missed his or her numbers diagnose the shortfall's causes and identify what needs to be fixed?
The SiriusDecisions Sales Productivity Quotient helps sales leaders gain insight into the true drivers of sales productivity
To help sales leaders understand factors affecting their results, the model focuses on five categories of productivity indicators
How can you tell whether your sales team is as productive as it should be? Or, if you are a chief sales officer and you miss your numbers, how do you diagnose the true causes of the shortfall and identify what needs to be fixed? What data or analysis can you use to justify any changes or investments that you are recommending?
These are some of the questions that SiriusDecisions' John Neeson, Phil Harrell and Mark Levinson addressed today in their Summit 2016 session on the SiriusDecisions Sales Productivity Quotient, a new model that helps sales leaders gain insight into the true drivers of sales productivity.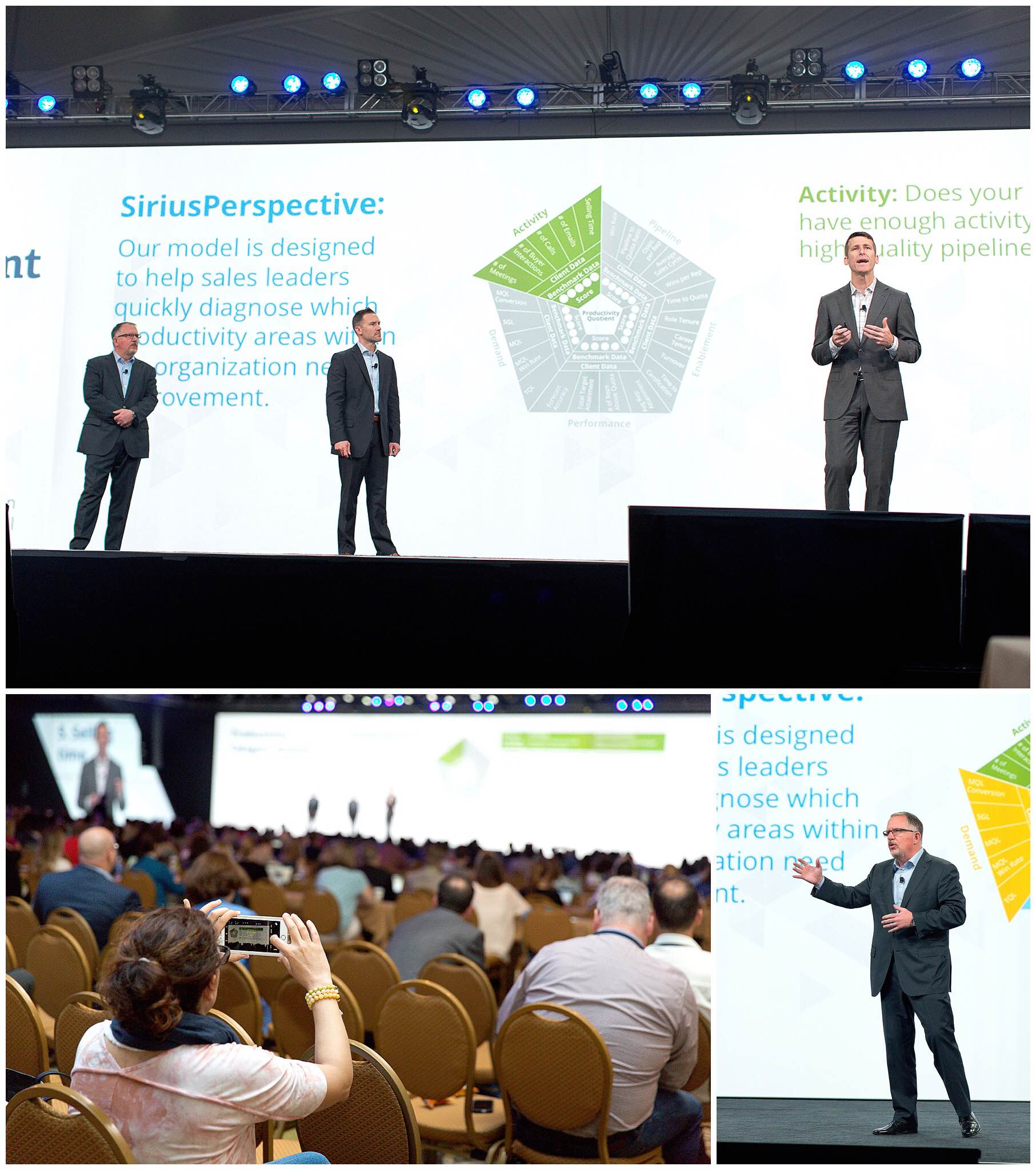 "Chief sales officers usually focus on revenue as the indicator of sales productivity, because it's easier to do so," explained Phil. "Sales leaders are focused on output, and they lack insight into which productivity inputs have the most impact on their results."
This gap in understanding the many factors that impact sales results makes it difficult for sales leaders to understand how well their sales teams are performing compared to their counterparts in other companies. It also affects sales leaders' confidence that they will achieve their goals.
"SiriusDecisions data shows that most sales leaders are expected to grow at a double-digit rate," explained John. "But only about one in three of those leaders reported that they are confident about reaching those goals. Without proper multifactor analysis of sales productivity, a company's growth potential will be hindered."
To help sales leaders gain insight into the factors that will affect their future results, the Sales Productivity Quotient focuses on five categories of productivity indicators:
Activity. Productivity indicators in this category track whether a sales team spends enough time interacting with buyers and customers to generate the required pipeline, or whether they are distracted by non-selling activities. This category also focuses on whether client meetings and calls are as productive as they could be. Are enough buyers actually responding to emails and other outreach efforts by the company's reps? However, Phil cautioned that the amount of activity must be accompanied by the proper alignment of sales activities with the stages of the buyer's journey.
Pipeline. The main objective of the pipeline category is to reduce waste and increase the win rate per sales rep. Productivity indicators in this category indicate whether a sales team is working on the right quantity and quality of opportunities. They track how many opportunities each rep manages, and how many they win. SiriusDecisions pipeline survey data indicates that top-performing sales organizations avoid a "more is better" pipeline mentality, and instead identify and focus on the deals that have a good likelihood to be won.
Enablement. The indicators in this category track whether reps have the necessary competence and confidence to manage their pipelines successfully and hit their numbers. The lack of adequate sales onboarding programs can reduce productivity, as can the absence of enablement programs for the existing sales force. Rep turnover is also a major consideration; SiriusDecisions data indicates that 45 percent of B2B sales organizations report annual rep turnover rates above 30 percent, which can significantly impair productivity.
Performance. Indicators in this category track whether the organization is getting broad contributions from its sales team. For example, what percentage of reps are above quota? Are reps able to accurately forecast their results? SiriusDecisions data shows the importance of improving the performance of average reps, not just focusing on a few top performers. Fully 77 percent of organizations that meet or exceed their sales targets report that more than 50 percent of their reps are at or above quota.
Demand. The demand category includes indicators that track whether marketing alignment is generating enough demand to support your sales team. SiriusDecisions research shows that marketing contributed demand is essential to sales productivity. Sales and marketing leaders must understand the win rates and the costs of both sales generated and marketing generated leads in order to optimize total demand creation and sales productivity.
After reviewing the five productivity categories and some of the 24 specific indicators within those categories, John, Mark and Phil explained and demonstrated to the Summit audience how B2B sales leaders can use the model to generate and apply their Sales Productivity Quotient. The quotient and its components reflect a sales organization's current state for each indicator compared to benchmark data gathered by SiriusDecisions from hundreds of other B2B sales organizations.
"Sales leaders need fast intelligence," said Mark, "and the single number provided by the total quotient enables a sales leader to understand how his or her organization compares holistically to other companies. But each individual indicator and category are also scored, so you can understand how you compare in specific areas."
A sales leader can apply the Sales Productivity Quotient benchmark comparison using a wide variety of peer and non-peer sets, including companies selected by industry, company size, average selling price, growth rate, customer acquisition cost and customer lifetime value.
"As a sales leader, you always want to compare yourself to companies with similar attributes," explained Phil. "This type of insight is critical. But you can also compare yourself to organizations with characteristics that you want to share. For instance, you can compare your sales productivity indicators with those of companies with higher growth rates or lower customer acquisition costs, in order to identify where you can improve. With this type of intelligence, you can zero in on the productivity categories and indicators that you need to prioritize."
Categories