SiriusDecisions Summit 2016 Highlights: Maximizing the Revenue Stream
The Revenue Stream provides greater visibility into the bottom half (the sales-focused portion) of the Demand Waterfall®
It applies data to help orgs measure lead conversion and identify points where performance falls short and lead flow is blocked
Throughout all parts of the Revenue Stream, marketing and sales operations must work together on data management and measurement
In their 1994 hit song "Waterfalls," TLC memorably instructs listeners: "Don't go chasing waterfalls." Of course, B2B professionals familiar with the SiriusDecisions Demand Waterfall® know that some waterfalls are well worth chasing, and the pursuit of a fully optimized Demand Waterfall can be challenging but rewarding.
Accompanied by the familiar chorus of the TLC tune, a trio of SiriusDecisions experts – Bruce Brien, Terry Flaherty and Mark Levinson – stepped onto the main stage on the second day of Summit 2016 to describe the Revenue Stream – a critical lower-waterfall element for properly using the full SiriusDecisions Demand Waterfall.
The waterfall naturally provides a great deal of data and insight into the lead management process in the upper half of its flow (i.e. the marketing-focused portion). The Revenue Stream is designed to provide greater visibility into the bottom half (the sales-focused portion), where problematic lead handoff processes, alignment failures and revenue prediction inaccuracies frequently occur.
"It's clear that sales and marketing are looking at the waterfall from two very different points of view, and it can break down as result," said Bruce. In many cases, problems originate when mixed data sources are fed into measurement systems. Disparate forecasting methods used by marketing and sales, as well as a lack of visibility into lead progress, can worsen problems.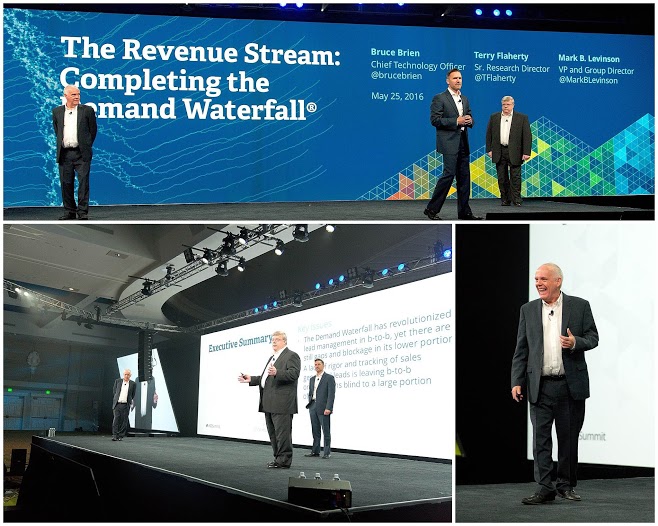 The Revenue Stream applies diagnostics and data to help organizations better measure lead conversion and identify points where performance falls short and lead flow is blocked. Specifically, it targets three components: sales generated leads (SGLs), which typically represent a large portion of pipeline in B2B organizations; for marketing generated leads, the handoff point where sales accepted leads (SALs) become sales qualified leads (SQLs) and responsibility transfers from sales to marketing; and finally, the process between sales qualification and close.
Revenue Stream Component One: SGLs
SiriusDecisions has found that although many organizations track their SGLs, the majority of those are companies with less than $50 million in annual revenue – generally sales-led organizations without large marketing teams generating leads.
"As companies mature, they tend to move away from tracking SGLs and assume that if they are hitting their revenue numbers, they're doing the right things," said Mark. "But they need to retain visibility into SGLs."
The necessary data on SGLs is often found offline or spread across multiple databases. Nevertheless, it is vital to obtain and analyze in order to spark the necessary foundational change in sales productivity for improving SGL consistency and efficiency. Sales operations must analyze the SGL data to answer several questions: What personas should sales target? Is the sales team's capacity balanced? Are lead definitions consistently understood?
Revenue Stream Component Two: SGL to SQL
"Don't underestimate the importance of this part of the Revenue Stream," said Terry. "This sets the context for revenue growth later on."
While most B2B organizations have set rules for formal lead acceptance, a much smaller portion have consistent lead definitions. This lack of alignment between marketing and sales can be detrimental. One tactic for improvement is creating a lead management council to ensure a consistent understanding of lead qualification. For example, leads in established markets might have more stringent qualification criteria than leads in new markets.
"Process governance is critical," Terry added. "Look for points in the natural workflow where lead acceptance and engagement can be checked." Checkpoints prevent the commonly seen "black hole" – where marketing passes leads to sales and then loses all visibility into their outcomes.
Revenue Stream Component Three: SQL to Close
Even small organizations regularly deploy forecast management systems, but sales operations leaders know that any such system is only as good as the data it contains.
As with other Revenue Stream components, alignment plays a major role in ensuring consistent, accurate data and mutual understanding of actions across sales and marketing. Organizations should track observable outcomes, such as a proposal sent to a prospect or a final contract signed, wherever possible. Keeping an eye on these signals helps monitor the sales pipeline and deal velocity, thus improving forecasting.
All three SiriusDecisions presenters emphasized that, throughout all parts of the Revenue Stream, marketing and sales operations must work together on data management and measurement. While each might view the Demand Waterfall from a different perspective, the Revenue Stream provides both with a much-needed final piece to properly measure, diagnose, forecast and plan for revenue.
Categories