SiriusDecisions Summit 2016 Highlights: Sales Content – What Winners Do Differently
SiriusDecisions data shows that B2B sales reps are still important – and vital during every stage of the buyer's journey
At Summit 2016, Heather Cole and Christine Polewarczyk stated the importance of providing content tailored to drive sales success
The influence of sales content in winning deals is something that B2B organizations can no longer afford to overlook
Today, SiriusDecisions' Heather Cole and Christine Polewarczyk took to the Summit main stage in Nashville to finish what Marisa Kopec and Jennifer Ross started one year ago on the very same spot: debunking the myth once and for all that B2B sales organizations are becoming obsolete in the digital age. And, not only are B2B sales reps still important, but SiriusDecisions data also shows that they are vitally essential during every stage of the buyer's journey.
"The B2B sales rep still matters," said Heather. "And because sales reps are so critical throughout the buyer's decisionmaking process, this year we decided to dive deeper into the data to find out what winning sales reps are doing differently within each stage."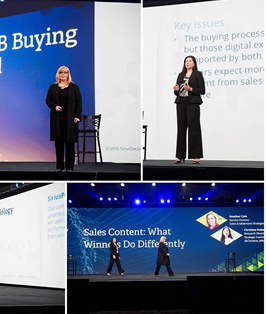 So, what do winning reps do differently? According to Heather and Christine, much of the difference boils down to what content successful reps use and when they use it. From a marketing standpoint, the days of throw-it-over-the-wall sales content are long over – the time to provide content that is carefully tailored to drive sales success is now.
To support this point, Heather and Christine introduced data from two separate SiriusDecisions' surveys – the 2016 Sales Content Survey and the 2016 Sales Talent Survey. Key findings revealed that a whopping 79 percent of B2B buyers reported that the content provided by a rep is very to extremely influential in their selection of one vendor over another.
Furthermore, winning sales reps provided significantly more content to buyers during every stage of the buyer's journey. This eye-opening data was collected from a well-qualified and diverse set of B2B buyers from a cross-section of industries, enterprise sizes and roles – the majority of whom had emerged from a purchasing process within the past 90 days.
The study also found that, to fuel winning buyer interactions, winning reps require two very distinct types of content: external-facing content that reps use to activate buyers through different types of sales interactions and internal-facing content that empowers reps but is not intended for sharing outside of the organization.
The next discovery that Heather and Christine wowed the Summit audience with is that buyers are consuming an average of 5-6 assets per rep, per stage of the buyer's journey. This is not combined marketing and sales content – this is only the content provided directly by sales reps!
"These results provide more insight into the importance of high-performing sales reps in the B2B buying process. These reps act as a key conduit for delivering the right content at the right time to buyers," emphasized Christine.
When looking at sales content from the standpoint of empowerment, Heather shared that high-performing reps consume 68 percent more content at the front end of the sales cycle compared to low-performing peers, who peak in the middle. Low performers are trying to catch up at this stage, while high performers are focused on conversations with buyers. The final stage of the buyer's journey brings huge gaps between high and low performer behaviors, as successful reps arm themselves with knowledge to effectively differentiate and negotiate.
The influence of sales content in winning deals is something that B2B organizations can no longer afford to overlook, and sales, marketing and product teams need to align so reps have access to the right content at the right time. During their talk, Heather and Christine outlined each function's role in creating and using both empowerment and activation content during each stage of a sales cycle aligned to the buyer's journey (education, solution and selection).
"We now know and need to act on the knowledge that sales content isn't only important in the final stage of purchasing – it's critical during every stage of the buyer's journey," said Christine.
Stay tuned for more highlights from Summit 2016!
Categories