Succeeding With ABM – Without ABM Technology
To launch an ABM program without dedicated tech, organizations must get creative
Joe Quinn of National Instruments created a successful ABM program by leveraging existing technologies
Ensure processes are well-defined before deploying ABM tools
For many B2B organizations, the emergence or expansion of account-based marketing (ABM) programs prompts new tech investments. In fact, a SiriusDecisions study last year revealed that 58 percent of B2B companies planned to invest in ABM technologies and services over the next several months.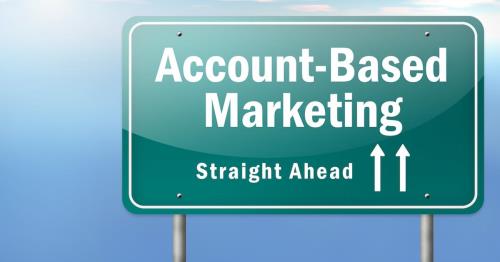 But when ABM represents a new endeavor that has not yet proven value, securing the necessary investments for new technologies and other resource investments can be challenging. As a result, ABM teams often must get creative to demonstrate ABM's value through pilot programs – even with limited resources.
Joe Quinn, ABM Section Manager, Americas at National Instruments (NI), says the organization's relatively young large-account marketing program wasn't on the "consideration radar" for technology investments.
Joe and his team created NI's formal ABM group approximately five years ago, following several years of performing account-based tactics within broader marketing programs. "We realized early that we would not be able to justify an investment in a new system or even a new feature for a program that was only in the pilot stage," he says.
Given these constraints, NI's ABM group looked to existing technologies to leverage. Fortunately, NI had purchased Eloqua five years before the ABM group launched, allowing Joe and his team to set up automated email nurture programs targeting large accounts.
The NI ABM program started by focused on pipeline creation to prove ROI – setting up sales visits with new buying centers after researching an account to uncover new manager names.
"Initially, it was hard to figure out which contacts were valuable to our account managers, because there wasn't integration into one CRM system," Joe says. "We took a broad-based effort to jump-start account visits using existing database contacts and adding a list acquisition for a one-time intro email."
"With Eloqua, we were able to take advantage of the automation so that whenever a new contact at the account entered the NI database, the first communication the contact received was this introduction email from the account owner," he adds. "For the researched names, we had to manually customize the outreach one-by-one to drive visits for these new contacts"
The group also leveraged NI's existing Salesforce installation in the first phase of ABM deployment.
"Once again, the technology was there, but I had to ask, 'How can we take advantage of it?'" Joe recalls. Because the existing Salesforce accounts were limited to sales and the ABM team needed more than simple log-on access, new collaboration licenses would be required. Joe supported a member of his team to build the business case and lobby the decisionmakers to not only provide licenses, but also define a new role – a hybrid between a sales account manager and product marketing expert.
Building ABM impact dashboards into Salesforce proved particularly powerful in demonstrating the new role's impact. In the first year, the team recorded nearly $10 million in sourced opportunities.
"In phase one, everything else was totally manual – when you don't have the [ABM technology] resources, you have to do Google searches, LinkedIn searches and so on until you can build the full business case," Joe says.
By the time the ABM program neared the three-year mark, Joe and his team began re-evaluating the tech situation. Phase two called for automating certain manual processes, with the goal of finding standalone technologies rather than those that would require complex integrations.
An account intelligence platform and a competitive intelligence provider helped the team take a more proactive approach. The third technology component – database and social search functionality from agent3 – was acquired via a creative partnership in the face of budget constraints.
Because agent3's existing tool did not exactly match the NI use case, Joe's team offered the vendor a proposal: NI would provide IP for its searches of its target audience if agent3 built this IP into their tool and let NI use it as a pilot. "Through the partnership, they developed knowledge on how to build our search criteria into their tool, and we managed to find a way to use the tool within our budget parameters," Joe explains.
These days, the formal ABM program at NI continues to grow – and the technology budget increases proportionally. Nevertheless, Joe emphasizes the importance of investing cautiously and ensuring internal processes are sound before any new tech is considered.
"Often, people will see a tool and want it. But my advice is if you don't have defined processes, inputs, outputs and measurements you aren't ready for the technology," he says. "If you don't have a well-oiled process and start with technology implementation, you will lessen the impact you want to have with your ABM programs, and instead try to get a tool to make sense."
Categories