Summit 2014: Account-Based Marketing Programs of the Year – EMC
Over the past year, the SiriusDecisions analysts who cover account-based marketing (ABM)– Megan Heuer, Robert Peterson and I – have spent hundreds, if not thousands, of hours speaking with our ABM seatholders to understand, assess and optimize their ABM efforts.
During this time, we've seen some great examples of ABM programs. In addition, we've seen organizations with varying degrees of maturity in their ABM efforts: Some have had established ABM programs for years, while others are just getting their efforts off the ground or thinking about implementing ABM.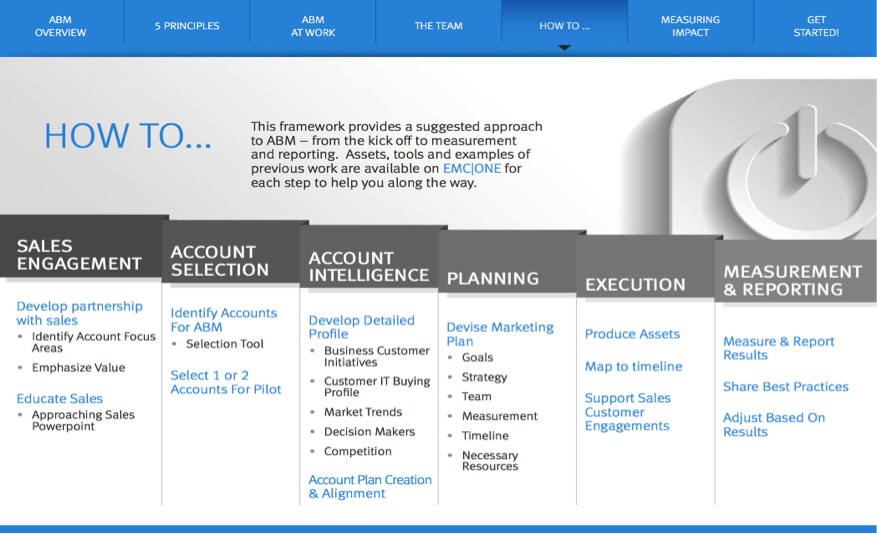 As ABM gains momentum in the marketplace (see "Are You Ready for Account-Based Marketing?"), our team at SiriusDecisions wanted to highlight some of the great examples we've seen over the past year.
During our Summit 2014 event in Orlando last week, we recognized six organizations that exemplified best-in-class ABM programs. Recipients of our inaugural ABM Program of the Year awards were (in alphabetical order) Adobe, Ariba, CSC, EMC, Oracle and Siemens PLM Software.
In a series of blog posts, we will highlight some of the reasons that each of those companies was recognized as best-in-class and received an award:
The first award winner we'll focus on is EMC.
Background

EMC, with headquarters in Hopkinton, MA, is a global leader in enabling businesses and service providers to deliver information technology as a service. Through innovative products and services, EMC accelerates successful transformation to cloud computing, helping companies store, manage, protect and analyze their most valuable asset – information.
Challenge

EMC is widely recognized as a leader in global brand marketing (ranked #201 in Brandirectory 2014 World's 500 Most Valuable Brands). However, sales leaders often questioned how an online presence or massive airport signage helped them with specific goals and opportunities in their global accounts. Further analysis confirmed that many extremely valuable global accounts had complex account plans that were not directly supported by marketing.
Solution

EMC recognized the opportunity to augment its broad-based approach with more account-specific marketing activities and established a program office. The office works closely with EMC's sales leaders to understand sales strategies and global account planning.
This program office, led by Bob Basiliere (VP of global accounts marketing) and supported by Elana Horowitz, piloted ABM engagement by aligning account marketing plans with sales account plans for a number of large, multinational accounts. The aim was to systematically build ABM services to impact specific parts of the account strategy and work with marketing peers to extend best practices more broadly across the decentralized global field marketing organization. This effort fit nicely with a 2013 strategy to drive segment marketing for more impact with the company's key accounts across three global regions (theaters).
Best Practices Exemplified

Built EMC-centric methodology
Provided guidance and tools, but allowed for regional variance
Shared internal best practices and results
Leveraged technology platform
Engaged and aligned with sales
The program office established a detailed "Practical Guide to ABM" that helped marketers understand ABM and why EMC is focusing on it. The guide also shared internal examples of successful ABM efforts and the benefits they've provided – helping gain acceptance of the program and build momentum.
Furthermore, the program office detailed a six-step how-to approach that armed field marketers with a playbook, tools and assets to build sales alignment, account selection criteria, methods for gathering relevant account insights during global account planning and execution programs, including suggested metrics and reporting.
EMC's ABM program office helped the field understand account-level marketing engagement and apply best practices to its regional ABM go-to-market requirements. All content was piloted with sales and housed in a corporate intranet for the global organization to access on demand. The guide is updated as new learnings emerge from the field, as well as direct input from sales leaders.
Results

1,000-plus global marketers reached via the program
Global accounts utilizing ABM grew 5x from 2013 to 2014
"Account strategy, revenue planning and ABM came together to build a big pipeline at the bank (global account)." – Global Account Sales Leader
Congratulations to the entire team at EMC for building an ABM methodology and enabling the marketing and sales organization to drive results for its most strategic global accounts.
Please check back for posts on other ABM Program of the Year winners.
Categories