Summit 2014 Influencer Program of the Year Spotlight: Polycom
At the SiriusDecisions Summit 2014 in Orlando, we recognized four of our clients – Lattice Engines, LinkedIn, Polycom and SAP – for the outstanding work they've done in the area of influencer programs. Each of these organizations has a principal strategy for leveraging influencers to drive marketing and sales results. This is the second in a series of blog posts that looks at these winning influencer programs and the innovative approaches they employed.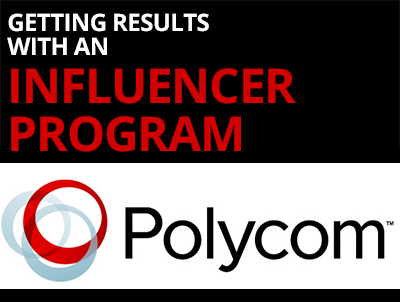 Polycom's influencer program focused on industry analysts, who are distinct from other types of influencers because of their independent perspective and the guidance they offer to enterprises about solutions, vendors and strategies.
Although industry analysts are a powerful group, not everyone at Polycom was sold on their value. The first job of the analyst relations team was to overcome skepticism among senior executives. It did this by focusing its program on the CEO's top concern – revenue. Here are some of their best practices:
Help sales win. Early on, the Polycom team built a strong relationship with sales leaders and looked for opportunities to engage in buying cycles where analysts could be supportive. In the pilot phase, a competitive takeaway worth $800,000 gave the program credibility and prompted other sales reps to reach out for help.
Find ways to scale. To enable more opportunities for analyst interaction, the analyst relations (AR) team paired specific internal subject matter experts (SMEs) with specific analysts. This helped to naturally grow relationships and lifted some of the logistical burden off the small team.
Align analysts with specific messages and goals. Polycom gives analysts just what they want, in terms of access and tailored information. Likewise, the Polycom team looks for opportunities to align analysts with specific reputation, demand and sales enablement goals.
Bring insights in. Ongoing discussions with key analysts helped Polycom shape its strategy and made analysts feel like part of the process. This helped analysts stay informed when working with potential buyers.
Be willing to take risks. Polycom provided analysts direct access to customers so they could engage in unfiltered conversations. This showed a willingness to be transparent and confidence in customer relationships.
Keep internal stakeholders informed. Executives and SMEs are essential to the success of analyst programs, so it's important to keep them informed on progress and results. Polycom held regular meetings and started each session with a review of the objectives so results were understood in context.
Results
The Polycom AR team tracked more than $60 million in sales-assisted opportunities in 2013. They maintained a net-recommend index that exceeded 80 percent, and the sales team has learned how to incorporate influencer opinions and expertise into the selling process. As an added bonus, the AR team has been able to overcome the initial skepticism it faced, and now has a strong partnership with sales and senior executives.
Categories