Summit 2015 ABM Program of the Year Spotlight: Xerox EMEA
At the SiriusDecisions 2015 Summit, five organizations that exemplify best-in-class ABM or customer experience programs were recognized
This blog post follows one winner, Xerox, from their challenges to solutions
Through best practices, Xerox saw tangible results, including $35 million in pipeline created or supported
At SiriusDecisions Summit 2015 in Nashville, our Account-Based Marketing (ABM) practice recognized five organizations that exemplified best-in-class account-based marketing or customer experience programs. Recipients of our second annual ABM Program of the Year awards were: Citrix, Imprivata, Medidata, SAP and Xerox EMEA. This post showcases why Xerox was a winner.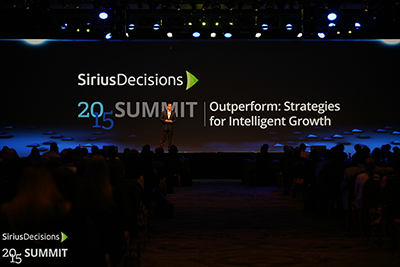 Background
Xerox is a U.S- based multinational document management, business process and IT-outsourcing services company. Headquartered in Norwalk, CT, the company is a manufacturer of printers, photocopiers, printing presses and related services as well as a provider of outsourcing services.
Challenge
Xerox, with a rich tradition in copy machines, printers and other print-related products, was known primarily for its hardware. Growth needed to come from new areas, including business process outsourcing and managed print services. Many field marketing managers based in Europe had developed individual approaches to developing breadth and depth within large enterprise accounts (a segment of key accounts). Xerox needed a more systematic approach to focus and streamline marketing efforts, maximizing the opportunities within the strategic accounts.
Solution
Xerox Europe developed an ABM pilot that focused on large strategic accounts – with the aim of growing their footprint within the accounts. An ABM Center of Excellence leader was established, engaging key counterparts in sales and marketing on the objective and approach for this new way forward. Once aligned, sales and marketing leaders brought in Xerox's country GMs, who then identified potential candidates to include in the pilot. After a prioritization exercise led by the ABM team, eight strategic accounts were identified in seven European countries. The pilot was executed by six country-specific marketing managers.
Best Practices Exemplified
Supported by leadership and supported with additional resources (personnel focus, program dollars)
Close alignment among marketing, sales and the country GMs
Trained marketers on ABM, establishing consistent process and terminology across different territories
Utilized standardized templates for status updates and account plans, and used internal knowledge portal for document sharing
Established a governance process holding each country manager accountable for strategic account plan execution and facilitating executional best-practice sharing across regions
Results
Six country marketing managers trained and recognized as ABM Certified
Thirteen opportunities sourced or influenced for the eight strategic accounts
$35 million in pipeline created or supported
Congratulations to Luis Alves Monteiro (Large European Marketing and Strategy Manager), Beth Waddington (UK Marketing Manager) and the entire team at Xerox Europe for being selected as a 2015 ABM Program Winner!
Categories