Summit 2015 Highlights: Four B2B Lessons From Magic Johnson
Earvin "Magic" Johnson delivered a captivating keynote address at Summit 2015
Johnson also shared several valuable lessons for any B2B sales, marketing or product professional
In keeping with the year's Summit theme, Outperform, Magic Johnson shared some words of wisdom as a lifelong outperformer
A little bit of magic descended on the Gaylord Opryland's Delta Ballroom in Nashville to kick off SiriusDecisions Summit 2015 on Tuesday afternoon, as Earvin "Magic" Johnson delivered a captivating keynote address.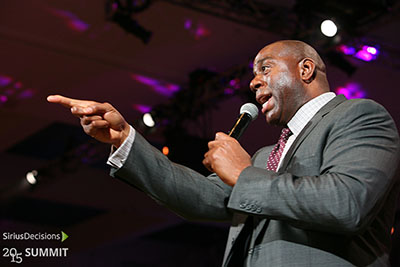 The basketball legend turned business executive and philanthropist charmed the packed room, pausing to take photos with audience members as he recounted stories from on and off the court. Johnson also shared several valuable lessons for any B2B sales, marketing or product professional. In keeping with year's Summit theme, Outperform, here are some words of wisdom from a lifelong outperformer:
1. Your biggest competitor can make you better. As he recounted his life in the NBA and beyond, Johnson frequently mentioned his best-known nemesis, fellow basketball legend Larry Bird. From their famous college rivalry to their professional careers, the two top players and eventual friends constantly pushed each other to achieve more.
"Larry Bird has made me a better basketball player and a better man," Johnson said, recalling the fear that Bird instilled in him during critical games. "There's no player I respect more."
2. Understand your audiences and your customers. One of Johnson's early post-basketball business ventures, a series of movie theaters designed for urban communities, recognized an unmet need among the customer base. By repeatedly visiting with potential customers, increasing his knowledge of their preferences, and incorporating those preferences – down to the soft drink selections available for purchase at the concession stands – Johnson attained rapid success with his theaters, which become some of the top-grossing in the United States. A similar approach – and a partnership with Starbucks chairman and CEO Howard Schultz – brought the coffee chain to urban communities, with a customized dessert menu and in-store soundtrack tailored to the market's preferences.
Johnson stressed that understanding your customers is a never-ending process, and if the customer profile changes, you must readily change course as needed. "Don't be too stubborn to adapt to the new marketplace," he warned. "I've seen a lot businesses fail because they were stubborn."
3. Overdeliver in order to cultivate true customer loyalty. "A lot of times, businesses build something and hope customers will come – that's the wrong model," Johnson said. Attracting buyers isn't enough; success requires continually delivering more than what is expected and showing existing customers that they can depend on your brand to provide excellence.
In movie theaters and coffee shops, overdelivering might be as simple as learning regular customers' names and preferred drink purchases, but similar customer experience principles still apply in complex B2B transactions: Johnson recalled landing a hard-earned and lucrative contract with the Disneyland resort through his food service company, SodexoMAGIC, then ensuring that he overdelivered in order to cultivate brand loyalty. The efforts paid off when SodexoMAGIC subsequently won an even-bigger contract with the Disney World resort.
4. Know your own strengths and weaknesses. Finally, even superstar athletes and business leaders know that they must never become complacent. Johnson urged attendees to perform an annual SWOT analysis (strengths, weaknesses, opportunities, threats) on both a business level and personal level. "Self-evaluation is really tough," he noted. "You can't be lying to yourself." For leaders, this analysis should also consider whether team members are being supported and driven to support the organization wherever possible.
Partnerships and mentorships are also key, especially for filling in knowledge gaps and jumping into new business areas. Johnson admitted that in order to develop his business savvy after he left basketball to pursue his entrepreneurial dreams, he found CEOs by asking the Los Angeles Lakers' director of marketing for the contact data of his team's season ticketholders… and calling them. And here, perhaps, is yet another B2B lesson: cold calling can, in fact, work!
Categories