Summit 2015 Highlights: Marketing Planning – Transforming Panic Into Power
On stage at Summit 2015, Craig Moore characterized the problems that organizations fall into when constructing their marketing
Craig explained how three ghosts haunt marketers during an org's annual planning season: past, present, future
A best-in-class marketing planning process includes participants, objectives, inputs, tasks, deliverables and frameworks
What can Charles Dickens teach us about marketing planning? As Craig Moore of SiriusDecisions told delegates at Summit 2015 in Nashville this week – quite a lot, actually.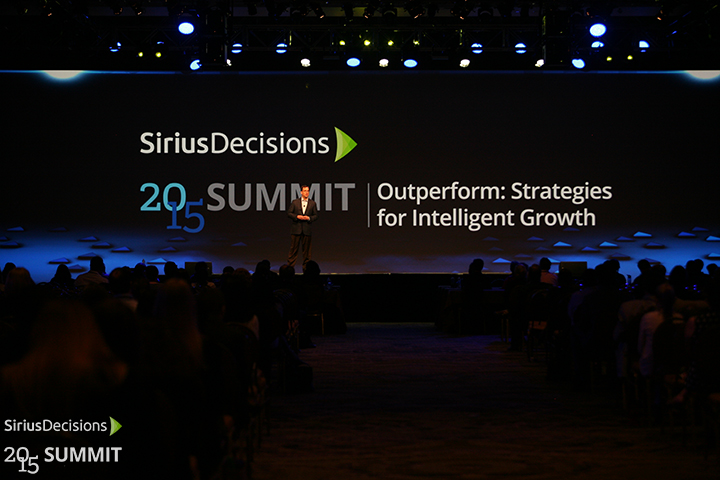 Alluding to Dickens' most popular tale, A Christmas Carol, Craig characterized the problems that organizations fall into when constructing their marketing plans. For those unfamiliar with the tale, Ebenezer Scrooge is a miserly and cold-hearted businessman living in London during the early 1800s. To help him reform his ways, he is visited by three ghosts on Christmas Eve – each with a set of lessons to teach from Ebenezer's past, present and possible future.
Craig explained how three similar ghosts often haunt marketers during an organization's annual planning season:
Past. In this scenario, many organizations rely on plans from the previous year, hoping that things will work out for the current year as well.
Present. This issue occurs when the marketing budget and planning is dominated by a large, mature business unit.
Future. In this scary possible future, disparate plans across siloed marketing functions result in a mess of misaligned tactics.
Craig then asked the Summit audience which of these three "ghosts" best represents the way their organizations create their marketing plans. Among the delegates present, the most haunting issues were the "past" and "present" scenarios.
With this literary lead-in, Craig described the phases of a best-in-class marketing planning process, which results in marketing plans that demonstrate clear alignment to sales, corporate and product goals and allow marketing to display the value of its contributions to the wider organization. "An effective marketing plan is quantitative, predictable, measurable and adaptable," Craig stated.
Each phase of a best-in-class marketing planning process includes defined participants, objectives, inputs, tasks, deliverables and related frameworks that can help marketers along the way. In brief, the six phases of the process are:
One: Strategic alignment. As Craig described, marketing is not an island unto itself (another literary reference there) – it must align to sales, corporate and product initiatives. This establishes a shared view the organization's vision and growth strategy.
Two: Goal setting. Identify and prioritize key sources of revenue to determine investments in new-account, retention, upsell and cross-sell efforts. During this phase, agreement must be reached on marketing's role in driving revenue.
Three: Marketing strategy. During this phase, marketing teams decide on the portfolio of campaigns, and the marketing budget allocation process reflects aligned decisions about relative priorities and scale.
Four: Functional plan. The planning process comes to life in this phase, as the leaders of global, regional and functional teams transform priorities into specific plans and impact assessments. Measurement processes are especially relevant here, and should leverage the Aligned Measurement Framework.
Five: Execution. During the execution phase, the planning cycle continues with periodic business reviews, assessments of campaign performance and ongoing communications between stakeholders. Marketing, sales and product must maintain a shared vision of how effectively the goals set during the previous phases are being met.
Six: Evolution. The marketing plan should be continuously adjusted and improved, with a balance between agility and maintaining a steady course. In this context, Craig referenced a statement by boxer Mike Tyson: "Everybody has a plan until they get punched in the face." In other words, plans need to evolve as circumstances change and results are analyzed.
When the Summit audience was polled about which planning phase causes them the most issues, the highest response was for the strategic alignment and goal setting phases. Craig noted that this is understandable, as marketing likes to execute, regardless of alignment. A step-by-step planning sequence that forges agreement across functions about strategic focus and objectives is essential to fix these types of problems.
Craig closed his talk by advising marketing leaders to audit their organizations' planning process and build a coalition across functions to improve its planning. For sales leaders, his advice was to commit to participating in the marketing planning process and integrate a marketing person into the sales planning team. Finally, product leaders should make sure sales and marketing understand how they can drive major product initiatives – and look beyond the launch cycle to leverage marketing's efforts.
Categories