Summit 2015: Putting the Pedal to the Metal in Customer Experience and Account-Based Marketing
At SiriusDecisions' 2015 Summit, we recognized the work of our account-based marketing (ABM) and customer experience clients
Audiences heard the success stories of our five Programs of the Year winners – three in ABM and two in customer experience
Although each winning program had unique objectives, three factors were consistent throughout
At SiriusDecisions' Summit 2015, it was my distinct pleasure to recognize the world-class work being done by our account-based marketing (ABM) and customer experience clients. During my presentations, I told the audience that, at SiriusDecisions, we consider all of our clients to be potential Ferraris – and that the programs receiving the 2015 Programs of the Year awards really put the pedal to the medal and realized the 200+ MPH that their Ferraris were designed to achieve.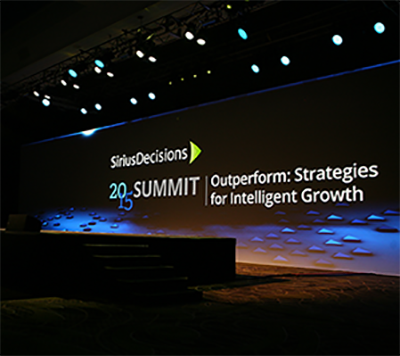 During our Programs of the Year presentations, audiences were treated to the success stories of our five winners – three in ABM categories and two in customer experience:
Large-account ABM: Xerox
Named-account ABM: SAP
Industry ABM: Medidata
Customer experience strategy: Imprivata
Customer advocacy: Citrix
Each winning organization allowed us to share insights into the opportunities and challenges they faced, the approaches they took, the keys to their success and the results they are achieving with their programs. And, although each winning program had unique objectives, a number of factors were consistent throughout:
Alignment. Each of our winners made it a priority to align their efforts with dependent organizations, executive sponsors and company strategic initiatives. Sharing their vision for their programs in order to gain commitment and support was key for all of our winners. Being transparent about what each team would need to do in support of common goals and building in check points and regular status reporting supported progress and kept lines of communication open. For one of our winners, budget was dedicated exclusively to the ABM program with a use-it-or-lose-it caveat that emphasized the strategic importance of ABM to the overall marketing effort.
Credibility. Each of our winners leveraged the hard work of gaining alignment to establish and build organizational and personal credibility. Our winners took the time to thoughtfully structure their programs to reflect their unique organizational nuances, the baseline they were working from and, most importantly, the challenges their customers faced. This outside-in approach provided a platform to ensure that all impacted departments were on the same page and shared common goals – which ensured a clear value proposition for our practitioners, their internal constituencies and their customers.
Proof. Before launching their programs, each of our winners had a clear vision of what success should look like and what could impact their ability to meet their goals. Whether it was pipeline growth, customer engagement or industry penetration, they understood what results they wanted and how they would strive to meet and exceed these goals. In setting goals, our winners approached metrics with their eyes wide open, considering what systems, processes, technologies and data were available. They made the most of what they had to work with and were exceptional in the way they leveraged the current environment while building a case to improve their ability to measure and share results.
It was a pleasure to recognize our customer experience and account-based marketing Programs of the Year winners at Summit, but it was also exciting to speak with other customers about how much they learned from, and were inspired by, the success of these winning programs. Along with our congratulations, we thank our winners for their willingness to share their success with the broader SiriusDecisions community.
Categories