At Summit 2020, Leading B2B Organizations Showcase What It Means to Be "Bold at Work"
This year's Forrester SiriusDecisions Summit featured inspiring stories of transformative efforts at B2B organizations that yielded impressive results
At the individual, functional, and company-wide levels, the bold at work ethos calls for decisive actions and a willingness to take risks
Learn from the success stories of CME, Gigamon, VMware Carbon Black, Cisco, and the newly combined SAP and Qualtrics

"There are often decisions that require a dose of courage," stated Jennifer Ross. Kicking off the inspirational "Profiles in Courage: The Journey to Success" session at the Forrester SiriusDecisions Summit, she described the average career as a topsy-turvy ride reminiscent of the classic board game Chutes and Ladders.
Some career shifts and inflection points present an upward trajectory and some send us tumbling backward, but at countless points along the way, we must act decisively and recognize the potentially dramatic effect of a single move.
"Putting yourself out there is not about winning or losing," added Meta Karagianni. As she and Jennifer spotlighted the twisting career paths of a range of successful B2B revenue leaders, a common thread emerged: Boldness and an openness to new ideas and change is not optional, regardless of industry and current position.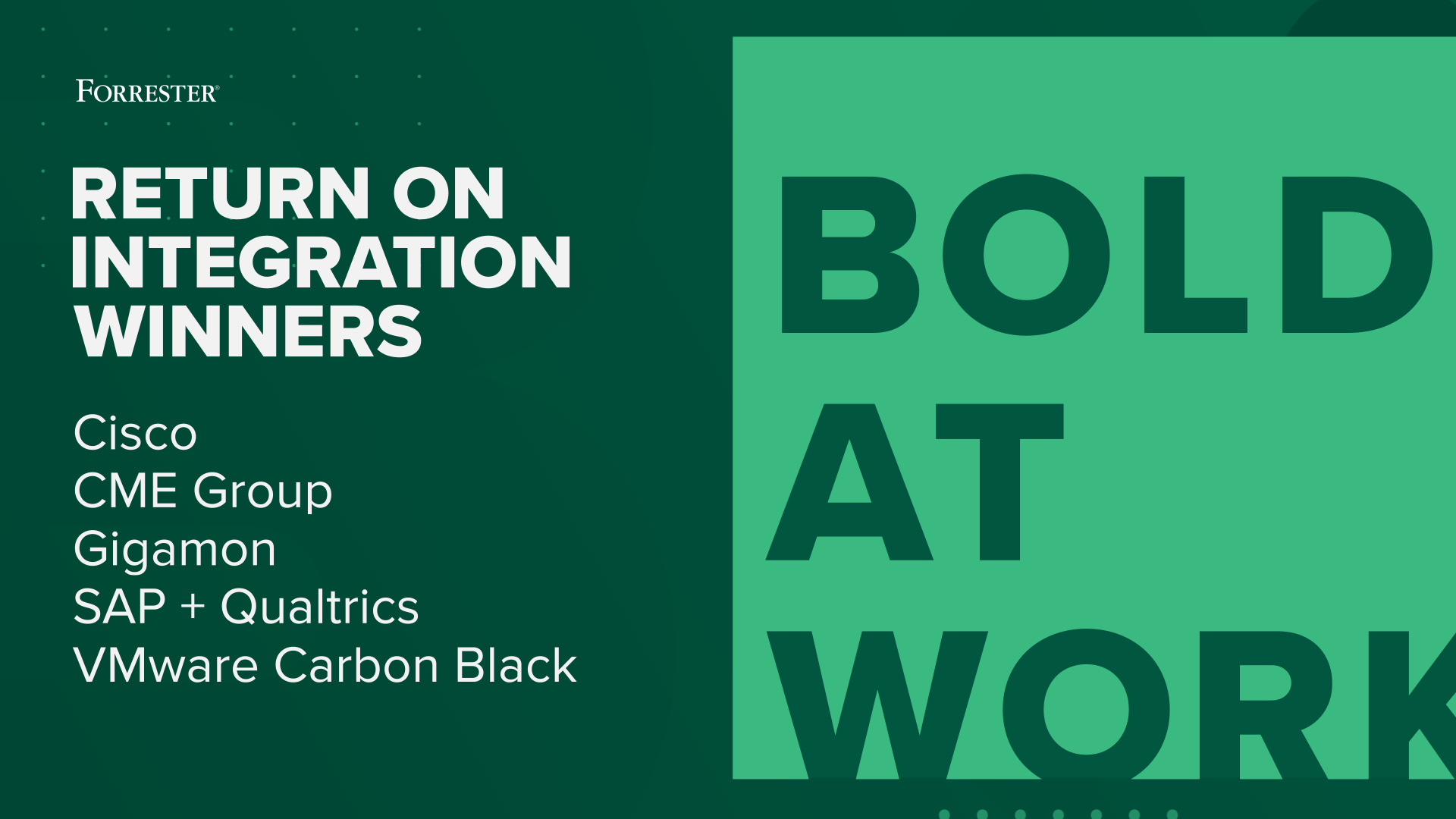 Jennifer and Meta explained that their research revealed that success is not pre-ordained in the early years: Only half the panelists had studied their current discipline, more than half had an initial vision that was "entirely different" from their current position, and none had clear goals amid their broader career aspirations at the outset.
But along the way, a blend of relentless curiosity, honest self-assessment, strategic collaboration, and fortitude carried each panelist from role to role, allowing them to ultimately define and achieve their ambitious goals and deliver results for their respective organizations. From "Embrace ambiguity" and "Never lunch alone," the executives offered Summit attendees countless concrete takeaways to help invigorate their own careers.
The bold at work ethos was also evident in each of the Return on Integration Honors award winners, whom Forrester recognized for their ability to move fast, adapt, and innovate to drive demand and improve company performance. The winners each presented their success stories on the Summit mainstage:
CME Group, a Chicago-based global markets company, was recognized in the sales/marketing/product alignment category for its successful launch of its Micro E-Mini futures, a major new product. In the high-stakes financial services industry with little room for error, the company needed to operate with extraordinary precision. Thanks to its innovation coupled with cross-functional alignment, the organization ensured clients knew of the offering and were ready to trade on day one of launch.
Gigamon, a Santa Clara, California–headquartered network visibility and traffic monitoring technology vendor, won its award for its demand management excellence. As John Donlon explained in his presentation introduction, Gigamon "set ridiculously ambitious goals and overhauled its marketing mix as a means of getting there." The multifaceted marketing transformation covered everything from massively scaled demand campaigns to a retooling of the corporate voice into an authoritative, provocative presence in a crowded market.
VMware Carbon Black, an IT security platform and services provider headquartered in Waltham, Massachusetts, was presented with a Return on Integration award for its revenue operations success. By deploying a data-driven true revenue engine and bringing together the sales, marketing, product and customer success teams, the company found success in a challenging sphere that was undergoing a collective shift from an on-premises model to a cloud model — requiring an entirely new way to deliver value to customers.
Cisco, a San Jose, California-headquartered technology provider, received an award for its work with its channel partners. The company did an "incredible job of building an expansive yet tightly combined ecosystem," John said. A shift to a recurring revenue model necessitated a go-to-market evolution that, in turn, required the organization to uplevel and enable its vast partner network so that this critical segment could undergo a parallel transformation. Using the SiriusDecisions Channel Demand Model and other research, Cisco helped its partners reach and grow customers in new ways.
SAP and Qualtrics, a relatively new combined organization following SAP's acquisition of the Provo, Utah–based experience management company, earned its Return on Integration award for its innovative work combining the agility of a smaller organization with the economies of scale in a larger company. The integration work following any acquisition can be rocky, but SAP and Qualtrics drew on each other's go-to-market strengths to add an experience management layer to SAP's existing sizeable presence in the world's transactions.
Stay tuned for deeper dives into each of our Return on Integration Award winners' stories!
Categories