Summit EMEA 2020: Coming Soon To A Screen Near You!
By pivoting to a virtual event this year, Summit EMEA will unlock a new range of experiences and significant value for attendees
With 70+ sessions focused on improving B2B vision, strategy, and execution, attendees will have unprecedented access to best-practice guidance from industry experts and award-winning practitioners
As part of their Summit EMEA experience, attendees can attend B2B Certification and B2B Foundations sessions — allowing managers the opportunity to support employees' professional development
The Mexican singer Thalía once said, "There's nothing more addictive or incredible in life than reinventing yourself" and that's exactly how I feel about this year's Forrester SiriusDecisions' Summit EMEA! By any standard, the 2020 lineup offers attendees an impressive list of firsts. From the technology that will bring more of us together virtually, to the groundbreaking insights SiriusDecisions analysts will be sharing with attendees, Summit EMEA, taking place October 6 and 7, will be a whole new experience.
Here are just six highlights attendees can expect at Summit EMEA: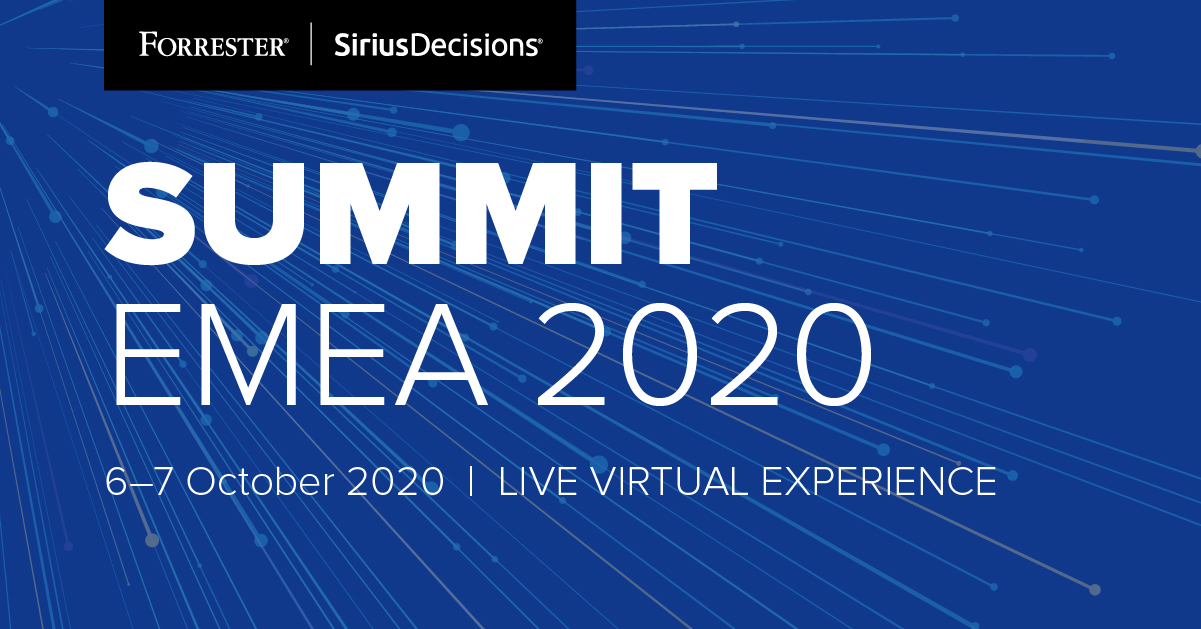 Virtual experience. This year's virtual Summit experience will be easy to navigate and immersive, helping attendees get the most out of the event. Attendees will have the opportunity to engage in live chat forums, use attendee-to-attendee messaging to connect with their peers, and stay active via a range of fun energizer breaks. Going virtual also provides post-event benefits as well. Attendees will have on-demand access to all sessions immediately after they air. No more worrying about missing a session or wishing you had taken more pictures or better notes during the live session! Just sit back and immerse yourself in each session, safe in the knowledge that you can watch it again (and again).
Groundbreaking insights. You'll find more than 70 best-practice sessions hosted by 50-plus Forrester SiriusDecisions speakers, including five keynote sessions focused on crucial topics such as the future of B2B buying, streamlining the go-to-market approach to match buyer expectations, creating a balanced customer/seller value-based approach to managing B2B metrics, building resilient plans for uncertain times, and words of wisdom for leaders on the career decisions and inflection points that lead to long-term success.
Virtual marketplace. Attendees can visit the virtual marketplace and speak to technology vendors with no lines or crowds! Marketplace visitors can explore the wide range of materials (hand-picked case studies, demos, videos, white papers, analyst reports) that vendors have compiled exclusively for attendees. Event sponsors will also be sharing customer stories with attendees to help inspire and inform.
Tangible advice. A collection of seven tracks covering 40-plus breakouts, three Executive Leadership Exchange sessions, two B2B certification sessions, and two B2B foundations sessions offer attendees real-world practical advice throughout the conference. With all sessions tailored to top-of-mind topics for marketing, sales, and product leaders, attendees will have access to best-practice research for marketing and sales executives, as well as leaders in demand and account-based marketing, channel marketing and channel sales, emerging-growth marketing and sales, content operations, product management, portfolio marketing, and sales enablement functions.
One-on-one sessions with analysts. Never before have Summit attendees had so many opportunities to engage directly with Forrester SiriusDecisions analysts. In addition to being able to submit questions during sessions and meet with the presenters after the session in dedicated chat rooms, attendees can also schedule one-on-one meetings with analysts to discuss their questions in more detail. All meetings will be booked online so attendees can easily schedule a time slot that suits them.
Amazing stories from amazing clients. With one Return on Integration Honours winner, six Program of the Year winners, and for the first time ever, a customer panel focused on the issues small and medium-sized B2B companies face as they grow, Summit EMEA is a great place to go to learn from peers. Hear about the problems they face, their approach to tackling those problems, and how they overcame unexpected obstacles along the way.
With all the uncertainty B2B companies and employees have experienced this year and the changes still to come, never has it been more critical for B2B professionals to find new ways to connect. To get to a place where we can all rebound and rebuild our businesses, we must find new ways to be together, work together, and learn together. This year's virtual Forrester SiriusDecisions Summit EMEA event offers attendees the perfect opportunity to get started on that journey — all from the comfort of our own homes!
We hope to see you at Summit EMEA on October 6 and 7. Please click here to register today!
Categories